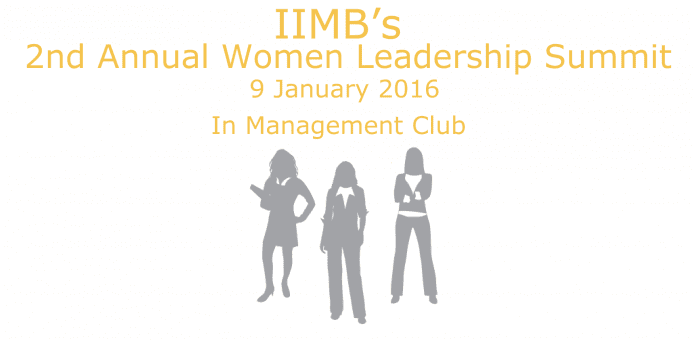 As an equal opportunity institution, IIM Bangalore believes in promoting gender equality and in ensuring that women find their rightful place in education, industry and entrepreneurship. Towards this end, the Women in Management (WIM) club at IIMB has launched a number of initiatives to create awareness about challenges faced by women in industry and the role to be played by various stakeholders in encouraging and developing women leaders. The flagship event of the club is the Women Leadership Summit, which witnesses multiple events, a large footfall and an engaged audience. The 2nd Annual Women Leadership Summit will be held on 9th January, 2016, 9.30 am onwards at IIMB Auditorium and Central Pergola.
Themed 'Take the Leap', this edition of the Summit will see a stellar line-up of speakers with keynote addresses by Ms Rama Bijapurkar, Consultant; Member of Board of Governors, IIMA and Mr. Sanjaya Sharma, Founder-CEO, Tata Interactive Systems and Tata ClassEdge.
The summit will also host a panel discussion on 'Ascent to the Pinnacle' featuring panelists like Ms. Gauri Jayaram, Founder & CEO, Active Holiday Company; Ms. Rama, Former Vice President, Infosys; and Dr. Gita Sen, Gender and Development Expert, IIMB.
As a part of 2016 Women Leadership Summit, a special workshop on 'Financial Planning: Take charge of your Career' will be conducted by Ms. Subha Chandrasekaran, Senior Vice President – TTS ops Head, Citibank India.
For more details, please go to:
http://tinyurl.com/iimb-wls16
Please note: Seats for the workshop are limited, and will be allotted to those who register early.