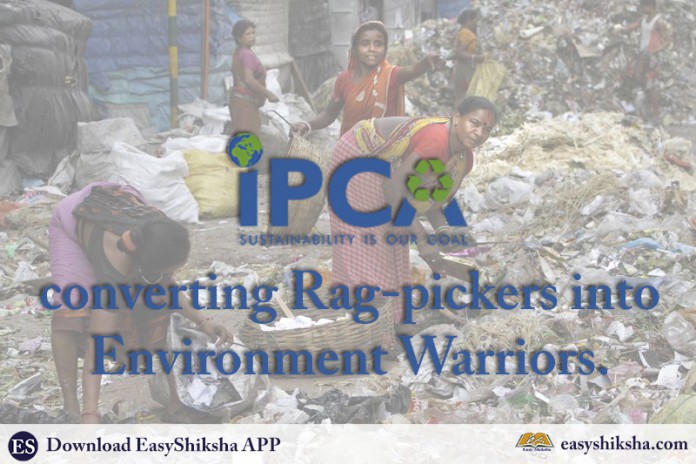 India   has one of the highest recycling rates for plastic PET container. This dynamic and surprisingly efficient system of waste management stands solid on the shoulders of ragpickers and kabadiwalas who belong informal sector. Despite their crucial service of keeping urban waste management in place, India's ragpickers keep on struggling for survival in dire conditions—exposure to harmful substances, poor wages and lack of basic civic amenities.
The collection and segregation of waste is carried out by the community together. Once the waste has been collected from households and colonies, it is brought to one of the segregation center. During segregation they  often come in contact with hazardous materials, including soiled clothes, needles, broken glass, sanitary waste and batteries. In fact, much of the hazardous waste is in the form of medicine bottles, insecticide spray bottles, toilet cleaners, and injections. This mixed waste segregation subjects them to several health issues like fever and skin rashes. Many in the community take to drugs in order to cope with the living conditions and the heinously difficult task of sorting through the mixed waste.
After segregation, any recyclable item is sold to the kabadiwala while the wet waste is sold as cattle feed at very nominal price.  One of the major problems they are facing in  work nowadays is the underlying bribing and outsourcing arrangements that have formed in the neighbourhood. Having access to waste has become a challenge, as MCD has started collecting waste from residential societies in delhi. So now, they have to pay the MCD officials to buy waste from them in order to collect valuable scraps, and even when they go to collect from the  open waste bins, the MCD officials on the ground don't let go without their commission.
IPCA (Indian Pollution Control Association) a brainchild of IIT Delhi working in the area of Solid Waste Management, Air Quality Monitoring and Testing, EPR for Plastic Waste Management & Education and awareness programme.  They take initiative to change ragpickers  into environment warriors. Approximately 700 Rag-picker from Delhi, Noida and Gurgaon are associated with Indian Pollution Control Association for waste management projects. These rag-pickers earn their livelihood by collecting waste material from different sources. This is done collectively by each family member including children. Therefore, their children do not get the opportunity to go to school for education. IPCA believes that without education, their lifestyle and social status can't be improved. Keeping this in mind, IPCA in association with India Development Service (IDS), USA initiated a primary education program for rag-pickers' children in Delhi/NCR in year 2012.
Mr. Ashish Jain- Founder and Director- IPCA saying -" Ragpickers are living a hard life, they sustain themselves by collecting, sorting, and segregating waste. They work without any job security, salary or dignity, and are frequently exposed to diseases and tuberculosis apart from poverty, humiliation, and abuse on the streets but we never to forget they are also a part of our society. "
IPCA believes that if they are encouraged, and given  support, they can become Environment Warriors help to save our  Environment  and our country .