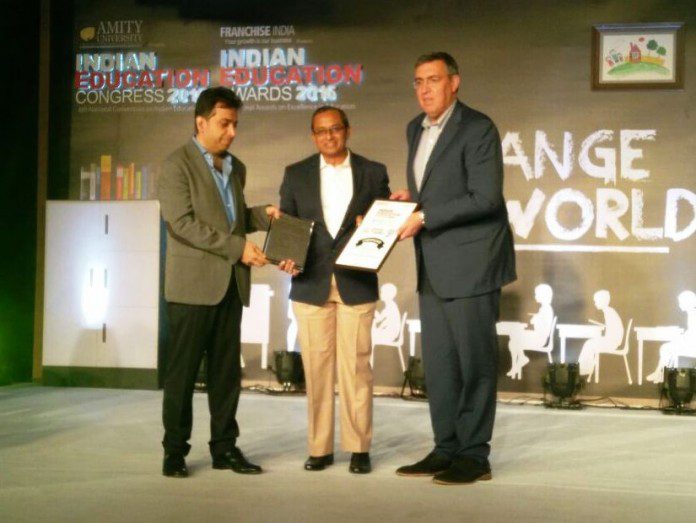 The tennis coaching academy's footprint continues to grow as more schools, parents and children take to scientific training for the sport.
New Delhi, 31st May, 2016: Mahesh Bhupathi Tennis Academies (MBTA) has been conferred with the 'Best Physical Education / Sports Education Program' at The 6th Indian Education Awards, 2016 organized by Franchise India.
Referred to as Asia's biggest education show, The Indian Education Award is among the most celebrated award platform that recognizes excellence in the education sector. The forum is a tribute to the achievers, and innovators, who have contributed significantly towards the excellence and growth of the education sector.
The awards were presented at a glittering ceremony organized at Vivanta by Taj, Faridabad. The awards were presented by Gaurav Marya, Chairman, Franchise India Holdings Limited.
Speaking on the win, Gaurav Natekar, CEO Mahesh Bhupathi Tennis Academies said, "This is delightful news and we are extremely happy to be receiving such an honor at an all-India level. MBTA's philosophy that an equal development of mind and body leads to healthier lifestyle is finding great resonance universally as our academies are striving to impart quality tennis coaching to produce future global superstars in the sport. Such an award only motivates us to strive harder and continue our efforts for the greater good for the sport, the players and the country."
MBTA, apart from professional tennis coaching also provides sports and physical health solutions to various schools under its 'School Tennis Program' across India. The program is designed to inculcate physical activities in a systematic and planned manner to ensure better pro-activity among the children.
The premier tennis coaching academy aims to train and nurture kids at the ground level, and provide them the right opportunity to take up the sport as a professional career.
About MBTA
It was in 2006 that Mahesh Bhupathi's vision became a reality. MBTA was founded by the 12-time Grand Slam winner with the objective of imparting professional, world-class training (both practical and theoretical) and highly specialized coaching to youngsters of all age-groups. Another objective of the MBTA was to increase the accessibility of tennis by ensuring that people across all socio-economic groups have the opportunity to experience the joy of tennis. Mr. Gaurav Natekar, former India No. 1, Arjuna Awardee and double Asian Games gold medalist is the CEO and the driving force behind MBTA.
MBTA is a pioneering effort to promote the game of tennis across different levels. By launching our 'School Tennis Program' in various schools across India, MBTA has established itself as a force that adopts a systematic and well-planned approach at every stage in the process of tennis coaching. It is customized to the capabilities and needs of each participant and leads to a comprehensive and highly effective graduation process.
The academy also provides consultancy services to various schools, colleges and corporate companies to structure, develop and implement a variety of tennis coaching programs based on their needs.
For more information, log on to: http://www.mbtaworld.com/
For media contact:
Akbar Askari/ Shruti Marlecha
9971339654/ 9717826326
akbar@cumulus.net.in/shruti@cumulus.net.in