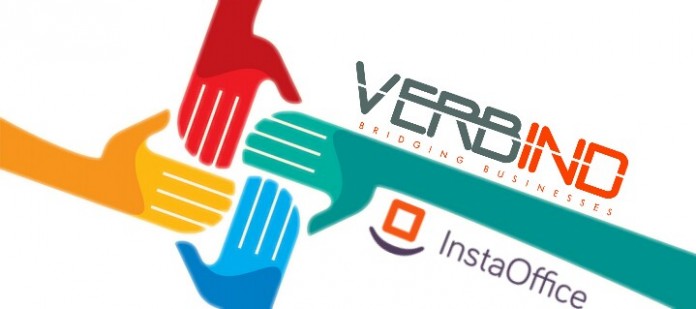 25th August 2017, VERBIND, India's leading integrated trade facilitation company has joined hands with Instaoffice, a co-working and business center provider. Under the agreement, members of 13 World Trade Center (WTC) which is managed by Verbind will get access to Instaoffice business centers at discounted rates; the agreement also gives access to Instaoffice to develop business centers in 13 WTCs managed by Verbind.
Ms. Khair-Ull-Nissa Sheikh, Executive Director of VERBIND & World Trade Center Noida commenting on the agreement said, "The agreement with Instaoffice will help in providing access to world class infrastructure to startups and SMEs and VERBIND through its extensive trade and business services will assist in their expansion along with acquainting them with global best practices and benchmarks."
VERBIND is an integrated Trade Facilitation and Business Management Services which focuses on the versatility of every component for trade services, investments and infrastructure. It enables various services and tailor-made solutions, through multiple empanelled partners for entrepreneurs and businesses, facilitate new ventures and international trade. Acting as a bonding agent, it unifies corporations, associations, chambers, professionals, and government agencies operating in business trade both in Indian and international markets.
Mr. Vikas Lakhani, Co-founder of InstaOffice, expressing his views on the agreement said that "InstaOffice and VERBIND are building an ecosystem together. There are great synergies between VERBIND and InstaOffice with both working towards a common goal of facilitating ease of business."
VERBIND being a business catalyst will also endeavor to provide access to money, market and mentorship to the businesses operating in the business centres and also catering to their strategic, tactical and operational requirements.
Devendra Agarwal, co-founder, Instaoffice said, "The partnership with VERBIND will help InstaOffice establish its footprint across different WTC locations in multiple cities across the country where VERBIND is offering its services, allowing InstaOffice to meet its clients' requirement of providing the best office space in the prime locations of the most business cities of the country at an affordable cost."
About VERBIND
A brand owned by WTC NCR Services Pvt. Ltd. and in cooperation with Viridian; Integrates Trade Facilitation and Business Management Services Organization that seeks to unify the multidimensional components of Trade Services, Investments and Infrastructure.
VERBIND has been instituted to provide business and trade services to members of the World Trade Centers across India and the ASEAN markets. IT works actively with the World Trade Center Association, New York (WTCA) that represents 330 cities in 100 countries across the globe.
As a premier service provider, it is dedicated to the establishment and effective operation of World Trade Centers as instruments for trade expansion, business harmony and economic prosperity in India.
It has recently expanded its operations to non WTC members, emerging as a preferred and independent platform for integrated trade facilitation and business management services.