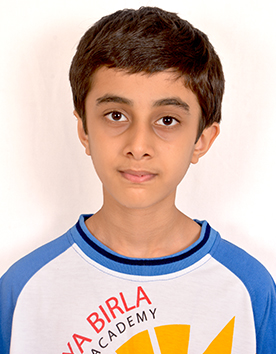 Mumbai, 24th August, 2022: Suhaan S. Mobhani, a Grade-9 student of Aditya Birla World Academy, has been awarded Advanced Placement (AP) Scholar with Distinction, after earning the prestigious Advanced Placement (AP) International Diploma. Suhaan achieved the highest score of 5/5 in Calculus BC, Human Geography, Statistics, Calculus AB, and Computer Science A, and a score of 4/5 in English Language and Composition. The AP Scholar with Distinction Award is granted to students who receive an average score of at least 3.5 on all AP Exams taken, and scores of 3 or higher on five or more of these exams. Suhaan received a total score of 29/30, a rare score to achieve at the age of 15, thereby earning him the distinction. Suhaan's achievement is particularly impressive, since the AP International Diploma is usually undertaken by students in Grades 11 and 12, and he not only managed to earn the diploma,  but also secured a distinction while still in Grade 9, thereby opening up avenues for him to secure admission in reputed international universities, including Ivy League institutions. 
Congratulating Suhaan on his achievements, Radhika Sinha, Principal, Aditya Birla World Academy, said, "It's a proud moment for all of us at ABWA that our student Suhaan has successfully achieved this recognition of international importance at such a young age. Receiving the AP International Diploma and AP Scholar with Distinction Award at 15 is an astronomical achievement, and demonstrates the meticulous efforts the student, his teachers and his parents have put into the endeavour. "
Commenting on his accomplishment, Suhaan said, "My heartfelt gratitude to Sir Prodipta  for being my teacher, mentor, and guide through my journey from bronze to World Rank 1, from a math enthusiast to a math wizard, and from SCAT to AP. Thank you for making a difference in my life, inspiring hope, igniting my imagination, and instilling a love of learning. To my Guru, my utmost gratitude."

ALSO READ : Vignan Online announces the launch of its maiden brand campaign
Till date, Suhaan has won 59 International medals including 40 Gold, 15 Silver and 4 Bronze in the International Arena across various Global Mathematics Competition cementing his position in Top 3 globally year after year. Not just Mathematics he has a passion for programming and is venturing into Artificial Intelligence with his knowledge of various programming languages.
Suhaan plans to leverage his success with the AP International Diploma to apply for higher education in fields such as Computer Science and Data Engineering, Data Science, Nanotechnology, and Computer Engineering.
Suhaan's success is a testimony of Aditya Birla World Academy's commitment to providing its students with invigorating and challenging programmes that promote academic excellence as well as independent learning and constructive thinking skills in the students.
About Aditya Birla World Academy
Backed by Aditya Birla Education Trust, Aditya Birla World Academy (ABWA) is India's leading International School located in South Mumbai. ABWA strongly believes in holistic development of its students. ABWA strives to create a cohesive learning environment that is conducive to developing a child's innate talents. In addition to focusing on academic excellence, ABWA students are encouraged to think critically and question the world around them. Further, through a wide range of extra and co-curricular activities, ABWA aims to develop children's personality and stimulate them to be mindful, sensitive and responsible members of society. ABWA focuses on socio-emotional development to ensure that each and every child feels safe, supported and motivated
About Aditya Birla Education Trust
Aditya Birla Education Trust (ABET) is an organisation committed to the cause of education and mental health, with an objective to nurture young minds. Right from establishing the Aditya Birla World Academy, an International School with an Indian soul, to The Aditya Birla Integrated School, which acknowledges the need to cater to children with different learning needs, ABET has always prioritised the importance of a child's overall development. Further under the aegis of ABET, the Aditya Birla Education Academy provides professional development opportunities for educators, and engages, empowers and equips them to contribute towards shaping the future of young minds. In an endeavour to stamp out stigma surrounding mental health concerns, ABET has established Mpower, a holistic mental health care initiative, which has become the pioneer of mental health awareness in the country. Aditya Birla Education Trust runs under the zealous leadership of its passionate and committed Founder & Chairperson, Mrs. Neerja Birla. Ujaas is ABET's new vertical, working on prioritizing menstrual health and hygiene management as the key focus area.
Visit EasyShiksha for skill development courses.