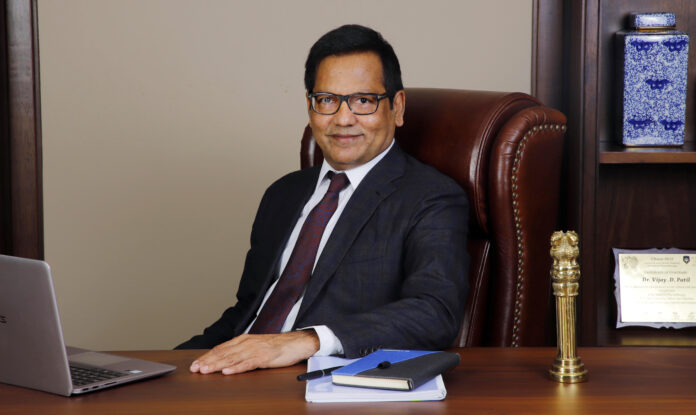 Article authored by: Dr. VIJAY DNYANDEO PATIL – An Educationist, an Entrepreneur with a purpose and a turn-around Sports Enthusiast
The last two years have seen a turbulent time as the world grappled with a pandemic. With the evolution of new coping strategies, we have seen the replacement of analog systems with a fast-paced digital ecosystem. The education and healthcare system are strong pillars of our country and it is imperative that the two must adapt to a fast-changing world. The year 2022 will witness some massive advancement and several new trends are expected to accelerate in the field of education, healthcare and sports. 
Education in 2022
During the two years of the pandemic, our education sector has undergone a massive digital shift and its future looks more promising than ever before. Educational institutions have been pushed to experiment with digital learning to make the e-learning experience more interactive and fulfilling for the students. Several novel ways have been devised and have even been adopted by the stakeholders to deliver quality education to the masses. In 2022, 'Phygital Learning' is being seen as a perfect model of education that can be transformative for the country and can lead to higher literacy rates across India1. Phygital Model that combines online course instruction with in-person educational sessions, has become the need of the hour.
READ: MIT World Peace University offers cutting-edge commerce programs
In 2022 it will also be critical to focus on strengthening the fabric of our education system through the development of infrastructure in schools and colleges to meet the renewed demands. Our education system will have to go beyond the routine syllabus and emphasise on soft skill training and industry-focused curriculum. With the submergence of e-learning in the education system, there has been an indisputable decrease in the attention span. As a result, there is a demand to deliver content in 'bite-sized' and this has brought in the concept of 'Nano Learning'. 'Nano Learning' is now being termed as the futuristic approach to education. Implementation of National Education Policy (NEP)-2020 has also become the need of the hour. It outlines the vision of India's new education system and lays emphasis on vocational training, experiential learning and focuses on 21st-century skills. For a more inclusive world, 2022 will also witness the promotion of gender-transformative education.
Healthcare in 2022
Healthcare has emerged as one of the largest sectors of the Indian economy, in terms of both revenue and employment. This industry has been growing at a Compound Annual Growth Rate of nearly 22% since 2016 and is predicted to reach USD 372 Billion in 2022. After the COVID-led unprecedented times, the Indian healthcare sector has undergone major transformation. 2022 will be the year of Interoperability and it will change the data paradigm in healthcare. In this future-led world, Interoperability will solve some of the deep-rooted problems of our healthcare system.
ALSO READ: easyshiksha.com
Healthcare leaders in India are investing heavily in telemedicine technology. According to a recent study, the domestic telemedicine market is expected to reach USD 5.5 billion by 2025. Another study says that 15-20% of the healthcare ecosystem in India is expected to shift to virtual care, e-consults, remote monitoring and home health. The country is also bracing up for a digital disruption in healthcare driven by consumer demand. Increased investment in R&D will also be witnessed.
Sports in 2022
Lockdowns during the pandemic had an adverse effect on the Indian sports industry. Its size fell by 34% and brought the business to a standstill. Professional sports teams depend on presence of fans in the stands. Due to COVID 19, the sports industry has been adversely affected. During this time, a majority of events were either postponed or cancelled. Digital technology is now unlocking newer opportunities for growth in sports. Use of immersive technology and virtual fan engagement are opening new horizons. Fantasy sports industry is also making huge economic inroads into the country and is projected to grow at 38% by 2025. 2022 is emerging as a year for women's sport to reach new heights both in terms of increased participation and building an audience. For the upliftment of sports in the country, the government is committed to creating a world-class sports ecosystem in the country.

As we enter the third year under the pandemic, 2022 offers us an opportunity to capitalise on the gains we have made in the digitisation of our economy. With the economy slowly recovering, we also expect to see rapid growth as educational institutions, healthcare organisations, and sports bodies apply the lessons they learnt over the last two years even as they find new avenues of growth.