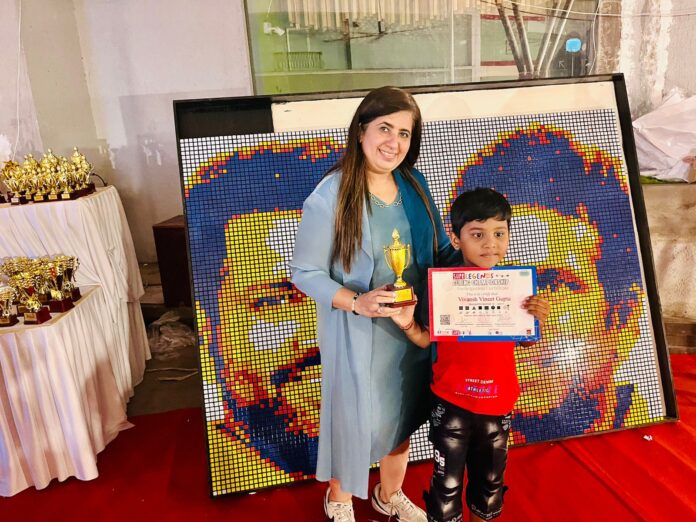 Mumbai 02 May 2023: Vivansh Vineet Gupta, a 7-year-old, emerged victorious in the Upcoming Star category of the Suprlegends Cubing Championship, an offline Rubik's Cube competition organized by the Junior Cube Association in Mumbai. The competition took place on April 29th at Phoenix Kurla Mall and drew 555 participants from various age groups across India. Children and adults alike participated in the event.
ALSO READ: Admissions open for XAVIER-EMLYON Business School Dual Master's Program in International Sports Management
Vivansh, a student of N L Dalmia School, participated in under 9 age group category in Suprlegends Cubing Championship. He developed the liking for Rubik's Cube since the age of 5 years. Apart from this achievement Vivansh at the young age of 4 years, has also set a record in Asia for being the youngest to read and write the numbers and number names from one to 999 decillion in India Book of Record 2021. He loves skating and to play cricket in sports.
The Suprlegends Cubing Championship is an inaugural event of 2023, that first-time saw the collaboration between like-minded institutions like Junior Cube Association – Ketan Vira, Supr Legends – Mangesh Balkhande, Genius Kids and Indian Cube Association – Eusebeus Noronha. The primary objective of this global competition is to honor the captivating universe of twisty puzzles by uniting enthusiasts from various backgrounds and proficiency levels. Employing a hybrid approach, the championship blends offline and online events to accommodate a broader audience and surpass geographical limitations.

"I feel overjoyed to witness my son receiving trophies at such a young age. Since he has always been passionate about Rubik's cube, we encouraged him to pursue his hobby. I firmly believe that participating in such competitions will facilitate his holistic growth and well-being," said, Shilpi Vineet Gupta, Vivansh's mother.
Leena Savla, one of the Director, Junior Cube Association, said, "The Supr Legends Cubing Championship provided a supportive and friendly environment for participants to showcase their problem-solving abilities and connect with like-minded cubers. The event included various interactive activities such as workshops, webinars, and live streams, which created a space for learning and growth. The competition emphasized values such as sportsmanship, perseverance, and camaraderie, contributing to the development of a global community of passionate puzzle solvers. Overall, the event inspired a new generation to embrace the intellectual and social benefits of twisty puzzles."
Ketan Vira, Leena Savla, and Pallavi Vira, directors of the Junior Cube Association, aspire to establish Rubik's Cube as a brain sport that enhances cubing skills and creates memorable moments by merging passion and proficiency.
This year educate yourself and develop your career with EasyShiksha