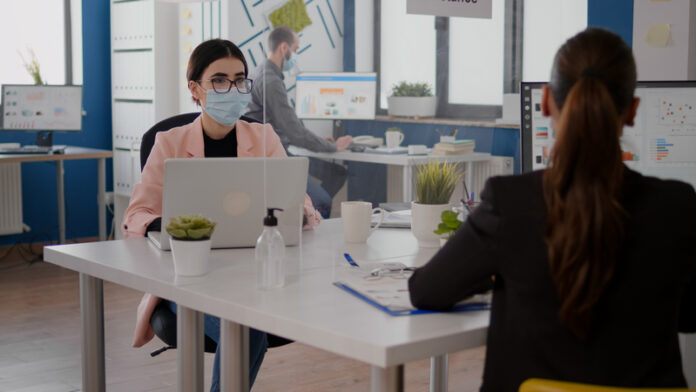 84% workforce expect a good work-life balance from their jobs
81% workforce feel 'long commutes' is one of the main concerns in resuming work from office
68% workforce are comfortable and look forward to returning to office
New Delhi, April 6th 2022: Godrej & Boyce, the flagship company of the Godrej Group, announced that its business Godrej Interio, India's leading furniture solutions brand, in home and institutional segments, has published the findings of an exclusive study 'Home, Office and Beyond'. To understand the employee expectations in a post-pandemic world, the Workspace & Ergonomics Research Cell at Godrej Interio conducted a nation-wide study and uncovers different aspects such as employees' return to work concerns, changing the traditional use of office spaces, and views on working from home and from office. A total of 350 office-going employees participated in the research in the age group 21–56-years, most of them, working for MNCs and Indian corporates.
According to the research study, wellbeing became the focus area for both employers and employees over the past two years with 31% workforce saying employers should be interested in employee wellbeing. Similarly, employees noticed a difference in, both, their own and their teams' wellbeing over the same period with 62% observing an improvement in personal wellbeing and 50% in their team's wellbeing.
As companies are looking at ways to bring their employees back to offices, the research reveals that employees have concerns regarding return to office. An overarching worry uncovered in the study was that of health and safety considering the open plan layout design in many offices. The main concerns of employees about returning to office as per the study are 90% contracting Covid-19 in office, 86% will have to compromise on current lifestyle, 84% dreading for a poorer work-life balance, 81% citing long commutes and 71% unable to provide care to parents and children. However, despite all these concerns, the study also indicates that 68% employees are comfortable and look forward to returning to office.

In the partial unlock phase, the study reveals that 26% employees are still in their hometowns and away from the cities where their offices are located whereas 18 % returned to cities where their offices are located.
Sameer Joshi, Associate Vice President, Marketing (B2B), Godrej Interio said: "As corporations gear up to welcome all employees back to office, employee perceptions about a good work-life balance have changed significantly. Despite seeing benefits from work from home policies, the concept of a formal workplace has not disappeared completely. However, the pandemic has opened discussions of how office spaces can be used more effectively. At Godrej Interio, we are seeing demand for more collaborative furniture in the office space and are looking to grow the segment by 25% in this financial year.
For any form of return to office to be successful, employers need to be mindful of their employee's concerns, and inculcate matters of personal and professional wellbeing into policies, office infrastructure, and design. Essentially, the workplace of the future, needs to provide a three-pronged approach to address public health requirements, the individual needs of employees, and deliver economic value for businesses through adaptive ways of engaging with their ecosystems."
Experiences from the pandemic years have companies reassessing their policies to ensure no major disruptions to workflows in the future. The Willis Towers Watson India COVID-19 Readiness Pulse Survey, conducted during the early days of the pandemic, found that 83% of companies in India were planning to review their work from home policies. This is a giant leap from traditional perceptions that employees would not be as productive when working away from the office, reports the Society for Human Resource Management (SHRM). According to the Godrej Interio study, 20 % of the employees are in favour of full-time remote work while 23 % are in favour of full-time office and 6% are location agnostic.
About Godrej Interio:
Godrej Interio is India's leading premium furniture brand in both home and institutional segments with a strong commitment to sustainability and centers of excellence in design, manufacturing and retail.
Led by the largest in-house design team in the country in the furniture category and awarded with 34 India Design Mark Awards till date, GODREJ INTERIO aims to transform spaces with its thoughtfully designed furniture to create brighter homes and offices with products that have the highest design quotient in aesthetics, functionality and technology. With consistent pursuit of excellence and a special focus on health and ergonomics, GODREJ INTERIO's product portfolio comprises of a wide range of solutions
Important Announcement – EasyShiksha has now started Online Internship Program "Ab India Sikhega Ghar Se"
Today, we design and manufacture furniture for office spaces, homes, educational institutes, healthcare facilities, laboratories and more. Along with furniture we offer Audio Visual and 360 Degree Turnkey solutions. Each of our product range revolves around comfort and aesthetics while delivering well-designed, long lasting and functional furniture solutions. In short, Godrej Interio helps the consumers to make every space the perfect setting for their myriad moods and moments.
Currently present in over 650 cities with 250 exclusive showrooms and 800 dealers, is one of the largest divisions of Godrej & Boyce Mfg. Co. Ltd., part of the Godrej Group, one of India's largest engineering and customer product groups.
Godrej Interio has 7 manufacturing facilities situated at Mumbai, Khalapur, Haridwar, Shirwal, and Bhagwanpur. GODREJ INTERIO's Shirwal Plant is Green Co Platinum Certified, and Mumbai Plants are Green Co Gold Certified. GODREJ INTERIO is widely known for its comprehensive sustainability certifications for its products in furniture category.
GODREJ INTERIO commitment to the environment has resulted in manufacturing products with lesser environment footprint. Our pioneering efforts include designing less environment burdening products, usage of eco-friendly materials and setting up less polluting and consuming processes, ensuring eco-friendly packaging and transportation and finally the extended responsibility of recycling/reuse of used furniture and scrap, thus ensuring a lifecycle approach to green. GODREJ INTERIO has the widest range of green choices for our customers which not only includes products but also services such as green interiors and recycling.
Also read: New non-destructive DNA method opens opportunities
The brand boasts of noteworthy awards received so far- CII Exim Bank Award for Business Excellence 2016, Superbrands 2017-18, Reader's Digest Most Trusted Brand 2018 Gold (Home Furniture and Modular Kitchen), TRA's India's Most Consumer focused brand 2019, GreenCo Star Performer Award 2019, National Energy Leader Award at CII National Award for Excellence in Energy Management 2018.
For further information, please visit https://www.godrejinterio.com/
Leading EdTech Platform for skill development & For your Internship is EasyShiksha