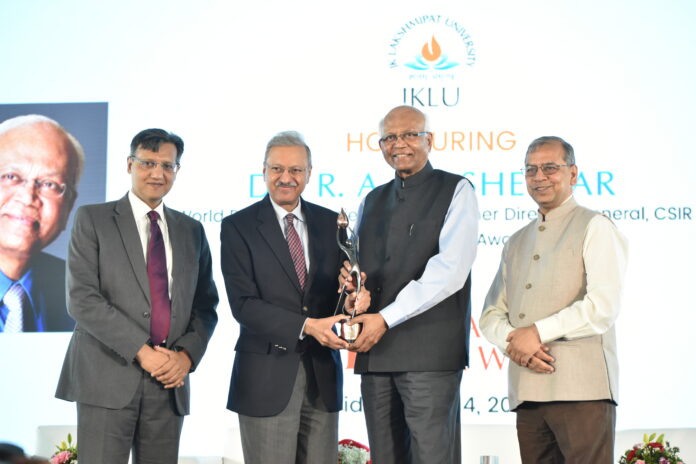 Jaipur, Apr 14, 2023: Leading Higher Education Institute, JK Lakshmipat University (JKLU), conferred the coveted JKLU Laureate Award to Padma Vibhushan Dr. R. A. Mashelkar for his exemplary work in shaping Science, Technology and Innovation policies in post-liberalized India. The event, which was inaugurated through a Lamp Lighting ceremony and Saraswati Vandana on 14th April, 2023, was witnessed live by over 500 guests and by another 500 people through live webcast.
ALSO READ: MRG School Conducts Orientation Programme On The Onset Of New Academic Session
Dr. Mashelkar, former Director General of CSIR and Chairman of the National Innovation Foundation, is known for his world-class scientific research, transformative science and innovation institution leadership. He is also renowned for his pioneering different movements such as evolving global systems for traditional knowledge protection to helping create strong yet balanced IPR systems and inclusive innovation movement, based on the concept of Gandhian Engineering.
While welcoming the awardee, Dr. Dheeraj Sanghi, Vice Chancellor, JKLU said, "The Laureate Award is the most important award of JK Lakshmipat University, and we are honoured to present this award to Dr. Mashelkar for all the prominent work that he did in the field of science and technology." He also thanked Dr. Mashelkar for his previous association with JKLU for helping students during exchange programs with different universities and said "When such a personality receives this award, it's not that he is being honoured; instead, he is honouring us by accepting this award'.
Pro-Chancellor, Shri H. P. Singhania, said, "Since 2014, JKLU has been honoring nationally and internationally acclaimed and outstanding achievers with JKLU Laureate Award. These awardees are leaders in all walks of life and become role models for young minds and inspire them to excel in their own life". He also urged the youth to seize the opportunity for better nation-building.
Expressing his gratitude while receiving the award, Dr. Mashelkar said, "I am honoured to receive this award and touched by all the affection received from JKLU's management, faculty and students. I urge all the students to challenge their wisdom to create exponential innovation for society". He also emphasized the significance of providing modern technology breakthroughs to underprivileged individuals because at present that is the most difficult task. He asked everyone to challenge themselves with his Mashelkar Mantra, "Every morning, whether you are 18 or 80, say 'My best is yet to come'".

Pro Vice Chancellor Shri Asheesh Gupta thanked Dr. Mashelkar for his motivational speech and said, "Your address will remain a great source of inspiration for everyone in the audience here for all times to come. It will particularly motivate the youth to open their eyes and mind to the opportunities to make a difference, to aspire to take on the mantle of leadership and to pursue the path of excellence".
Laureate Award is the most prestigious award is given out by JKLU annually to eminent personalities and past recipients include Dr. Manmohan Singh (former Prime Minister of India) and Shri Pranab Mukherjee (former President of India).
The programme ended with playing the National Anthem.
Post event, JKLU had organized a press conference, which was attended by over 30 journalists and media persons.
This year Educate yourself and develop your career with EasyShiksha.