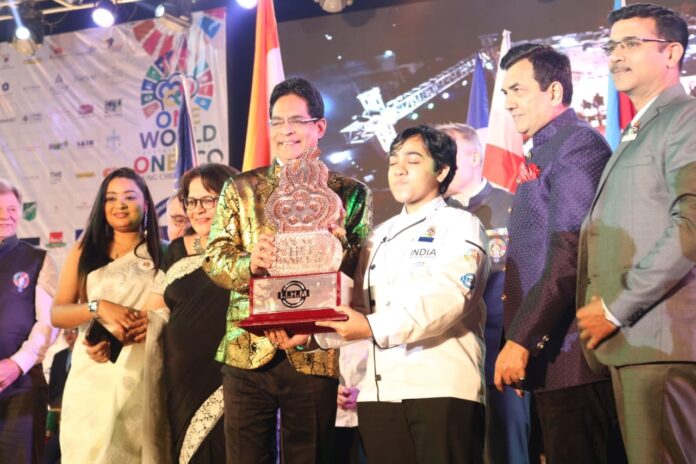 After a week of intense cooking and judging across six Indian cities, YCO 2023—the world's biggest culinary olympiad finally came to a finish at a spectacular Closing Ceremony and Awards Night in Kolkata. A day before the event—in a nail-biting finish—the Top 10 finalists of YCO 2023 had been selected in the Grand Finale held at the IIHM Global Campus, Kolkata. Among the Top 10 Finalists were: Azerbaijan, England, France, India, Malaysia, Netherlands, New Zealand, Singapore, Thailand and the USA.
Naureen Shaikh from India won Bronze and a cash prize of US$ 2,000
Patiphon Lertsurakitti of Thailand won Silver and a cash prize of US$ 3,000
Emil Zeynalzade of Azerbaijan walked away with the top prize—the coveted Gold Trophy and a cash prize of US$ 5,000
Emil Zeynalzade of Azerbaijan was announced the winner of the 9th International Young Chef Olympiad. Other than winning the gold medal, Emil Zeynalzade was awarded the prestigious Gold Trophy and a cash prize of US$ 5,000. Patiphon Lertsurakitti of Thailand won the Silver trophy, while India's Naureen Shaikh won the Bronze trophy.
The Closing Ceremony was a massive, grand and star-studded event, symbolizing the unputdownable spirit of the students, mentors, judges and all those associated in making #YCO2023 a mega success. A high point of the Closing Ceremony was the presence of celebrity chef Padma Shree Sanjeev Kapoor, who is the Chief Mentor of the Young Chef Olympiad.
The Grand Jury for the event comprised renowned culinary exponents including Celebrity Chef Ranveer Brar, Michelin Star Chef Manjunath Mural from Singapore, Chef Mario Perera- Executive Chef of The Dorchester Collection, Chef Gary Maclean, National Chef of Scotland; and renowned Chocolatier and Pâtissier Chef Sarah Hartnett, among others.
YCO 2023, one of the world's largest culinary competitions for student chefs, was a joint initiative of the International Institute of Hotel Management and the International Hospitality Council UK. The competition witnessed over 50 countries participating this year, with new countries including The Netherlands, Egypt, Australia, Luxembourg, Tanzania, Azerbaijan, and Madagascar. "Organized by sheer determination, the Young Chef Olympiad is not about winning or losing. It is about friendship, camaraderie, bonding, and about making friends for life." said Dr Suborno Bose, CEO of International Hospitality Council, Young Chef Olympiad, Chairman and Group CEO, IIHM and Indismart Group Worldwide.
Also Read: Google and Meity hub representatives selected JECRC all over Rajasthan
His Excellency Dr. Ashraf Shikhaliyev, Ambassador of Azerbaijan to India, who had especially flown in to attend the Closing Ceremony, was delighted with Azerbaijan's win and wished the Young Chef from Azerbaijan all the best for his career.
YCO is a one-of-a-kind event wherein countries from across the globe come together on a single platform and participate to compete for the most prestigious title of YCO Winner. YCO 2023 predominantly focused on the theme of Sustainability and on promoting original, organic grains viz. Millets owing to 2023 being declared as the International Year of Millets. Further, this year's theme of sustainability aligned with the United Nations' 17 Sustainable Development Goals.
This year Educate yourself and develop your skills with EasyShiksha