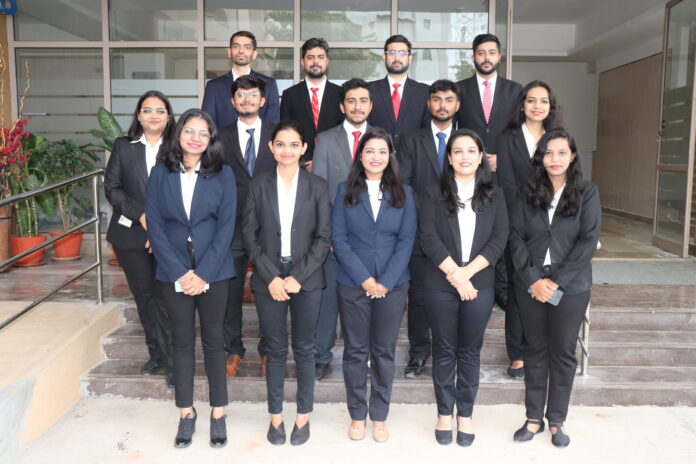 India, 7th November 2022: Symbiosis Institute of International Business (SIIB), one of the leading business schools in India, a constituent of Symbiosis International (Deemed University), has witnessed a stellar placement season for the class of 2020-22. The highlights of the season were the highest International CTC, amounting to 82000 USD. Major companies have participated in the recruitment drive, with the highest domestic CTC reaching 20.17 LPA; the average and median domestic CTC were 11.32 LPA and 11.02 LPA respectively.
The placements for the batch 2021-23 are in full swing. Till now, the highest placement offered is 39 LPA and the highest PPO offered is 34 LPA.
Felicitating the students on their achievements, Dr. Asmita Chitnis, Director of SIIB said, "This placement season is a testament to our tireless efforts in imparting world-class education and developing forward-thinking alumni. We congratulate our students for their grit and wish them the very best for the forthcoming chapter of their life. The industry-immersive pedagogy has brought us a steady stream of recruiters who have associated themselves with us for many years. The institute has immense gratitude towards long-standing industry connections and the new recruiters alike."
SIIB MBA programmes feature some of the most advanced business studies in International Business, Agribusiness, and Energy & Environment. The programmes aim to create future leaders who, being equipped to take the dynamic challenges of the industries headlong, will revolutionize these cutting-edge areas and bring in a global perspective.
Students who specialized in International Business were placed in reputed companies such as Accenture, Veritas, IBM, Aspect Ratio, CRISIL, Société Générale, Asian Paints, Deloitte, EY, HDFC Life, Adani Wilmar, MSD Pharma, Marico, Axis Bank, and DHL among many others. Recruiters offered some of the most desirable and futuristic roles in the industry across domains like Business Analytics, Data Science, Market Research, Product Development, Consulting, Risk Analyst, Digital Marketing, Strategy, Financial Advisory, and Operations Management.
The highest domestic salary for MBA in Agribusiness was 16.80 LPA. The median and average salary amounted to 9.96 and 10.37 LPA respectively. A whopping 82000 USD was offered as the highest international salary. The international job offers had a median and average salary of 17.55 LPA and 29.52 LPA respectively.
Major companies such as ITC- ABD, UPL, Adani Wilmar, NCDEX, ADM Agro, Rallis, MSD Pharma, IIFL Samasta, Federal Bank, IDFC First Bank, Spice Money, IFFCO Kisan, HDFC Bank, Axis Bank, Tolaram Group, Infosys, Centor India, East West Seed, Gyan Dairy, Tata Sky, and many more sought the students from MBA Agribusiness. Some roles offered for this specialization were Consulting, Agri Input, Agri Value Chain, Commodity trading, Rural Banking and Insurance, and Food & Beverages among others. In addition to eminent companies, the discipline had rising start-ups such as Avanti Finance, DeHaat, Fasal, Vegrow, BharatRohan, and Waycool, offering roles in the domain of Agri-tech, Rural Finance, and Agri Supply, and Value Chain Management.
Also Read: A Deep Dive into the Phenomenon of Moonlighting
For MBA in Energy and Environment the highest, average, and median salaries were 15.42 LPA, 10.16 LPA, and 9.72 LPA respectively. Accenture, EY India, EY GDS, KPMG India, HCL, Infosys, IDFC Bank, Sphera, AICL Communications, DHL, Photon, and Sun Emergent Ventures India Pvt. Ltd. to name a few were some of the major recruiters.
Owing to the thrust on ESG (Environmental, Social, and Governance) in the discipline, many companies offered roles in ESG and other allied areas. Some of the roles offered were in Sustainability & Climate Change Consulting, ESG data analytics, Business Analyst, Sales and Management, Supply chain management, etc.
The industry-driven pedagogy, the leadership qualities fostered, and the global immersion has contributed to several successful alumni, who have led the emergent areas of business. With this placement season, SIIB hopes to send forth another set of industry leaders in the market.
Visit EasyShiksha for skill development courses.