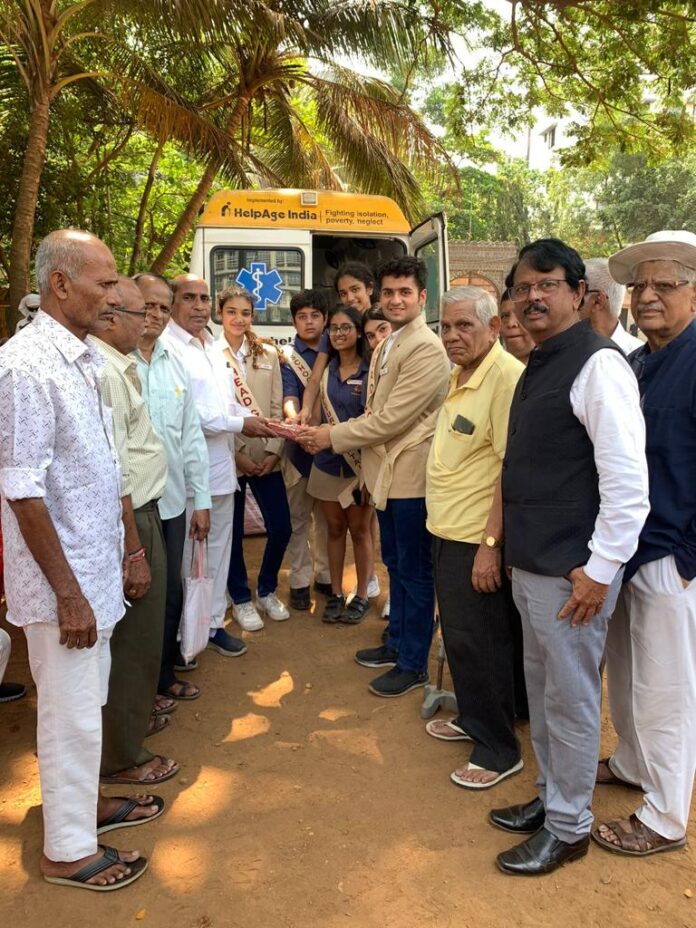 Aditya Birla World Academy school (ABWA) students presented specially-curated packages to the elderly as a token of love, with the support of HelpAge India
Students raised funds for the initiative through activities such as an art auction, dance marathon, and fete
Mumbai, 23 March 2023: Aditya Birla World Academy (ABWA), an established international school in Mumbai, celebrated the International Day of Happiness by spreading love and compassion to elderly individuals. Led by six members of the ABWA student council team, several hundred specially-curated care packages were presented to elderly individuals in need. The entire initiative was planned and executed by ABWA students, under the guidance of faculty members, who raised funds for the activity through social initiatives such as an art auction, dance marathon, and fete. The students visited Helpage India's Mobile Healthcare Unit (MHU) site at Jyeshta Nagarik Mandal, Chhatrapati Shivaji Maharaj Maidan, Nehru Nagar, Kurla (East).


The initiative was facilitated by Helpage India, a prominent Indian non-governmental organization that works to address the needs of elderly individuals who lack resources, advocating for their rights and supporting them in leading dignified and healthy lives. The event aimed to spread joy and promote happiness by connecting students with the elderly and fostering a sense of empathy and compassion in the next generation of leaders. ABWA believes in nurturing well-rounded individuals who can contribute to society and make a positive impact in their communities.
Commenting about the initiative, Radhika Sinha, Principal, Aditya Birla World Academy, stated, "Meeting the elderly and spending time with them was an enriching and heart-warming experience for our students. They were truly inspired by the resilience, kindness, and vibrancy of these incredible individuals, who have faced hardships with grace and positivity. This initiative has taught our students a valuable lesson about the power of happiness, even in the face of challenges and difficult circumstances. At Aditya Birla World Academy, we believe in holistic learning that emphasizes character-building alongside academic excellence. We hope that this experience has instilled in our students a sense of responsibility towards contributing to the social sector and that they will continue to make a positive impact in their communities in the future."
Commenting on the initiative, Prakash N. Borgaonkar, Head – Maharashtra & Goa, said, "On the occasion of International Day of Happiness, the students from Aditya Birla World Academy visited our Mobile Healthcare Unit site. It was a great experience to see that two generations are coming together as we always try to involve the younger generation in our program so that they can come and spend time with the older generation and the intergenerational bond can be restored. Moreover, this is the age where students can inculcate such values in their minds so that they can understand the importance of their grandparents and the senior citizens."
About Aditya Birla World Academy
Backed by Aditya Birla Education Trust, Aditya Birla World Academy (ABWA) is India's leading International School located in South Mumbai. ABWA strongly believes in the holistic development of its students. ABWA strives to create a cohesive learning environment that is conducive to developing a child's innate talents. In addition to focusing on academic excellence, ABWA students are encouraged to think critically and question the world around them. Further, through a wide range of extra and co-curricular activities, ABWA aims to develop children's personalities and stimulate them to be mindful, sensitive and responsible members of society. ABWA focuses on socio-emotional development to ensure that every child feels safe, supported and motivated.
ALSO READ: Cancer Research UK Funded Trial Finds that Chemotherapy Before Surgery Cuts the Risk of Colon Cancer from Returning
About Aditya Birla Education Trust
Aditya Birla Education Trust (ABET) is an organisation committed to the cause of education and mental health, with an objective to nurture young minds. Right from establishing the Aditya Birla World Academy, an International School with an Indian soul, to The Aditya Birla Integrated School, which acknowledges the need to cater to children with different learning needs, ABET has always prioritised the importance of a child's overall development. Further under the aegis of ABET, the Aditya Birla Education Academy provides professional development opportunities for educators, and engages, empowers and equips them to contribute towards shaping the future of young minds. In an endeavour to stamp out stigma surrounding mental health concerns, ABET has established Mpower, a holistic mental health care initiative, which has become the pioneer of mental health awareness in the country. Aditya Birla Education Trust runs under the zealous leadership of its passionate and committed Founder & Chairperson, Dr Neerja Birla. Ujaas is ABET's new vertical, working on prioritising menstrual health and hygiene management as the key focus area.
This year Educate yourself and develop your skills with EasyShiksha