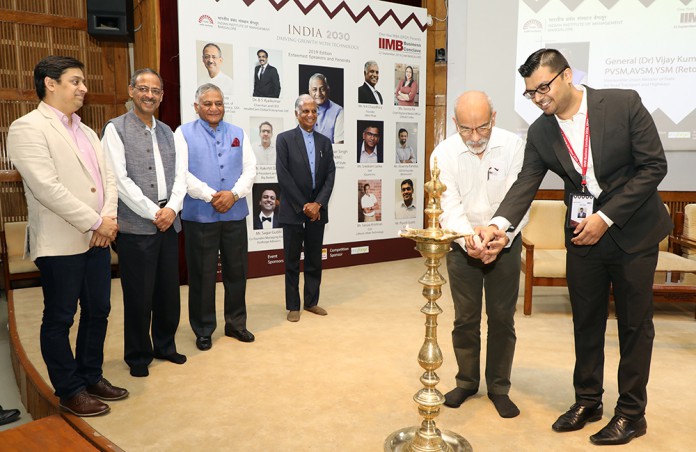 23rd September 2019: India 2030: Driving Growth with Technology 2019, the annual business conclave hosted by the one-year full-time MBA – the Executive Post Graduate Programme in Management (EPGP) of IIM Bangalore on Sunday (September 22) proved to be the perfect forum for thought-provoking discussions on relevant new age management topics.
This year's theme for the conclave 'India in 2030' focused on the transformations taking place in various sectors enabled by technological advancements shaping the future of the country that is poised to become a $10-trillion economy by 2030.
All the speakers from industry, government and academia were of the opinion that the key areas in which India needs to focus over the next decade are quality education, healthcare, agriculture, manufacturing, clean energy, and climate change. At the conclave, industry leaders discussed current trends and challenges faced in these sectors. The conclave gave curious minds the opportunity to interact with and get inspired by these leaders.
Themed around 'India 2030 – Driving growth with technology', the conclave had keynote speaker sessions, panel discussions, industry talks and quizzes.
The Guest of Honour, General Dr Vijay Kumar Singh, Union Minister of State for Road Transport and Highways, in his keynote address at the conclave said, "India needs to adapt the digital transparent platform and set out the theme which will help us in the development of our economy. For instance, electric vehicles are setting the footprint in modernizing the mindset of the masses, resulting in adaption of change in the technology."



Top Software Engineering Courses



Dr. Vijay Kumar, spoke about the 'Bharatmala Pariyojana', a macro and corridor-based approach to road development which caters to expansion as well as plugging of the existing infrastructure gaps. "Bharatmala Pariyojana is a huge initiative for the Highways sector that focuses on optimizing efficiency of freight and passenger movement across the country by bridging critical infrastructure gaps through effective interventions like development of Economic Corridors, Inter Corridors and Feeder Routes, National Corridor Efficiency Improvement, Border and International connectivity roads, Coastal and Port connectivity roads and Green-field expressways. Bharatmala Pariyojana is a great example on the use of technology and how is it helping the economy for project preparation and asset monitoring," he said.
Pointing out how India can be seen in 2030, Anil Swarup, Ex-Secretary, Department of School Education & Literacy, Government of India and Ex-Secretary, Ministry of Coal, said: "Artificial Intelligence, Machine Learning and bots are the hot topic of the moment, but the government sector has been notorious to embrace such technology. While our Prime Minister has been promoting the Digital India initiative to make governance more accountable and transparent assuring data privacy and security, it is our responsibility as individuals to help our government too. We need to take the initiative to help government in transforming
governance, making it more transparent, accountable and participative by digitizing old government files and making accessible for everyone. Half of the cases at government sector remains closed because they require physical attendance of the officers and must deal with lot of paperwork. Digitization will help bureaucrats and citizens get rid of paperwork and have access to all the details."
Inaugurating the event and addressing the gathering, IIM Bangalore Director Prof. G. Raghuram said: "I would like to thank the students of the one-year full-time MBA – the Executive Post Graduate Programme in Management (EPGP) program for coming up with the theme – 'India 2030', which focuses on transformation and driving growth of technology. In today's volatile and competitive economic environment, companies across the world faces an increase in need for skilled mid-level and senior executives who has the vision to perceive and analyse a situation from multiple perspectives and take timely and effective action. I am glad that our students have shared their positive response towards this program and have enjoyed their tenure at IIM Bangalore. This has led our students to have a forward-thinking mindset and develop business leaders for tomorrow, who will create value for their organizations as well as for the society. In the context of technology, IIM Bangalore will soon launch the two-year post graduate program in Business Analytics by next year and we hope we will receive the same response what we have received for our other courses so far."
The conclave featured a panel discussion on future growth prospects in India moderated by Dr. Haritha Saranga, Professor of Production and Operations Management; and Chair, Doctoral Program at IIM Bangalore featuring Chinmay Pandit, Head of Vertical – Commercial Vehicles; and Member of Executive Board, KPIT, Piyush Gupta, Chief Executive Officer, Lithion Power, Sagar Gubbi, Co-Founder & Managing Director, Eco Forge Advisors, Sanjay Krishnan, Chief Executive Officer, Lithium Urban Technology.
Talking about the Overview of the Electric Vehicle Fast Charging System Market and Customer Experience, Sagar Gubbi, Co-Founder & Managing Director, Eco Forge Advisors, explained: "The EV market in India has accomplished major achievements in a relatively short time and EV is the future of mobility. We have fossil fuels and technology already in the market, but no market ready batteries are expected in the near future. The only way we can pursue EV dreams without being dependent on any country will be through setting up a high ambition, well-funded institution by a recognized expert and give priority to customer experience."
The evening session had another round of panel discussion on growth prospects of services sector in India moderated by Professor B Mahadevan, from the Production and Operations Management area at IIMB. The panellists were Varun Sridhar, CEO, OPPO India Financial Services, Rakshit Daga, VP and CTO, BigBasket, Sreekant Lanka, SVP, iQuanti, and Vinamra Pandiya, Founder & CEO, Qtrove.com
Varun Sridhar spoke on the start-up emerging ecosystem, where start-ups needs to be challenged in order to becomes successful and Sreekant Lanka emphasized the future of globalization in a millennial world where millennials go for experience instead of taking ownership.
India 2030 concluded on the thought that India was on the right path towards implementation of AI and ML across segments and which will focus on transformations taking place in various sectors enabled by technological advancements shaping the future of the country that is poised to become a $10-trillion economy by 2030.
Top Networking Online Courses
More Courses With Certification
Empower your team. Lead the industry
Get a subscription to a library of online courses and digital learning tools for your organization with EasyShiksha
Request Now
ALSO READ:  Rabindranath-tagore-university-launches-mps-first-atal-incubation-centre-within-a-private-university
Get Course: Learn-HTML-Tutorial-for-Beginners