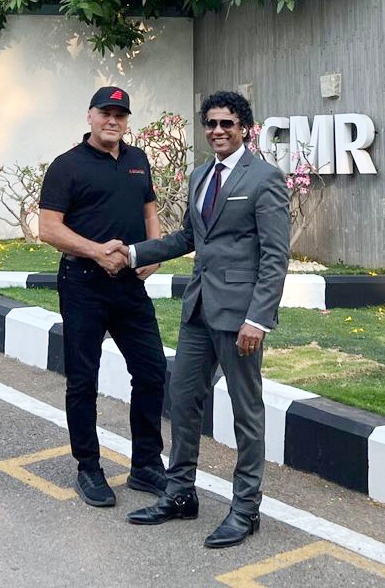 The partnership will provide prospective Indian students & Airline cadets access to a new & innovative Pilot Pathway Program from May 2023
Hyderabad March 03, 2023: With Indian Aviation on an exponential growth trajectory and burgeoning demand for quality pilots, the global aviation education & training group – Airways Aviation Group operating in Europe, Australia, Middle East & Africa and Asia Pacific Flight Training Academy Limited (APFT) India, has announced the coming together of a new strategic alliance partnership.
The Dubai headquartered Airways Aviation & Hyderabad based Asia Pacific Flight Training Academy Limited (APFT) today signed a new strategic alliance partnership that will provide prospective Indian students & Airline cadets access to a new and innovative Pilot Pathway Program from May 2023.
"It is great to visit India again and I am very impressed at the progress being made" said Mr. RomyHawatt, Airways Aviation Group – Founder & Chairman.
We feel we have found the right organization to grow and develop our strategic plans. The Triple A Airways Aviation Group is not only the largest global private aviation academy but also has one of the world's largest privately owned training fleets.
APFT has been actively seeking international partners with best global standards and practices consistent with the Indian DGCA requirements.
We believe we will be able to enhance the standards of training, facilities and our fleet thereby helping India attain her coveted goal of becoming a world class aviation training hub, as envisioned by the Ministry of Civil Aviation, Government of India"says Mr. Hemanth D.P., CEO – APFT, an industry veteran and former Chief Commercial Officer & Chief Operating Officer – GMR Airports.
The Indian aviation industry and the government are focused on developing a robust pipeline of well-trained pilots and other Aviation professionals. It is therefore prudent that Indian Flight Training Organizations (along with their airline counterparts) establish new and robust strategic education & training alliances with reputed, capable & established international partners.
The new Airways Aviation India office will be located at the GMR Aero Towers along with the APFT office at The Aero City Hyderabad International Airport campus and we plan to start delivering our Pilot Foundation program to prospective Indian aviators from May"says Mr. Hawatt.
The Airways Aviation/APFT Program will include several flexible training programs designed for both student and airline partner needs. These include hybrid programs offering both Indian DGCA and EASA (European) or CASA (Australian), Commercial Pilot Licenses, along with options for Aviation Graduate Degree programs from European and Australian universities.
APFT has already purchased 3 Diamond DA40s, the world's most advanced flight training aircraft, with Jet Fuel powered Continental Mercedes engines. This gives the best quality fleet of training aircraft with the aim to grow to over 20 aircraft in the coming years" said Mr. Hemanth.
Also Read: 12 startups pitched to 50+ Investment funds at CIE-IIIT Hyderabad's Demo Day
About Airways Aviation:
AIRWAYS is a world leader in flight training Pilot Training Academies in key locations across Europe, Middle East, Africa & Australia, Airways has more than 35 years of world-class flight training experience to meet the rapid growth in demand for Airline Pilots, Cabin Crew and other aviation industry professionals globally.
About Asia Pacific Flight Training Academy Limited:
Asia Pacific Flight Training Academy Limited is a DGCA approved Flight Training Organization (FTO), based at Rajiv Gandhi International Airport, Begumpet Airport and Kalaburagi (Gulbarga) Airports. Established with over decade of stellar experience with 100% Safety and placement records, to provide World-Class Pilot training to aspirants with the Vision to produce the best well rounded aviation professionals with the highest standards of integrity, safety, discipline and professionalism.
This year Educate yourself and develop your career with EasyShiksha