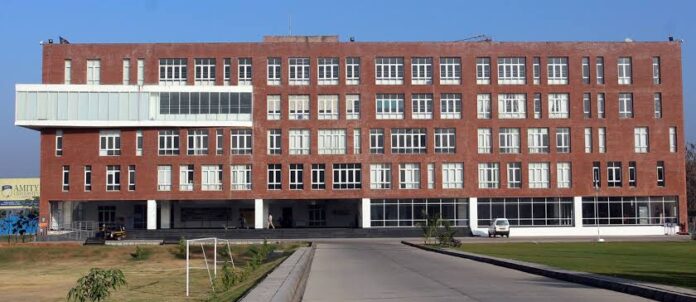 Amity University Mumbai has achieved an impressive ranking in the Business School domain, securing the top position among private universities in Mumbai. According to the recent Times B School Survey, the university ranked 27th among the top 100 management institutes across India and 12th among the top 36 private universities. Additionally, Amity Business School, in conjunction with RICS & CII of Amity University, achieved the 13th rank in the West zone regional ranking. Amity University is currently the top-ranked private university in Mumbai. This ranking is a testament to the university's outstanding academic services and its commitment to excellence.
ALSO READ: HLM Group Organises Awareness Program In Association With NIPAM
The ranking is based on several critical parameters, including learning experience, life experience, selection process, placement performance, and future orientation. The Best B-Schools ranking is based on a comprehensive research methodology that requires at least three years of data for consistent results. Detailed parameters of the ranking include student strength, industry connectivity, pedagogy and infrastructure, student exchange, faculty exchange, placement performance, and future orientation, providing a holistic perspective on the quality of education.
On this occasion, Prof (Dr.) A W Santhosh Kumar, Vice Chancellor of Amity University, Mumbai, said, "Receiving the number 1 ranking in Business Education by Amity Business School, RICS & CII of Amity University Mumbai is a

testament to the dedication of our faculty, staff, and students who strive every day to push the boundaries of what is possible in the world of business. We are proud to be recognized as a leader in this field and remain committed to providing an exceptional education that prepares our graduates to tackle the complex challenges of the global marketplace with confidence and innovation."
Rankings such as this are necessary to show the true caliber of academic institutions and embody all of the distinctive characteristics necessary to provide a quality education to business graduates. The ranking is a sign of achievement after tireless work in various fields. Multiple benchmarks are required to assess actual performance, and there should be a holistic handover to accelerate progress in curriculum-linked activities while practicing innovative approaches to encourage students to showcase their talents in extracurricular activities. Amity Business School, together with RICS and CII, has made significant progress in its performance over the years by providing quality educational services. 
This year educate yourself and develop your career with EasyShiksha