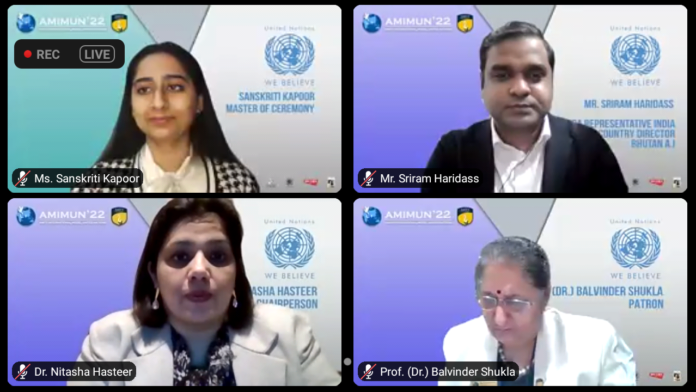 Amity University organized the 11th Edition of Amity International Model United Nations 2022 (AMIMUN'22) on virtual platform. Keeping in mind the new normal, the theme for the e-Edition of AMIMUN'22 was "Perseverantia Omnia Vincit: Perseverance Conquers All", with an objective to encourage Student delegates to engage in debate that focuses on how the world has changed due to the unprecedented Covid-19 pandemic.
AMIMUN'22 is an endeavor that witnesses Students participating as diplomats representing members of the United Nations and simulating various Committees, Agencies, specific organs and programmes of the United Nations.
Addressing the gathering, Dr. Balvinder Shukla, Vice Chancellor, Amity University averrred, "At Amity, Students are nurtured holistically towards academic excellence and encouraged to think analytically as future worldwide pioneers on issues that concern the nation and the world and concoct their thoughts and methodologies to address them. Through this platform we want to inculcate the important values, leadership and diplomatic skills amongst our students by making them understand the functioning and the role of United Nations which started in 1947. The theme for this years' edition is very relevant, looking at the current scenario of the global COVID-19 crisis as the pandemic has impacted not only businesses but also individuals and communities across the globe. I'm sure that the discussions are going to be very fruitful and beneficial for all concerned as it is not only the subject knowledge, but the presentation of thoughts, views and arguments makes a huge difference and influences others to a great extent", said Dr Shukla.

Sharing his vast experiences of working in different countries, Mr. Sriram Haridass, UNFPA Representative India and Country Director, Bhutan, stated, "I'm glad to be present here today and share my views on this occasion. I have had the opportunity to work in a number of countries, the people of these countries have helped me to build my own perseverance and resilience. The work involved me to travel and see my own country in a new light. The exposure you get by travelling to different countries enriches you personally as well as professionally. Speaking about India, "India is a unique country, it is the 5th largest economy in the world, the most populous nation by 2027. Given its population size, its achievement of global sustainable development goals, particularly, those on health and gender will largely depend on how successful India is in implementing priorities of the 2020 agenda, not just at the national level but also at the state and local levels. Unfortunately, the inherent structures and constraints, regressive social norms, discrimination in practice, patriarchal values and biases prevalent in the society continue to disproportionately affect India's growth. Promoting youth participation should be our prime objective and we should help them to develop their skills, knowledge, personality and support them to make informed decisions about their bodies, lives, families and communities. We can count on the energy and exuberance of youth, therefore they should keep thinking, innovating and persevering and should be the change they want to see in the world."
Sharing his views on the occasion, Mr. Fabio Subia Diaz, First Secretary for the Embassy of Peru in India, said, "This is the third year that the embassy of Peru is participating in this event and I would like to highlight some of the core values of diplomacy and multi-lateralism which are extremely important today. Peru and India are two of the founding members of the United Nations and since its inception, have raised important issues of the world. There should be a new resurgence of multi-lateralism, specially in the field of health, where the countries should come together to tackle the challenges that have been thrown at us by the COVID-19 pandemic. This platform provides the students with a great opportunity to shape their personality and develop their skills for working in international organizations. We must look for constructive solutions and learn to cope with the challenges so that the world can become a better place to live in."
Important Announcement – EasyShiksha has now started Online Internship Program "Ab India Sikhega Ghar Se"
Speaking about the skills to be a successful diplomat, Mr. Massoud Rezvanian Rahaghi, Deputy Chief of Mission for the Embassy of Iran, averred, "To succeed and be an efficient diplomat in multi-lateral area, one needs to work hard, should study the agenda carefully and know about the background and relevance by doing thorough research of the task or assignment, which they may be working on. It's very important to know about your country, its people and their requirements to address their problems. Dynamism, optimism, understanding of the problems, efficiency and possessing the required skills are amongst the most fundamental aspects for being a successful diplomat and representing their country in the United Nations. Iran and India have significantly contributed to eliminate the problems of the Afghanistan and are still continuing to do so, in their individual capacities, as nations, which is highly commendable. We all, including the United Nations, should collectively strive to alleviate the pain and struggles of Afghanistan and ensure a peaceful existence for its citizens."
Ambassador (Retd.) Vishnu Prakash of India to Canada and South Korea, stated, "Today we are discussing a contemporary and significant issue through this platform, and I truly believe that youth is the catalyst of change. As I see Afghan tragedy was avoidable and should have never ever happened, I would urge the United Nations to take the necessary steps to alleviate the sufferings of people as it is important that a solution must be found. The Pandemic has caused huge losses the world over and there is an evident lack of political will to transform the situation. It is heartening to see that India has come to the rescue of various nations and India alone has enough capacity to push back the dreaded challenges. Speaking about climate change, he further elaborated, "Climate change poses an existential crisis to the mankind and we need to address the same by holistic approach, change of lifestyle, cutting down on waste, adoption of the best practices and innovative ideas and solutions. If we work together, we can reverse the effects of the emission of greenhouse gases in the atmosphere and can save our planet."  
Top Software Engineering Courses
Speaking about the important role of youth, Ambassador (Retd.) Skand Ranjan Tayal of India to Republic of Korea and Uzbekistan, said, "The young generation is very intelligent, smart, powerful and well informed as they live in an era of fast communication, times have changed and there is a lot which an individual can do today. Human Beings are the most supreme creatures and possess extraordinary qualities, we can think, imagine, plan, design and direct our future. While environmental change is the foremost concern at present, social justice and equality also needs to be addressed as peace is very important for a nation's development. "We have to remain united in all our efforts and collectively find the solution to the problems which the world is facing today. Persevere, work hard and always think positive as positivity has a lot of power. Never be pessimistic, take care of what you think, words are secondary and thoughts play an important role in shaping our future", concluded Mr. Tayal.
ALSO READ: Launch of IKS Division's Initiatives For New IKS Centers, Research Proposals
Want to improve your skill visit: EasyShiksha