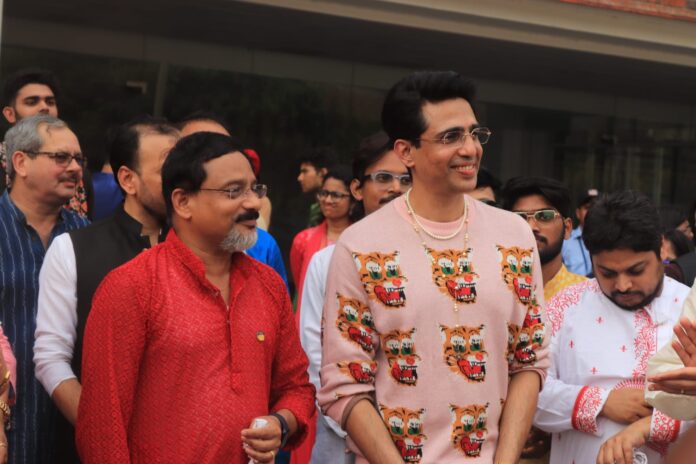 Amity University's annual youth festival, Aminova 2023, starts off with a bang in the presence of famous actor Gulshan Devaiah. This year the theme of the event is 'Into The Wild' with the message to save the environment. The logo of the festival, specially designed with the message of go green. Aminova is scheduled to be held from 13th, 14th, 15th April 2023.
ALSO READ: Rapido sets in motion with 'Bike Wali Taxi Sabse Saxi' campaign on JioCinemas IPL streaming
AMINOVA is an annual mega-event and ritual celebrating joy, talent and passion for cultural practices. It is a platform where students from all disciplines come together and work as a team to plan and successfully execute the events. A large number of students from Amity University Mumbai and various colleges in Mumbai, Navi Mumbai and Pune participate in the event and around 5000 students attend. The university has organised Aminova as a brilliant amalgam ation of events ranging from fashion show, mega model hunt, dance competition, singing competition, cricket, football, basketball and so on.
At the inauguration function, Prof.(Dr) A. W. Santhosh Kumar, Vice Chancellor, Amity University, Mumbai, conveyed his greetings to each participant of this mega-annual event. He said, "The motto of the event is to foster comradery, brotherhood, togetherness and instil confidence among students to exhibit their hidden treasure of talents."

Near about 22 activities are scheduled where students will compete, brainstorm, discuss and have fun. Every corner of Amity is filled with student activities, from brainstorming sessions to flash mobs to dance and music events. There is an air of art and culture in the air of Amity. Students are immersed in preparations to promote creative ideas and demonstrate their practical impact – it's not a celebration, it's a euphoria.
This year Educate yourself and develop your career with EasyShiksha