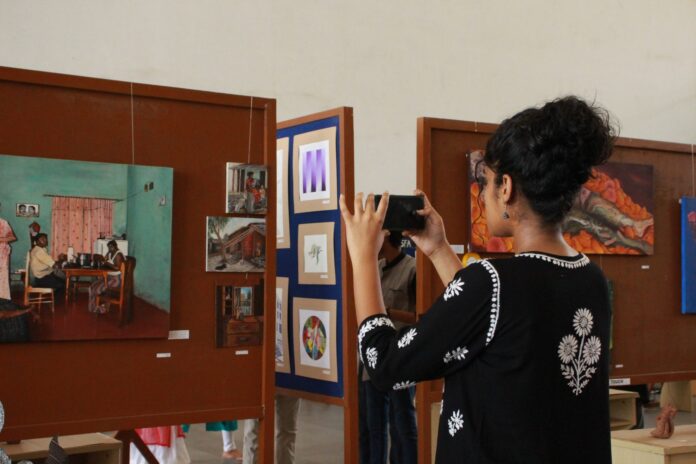 The Amity School of Fine Arts recently took a captivating journey into the realm of student creativity with its Kintsugi exhibition. The exhibit, opened by esteemed installation artist Parag Tandel, offered art lovers the opportunity to embark on a journey of discovery through a variety of artworks. From paintings and sculptures to photographs and much more, the exhibition showcased the remarkable talent of students from their first to final year of art study. The exhibition included a wide range of paintings, sculptures, posters, photographs, drawings, packaging and illustrations.'
ALSO READ: Tata Technologies launches diversity hiring campaign, encourages women to join them for #EngineeringABetterWorld
The choice of theme for this annual exhibition, kintsugi, is inspired by the Japanese art of repairing broken pottery with gold or silver lacquer. This theme was wisely chosen for several reasons. It attests to the belief that imperfections and mistakes are an essential part of the creative process and should be accepted rather than concealed. In addition, the philosophy of Kintsugi, with its embrace and celebration of impermanence, is of great importance to students as they move into the professional art world. The visual appeal of the exhibition, with its delicate golden stitching and juxtaposition of old and new, conveys a sense of fascination and aesthetic opulence that captivates viewers and invites them to engage with the narratives woven into each artwork.
During the event, Prof. (Dr.) A. W. Santosh Kumar, Vice Chancellor of Amity University Mumbai, reflected on the significance of kintsugi, stating, "Kintsugi beautifully the basic principle of life where golden etching of broken pieces of porcelain adds more value than before. This treads the path of  the journey of final-year Fine Arts students, symbolizing their growth and transformation throughout their artistic endeavors."

Chief of the event, Parag Tandel, emphasized the need for decolonization in the world of art. He stressed the importance of elevating local art and artifacts, asserting that by exploring one's cultural heritage, individuals contribute to its global significance and grandeur.
This Annual Exhibition not only serves as a platform for students to enhance and showcase their artistic skills but also fosters a sense of confidence and pride in their ability to exhibit, engage with viewers, and orchestrate the installation and management of an art exhibition. It is an immersive experience that encourages exploration and fuels artistic exploration.
This year educate yourself and develop your career with EasyShiksha