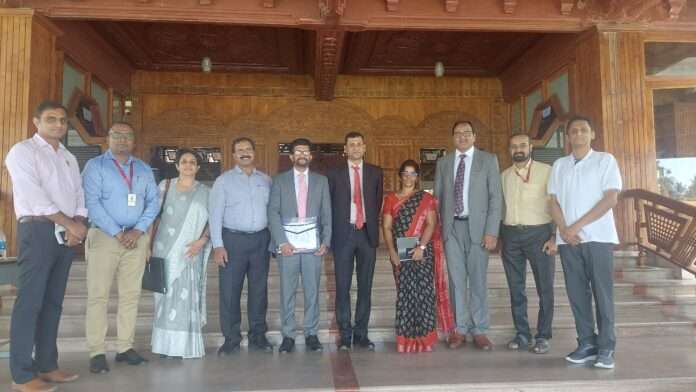 New Delhi, 23rd May 2023 – Amrita Vishwa Vidyapeetham, ranked 5th Best University by NIRF 2022 Rankings recently announced the signing of a Memorandum of Understanding (MoU) between its online arm Amrita AHEAD (www.onlineamrita.com) and the Association of Chartered Certified Accountants (ACCA, UK) at their Amritapuri campus; marking significant milestone in the field of accounting and finance education, bringing together the expertise and resources of both institutions.
ALSO READ: SIIC, IIT Kanpur and SBI announce strategic collaboration to boost information security, IT/IT-enabled services, fintech, and startup growth
Under this strategic alliance, Amrita AHEAD and ACCA will offer integrated online programs, including BCom International Finance and MBA International Finance, among others.
ACCA, a globally recognized professional accounting body with a presence in 180 countries, over 200,000 members and 486,000 students has a strong reputation for providing high-quality education and training in accounting and finance; giving an exceptional opportunity for Indian students to pursue globally recognized experience. By combining academic excellence with real-world application, this collaboration aims to revolutionize the online learning experience for aspiring professionals.
Dr. Somanath, Director of Amrita AHEAD Programs, said, "We are thrilled to announce our collaborative partnership bringing together expertise and innovation to empower accountants worldwide. Together, we aim to revolutionize the online learning experience for aspiring professionals, offering a transformative program that combines academic excellence with real-world application. Through this collaboration, we are committed to nurturing future accountants, equipping them with the knowledge, skills, and ethical values needed to excel in today's dynamic financial landscape. Together, we will shape the future of the accounting profession, empowering individuals to become catalysts of change and leaders of integrity."

Mr. Sajid Khan, ACCA India Director, said "We are pleased to be working with Amrita AHEAD to deliver our integrated online programs. This collaboration will not only benefit the students of Amrita AHEAD in enhancing their work readiness and having rewarding careers but also contribute to the growth and development of the accountancy and finance profession in India" The ACCA integrated online programs will be delivered by experienced and qualified faculty members of Amrita AHEAD, who have undergone rigorous training by ACCA. These programs will be designed to meet the needs of students and provide them with the flexibility to study at their own pace, ensuring a comprehensive and personalized learning experience.
Amrita Vishwa Vidyapeetham
http://www.amrita.edu 
Amrita Vishwa Vidyapeetham is a multi-campus, multidisciplinary Institution of Eminence accredited by NAAC. It is also ranked the 5th Best University in India in the 2022 National Institution Ranking Framework (NIRF). Amrita continues to be the No. 1 Private University in India as per THE 2020 world rankings as well. The university has been awarded two UNESCO Chairs namely the UNESCO Chair for Experiential Learning for Sustainable Innovation & Development and the UNESCO Chair on Gender Equality & Women Empowerment. The university headquartered at Coimbatore is spread across six campuses in three states — Kerala, Tamil Nadu, and Karnataka. Amrita partners with academic, industry and governmental institutions across the world to accomplish human-centered, translational, and groundbreaking research. To date, Amrita has more than 500 collaborations from more than 200 signed Memorandums of Understanding (MoUs). Some of Amrita's partners include Harvard University, Columbia University, King's College London, KTH – Royal Institute of Technology, VU Amsterdam, the British Geological Society, University of Oxford, Italian National Research Council, Deakin University, and the University of Tokyo. Sri Mata Amritanandamayi Devi (Amma), a world-renowned humanitarian leader is the founder, Chancellor, and guiding light of Amrita Vishwa Vidyapeetham. Amma's words, thoughts, and vision for education and research have shaped the university's mission and vision. 
This year educate yourself and develop your career with EasyShiksha