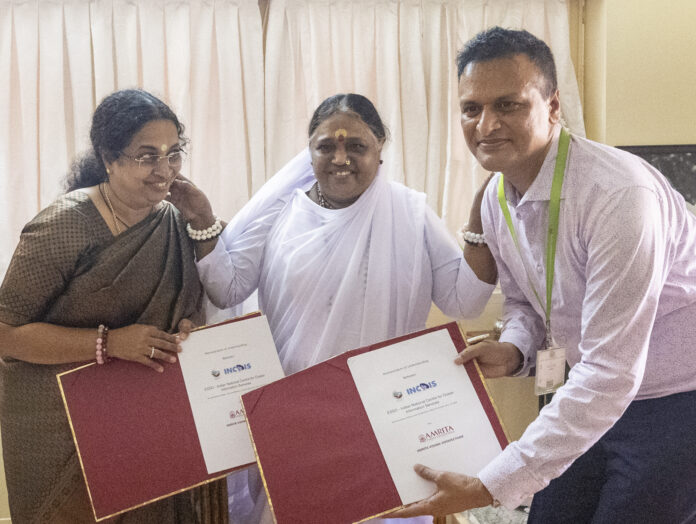 The collaborative research aims to provide coastal communities with technology-based early warning solutions for natural disasters.
The MoU addresses several academic, research, and capacity-building initiatives by Amrita and INCOIS to enable community disaster response.
A tsunami-ready programme was launched between INCOIS and the village of Alappad, Kerala, one of the communities worst hit by the 2004 Indian Ocean Tsunami.
Mumbai, 12th June 2022: Amrita Vishwa Vidyapeetham has signed a five-year Memorandum of Understanding (MoU) with the Indian National Centre for Ocean Information Services (INCOIS), Ministry of Earth Sciences, Govt. of India. This milestone initiative aims to provide practical measures for people in coastal areas when emergencies strike. The agreement addresses community resilience, hazard & disaster preparedness, joint research & development, and collaborative courses.
The MoU is on behalf of the Amrita School for Sustainable Development, UNESCO Chair on Experiential Learning for Sustainable Innovation & Development, and Amrita Centre for Wireless Networks & Applications. It was jointly signed by Dr. Srinivasa Kumar, Director, INCOIS, and Dr. Maneesha Vinodini Ramesh, Provost, Amrita Vishwa Vidyapeetham and took place in the presence of Sri Mata Amritanandamayi Devi, Chancellor, Amrita Vishwa Vidyapeetham.
Speaking about the partnership Dr Kumar said, "INCOIS is happy to collaborate with Amrita Vishwa Vidyapeetham. This MoU will strengthen collaborative research between the academic and scientific community, thereby enhancing the scope and reachability of INCOIS operational ocean forecasts to the coastal population. Further, the tsunami-ready community recognition programme proposed under this MoU will enhance the capacity of coastal communities to effectively prepare and respond to tsunamis and other ocean-related hazards."
Dr. Ramesh is also the university's UNESCO Chair on Experiential Learning for Sustainable Innovation & Development. Speaking about the MoU she said: "We are excited to enter this collaborative partnership with INCOIS and aim to bring sustainable solutions that build community resilience for the coastal population. By blending multidisciplinary domains and technology-based interventions, Amrita and INCOIS will work towards developing an impact-based early-warning assessment of natural hazards. These include the detection of tsunamis, storms, and high wave sea-level changes to help enhance the climate readiness of the maritime community. Along with this, several academic and research collaborations are planned for areas such as joint courses, faculty exchange, and R&D activities."

The village of Alappad was one of the worst hit places during the 2004 Indian Ocean Tsunami. As part of the MoU, INCOIS and the Alappad Grama Panchayat launched the Tsunami Ready Programme, a community performance-based initiative by the Intergovernmental Oceanographic Commission (IOC) of UNESCO. The goal is to develop tsunami preparedness via collaboration with the public, community leaders, and national and local emergency management agencies.
READ:  PHD Chamber comments on RBI Monetary Policy
Dr. Sreeja Unnikrishnan, Hazard Analyst, Kollam DDMA, spoke of the importance of educating people about steps to take in advance of disasters, alongside ensuring effective evacuation mechanisms. She especially extended her whole-hearted support to prepare the community for another tsunami. The Tsunami Ready Programme seeks to build resilient communities through awareness and preparation strategies that will protect life, livelihoods, and property from tsunamis. The first meeting was held with 11 ward members, the Panchayat President, Alappad community members, and Amrita faculty and students. After Alappad, the programme is set to be extended to neighbouring coastal regions.
Sri Ranga Nathan, Chief Coordinator, AmritaSREE Self Help Groups, spoke about the SHG initiative that was launched as a response to the 2004 Tsunami by imparting vocational training in 21 areas to women from the coastal communities. He lauded efforts of Chancellor Amma in relief, rehabilitation, and building community resilience in the coastal region in the wake of disasters.
  visit EasyShiksha for skill development
Over the past few decades, India has witnessed a significant rise in climatic events and natural disasters, particularly along the coastlines. Guided by Chancellor Amma and inspired by the UN Sustainable Development Goals 2030, Amrita has been at the forefront of providing short-term and long-term relief.
Some of the technological innovations include:
OceanNet to provide Internet connectivity for fishermen at sea.
Amrita Kripa Mobile App for effective and timely management of relief and rehabilitation efforts during emergencies.
Amrita Unmanned Aerial Systems to remotely drop medical payload and other supplies during disasters.

———————————

About Amrita Vishwa Vidyapeetham
http://www.amrita.edu

Amrita Vishwa Vidyapeetham is a multi-campus, multidisciplinary university accredited by NAAC and ranked the 5th Best Overall University in India in the 2021 National Institution Ranking Framework (NIRF). On a global level, the Times Higher Education (THE) Impact Rankings has rated Amrita the top university in India to address the United Nations' Sustainable Development Goals (SDGs) and 41st in the world. The university headquartered at Coimbatore is spread across seven campuses in four states—Kerala, Tamil Nadu, Karnataka, and Andhra Pradesh. Amrita partners with academic, industry, and governmental institutions across the world to accomplish human-centred, translational, and ground-breaking research. To date, Amrita has over 500 collaborations from more than 200 signed Memorandums of Understanding (MoUs). Some of Amrita's partners include Harvard University, Columbia University, King's College London, KTH – Royal Institute of Technology, VU Amsterdam, the British Geological Society, University of Oxford, Italian National Research Council, Deakin University, and the University of Tokyo. Sri Mata Amritanandamayi Devi (Amma), a world-renowned humanitarian leader, is the founder, Chancellor, and guiding light of Amrita Vishwa Vidyapeetham. Amma's words, thoughts, and vision for education and research have shaped the university's mission and vision.