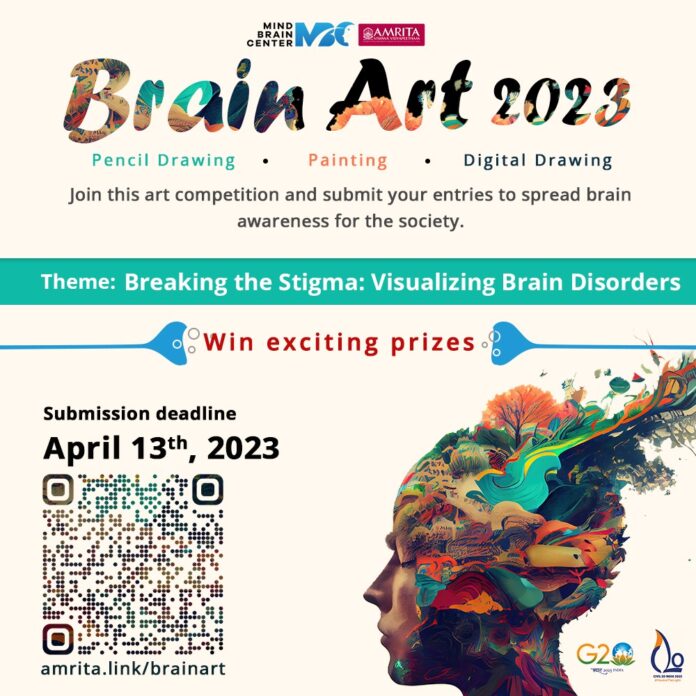 The competition's theme is centered around "Breaking the Stigma: Visualizing Brain Disorders."
New Delhi, 11th April 2023: Amrita Vishwa Vidyapeetham's MIND BRAIN CENTER is delighted to introduce their new initiative, the Brain Art 2023 competition. This competition's goal is to promote brain health awareness and reduce the stigmatization associated with brain disorders. The competition encourages individuals of all ages and artistic abilities to utilize their creativity and produce artwork that visualizes brain disorders.
Entries are accepted in three categories for the competition, which include pencil drawing, painting, and digital drawing. There are no registration fees, and participants can submit any number of entries per registration. The theme for this year's competition is "Breaking the Stigma: Visualizing Brain Disorders."
ALSO READ: Azim Premji University launches open access Early Learner Assessment tool for children between 3-5 years
Dr. Shyam Diwakar, Director, Amrita Mind Brain Center said, "Art is a powerful means to enhance awareness and comprehension of intricate medical issues. The Brain Art 2023 initiative aims to encourage artists to leverage their talents to help eliminate the obstacles that hinder individuals from seeking treatment for brain disorders."
Winners in each category of the competition stand a chance to receive exciting prizes. The deadline for submissions is April 23rd, 2023, with winners being announced a few days after the competition concludes.
To participate, entrants must create original artwork and ensure it is free of offensive or insensitive material. Organizers reserve the right to make the final decisions. Submissions must be sent via the submission link in the highest resolution, preferred vector (.eps), or raster formats (.jpeg, .pdf, .png). The artwork should be 11 inches x 16.5 inches in size, with a file size under 10 MB and 300 DPI resolution.

To promote brain awareness within society, submit your entries to the Brain Art 2023 competition. For additional information about the competition, please visit the Mind Brain Center website or Facebook page. The submission link can be found at https://www.amrita.edu/events/brain-art-competition-2023 Amrita Vishwa Vidyapeetham http://www.amrita.edu
Amrita Vishwa Vidyapeetham is a multi-campus, multidisciplinary Institution of Eminence accredited by NAAC. It is also ranked the 5th Best University in India in the 2022 National Institution Ranking Framework (NIRF). Amrita continues to be the No. 1 Private University in India as per THE 2020 world rankings as well. The university has been awarded two UNESCO Chairs namely the UNESCO Chair for Experiential Learning for Sustainable Innovation & Development and the UNESCO Chair on Gender Equality & Women Empowerment. The university headquartered at Coimbatore is spread across six campuses in three states — Kerala, Tamil Nadu, and Karnataka. Amrita partners with academic, industry and governmental institutions across the world to accomplish human-centered, translational, and groundbreaking research. To date, Amrita has more than 500 collaborations from more than 200 signed Memorandums of Understanding (MoUs). Some of Amrita's partners include Harvard University, Columbia University, King's College London, KTH – Royal Institute of Technology, VU Amsterdam, the British Geological Society, University of Oxford, Italian National Research Council, Deakin University, and the University of Tokyo. Sri Mata Amritanandamayi Devi (Amma), a world-renowned humanitarian leader is the founder, Chancellor, and guiding light of Amrita Vishwa Vidyapeetham. Amma's words, thoughts, and vision for education and research have shaped the university's mission and vision.
This year Educate yourself and develop your career with EasyShiksha