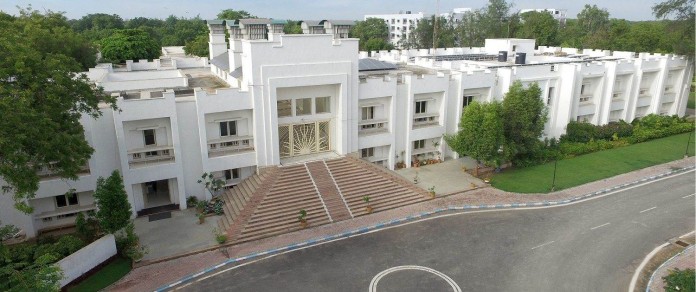 Ahmedabad-based Anant National University (ANU) today unveiled a unique, one-year, post-graduate Fellowship program with the mission to prepare and empower 'solutionaries' who design, build, and preserve more equitable and sustainable Built Environments in India.
Course: 1 year Post-Graduate Fellowship Program
University: Anant National University Ahmedabad
Deadline for the application: 15 June, 2017
Website: http://fellowship.anu.edu.in/
Address: Sanskardham Campus,Bopal-Ghuma-Sanand Road, Ahmedabad – 382115 ,Gujarat, India
Contact No. : 02717-302063, +91-9099704032
Eligibility
• Open to graduates and post-professionals from the all fields, with preference to those with a background in architecture, design, planning, environmental science and engineering, civil and construction engineering.
• Graduates and post-professionals from the disciplines of geography, sociology, anthropology, economics, geology, political science, geophysics, sustainability, ecology, and heritage conservation are highly encouraged to apply.
• Open to both Indian Nationals and International Students.
• Candidates should have successfully completed their undergraduate degrees from recognised institutions with a sound academic and extra-curricular record.
In the Fellowship's founding year (2017-18), ANU is looking for a 100 Fellows, all of whom will be fully funded for tuition and living expenses through a scholarship to the tune of INR 7 lakhs a year. Designed as a multi-disciplinary, experiential program,Anant Fellowship engagesyoung, socially-committed practitioners and students innew ideas, knowledge and skills to question, evaluate, invent and redefine the Built Environment. Some of the world's best educators, scholars, thought-leaders and practitioners have been signed up as faculty for the Fellowship.
ANU, established as a private university in 2016 by an act of legislature of State of Gujarat, aims to become one of the top five universities in India with global standing and Indian roots. Some of India's most prominent business professionals, educators, and industry leaders from diverse sectors have come together to steer ANU towards this vision.The university is led by two of India's most respected visionary leaders and educationists: Ajay Piramal, President – ANU, Chairman, Piramal Group and Shriram Group, and Dr. Pramath Sinha, Provost ANU, Founding Dean of Indian School of Business (ISB), Founder and Trustee of Ashoka University.
Apart from 100% scholarships and a deeply embedded multi-disciplinary focus, ANU has partnered with Gandhi Fellowship (one of India's most respected fellowship programs) to train its Fellows to constantly work on the self and to hone their relational skills to bring about lasting, transformative impact. Anant Fellows will work in teams on live projects rooted in local municipalities to establish connections between theory and praxis, test new ideas, and propose innovative solutions that significantly enhance local knowledge, climatology, and user lifestyle.
Anant National University offers four programs of study at the moment – Bachelor of Architecture, Bachelor of Interior Design, and Bachelor of Planning at the undergraduate level and Anant Fellowship at the post-graduate level. All programs follow UGC guidelines, B.Arch is approved by Council of Architecture. Admissions to all four programs of study are currently open. B.Arch and B.Plan admissions will conducted through ACPC, whereas admissions to B.ID and Anant Fellowship would be conducted directly by ANU. For admission procedure for all four programs visit anu.edu.in.