Aramco 's donation of $200,000 will provide nearly 7 lakh cooked meals to the needy in Delhi and Maharashtra
India, 6th May 2022: Aramco has made a sizable contribution to aid India's Covid-19 relief efforts by tying up with The Akshaya Patra Foundation. Aramco has donated $200,000 (Rs 1.50 crore) to provide essential services such as nutritious meals to Covid-affected households in India.
The partnership addresses the basic needs of some of the most deprived groups in society and supports Aramco's corporate citizenship pillars of people and planet.
As part of this initiative, about 5,31,000 cooked meals will be distributed in Delhi and 1,44,865 meals will be provided to economically disadvantaged people in Maharashtra's Nagpur, Thane, Panvel and Pune.

Mr. Mohammed S. Al-Herbish, President of Aramco Asia India Pvt. Ltd., said: "We are committed to supporting local communities in India and pleased to partner with Akshaya Patra Foundation in Covid–19 relief efforts."
The donation is part of Aramco's global corporate citizenship drive that contributes to the safety and prosperity of local communities where the company operates. Earlier, the energy company had donated $500,000 to the Indian Red Cross Society to fund the procurement of protective equipment and medical supplies for local communities.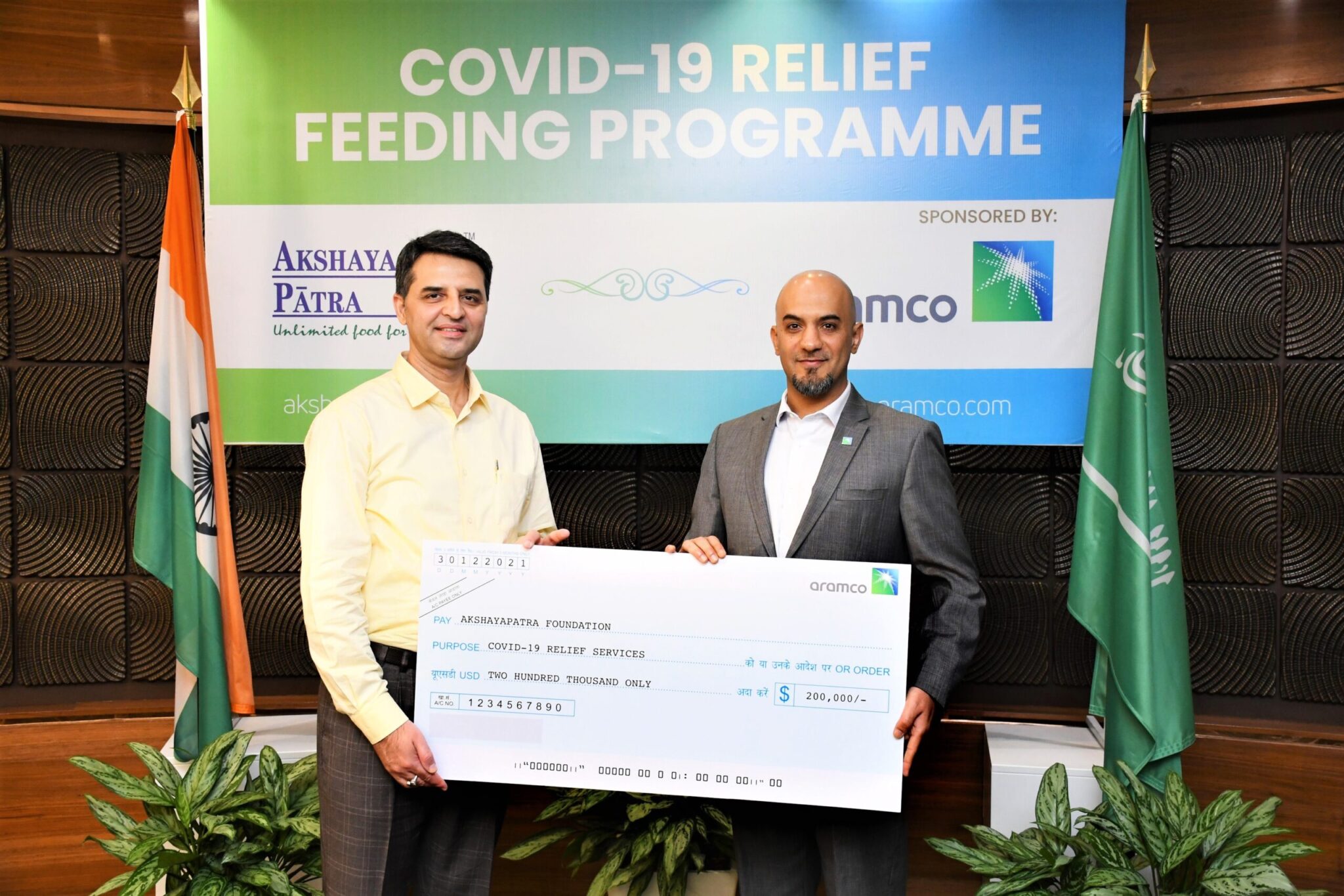 Appreciating the collaboration, Mr. Sundeep Talwar, CMO, The Akshaya Patra Foundation, said, "We are immensely grateful to Aramco for their generous donation as this will go a long way in helping India and us fight the after-effects of the Covid-19 pandemic that has ravaged countless lives over the past two years. Our mission and endeavor to end hunger can only be achieved through partnerships like these."
ALSO READ: Macquarie University, Australia signs MoU with the Indian Institute of Technology, Delhi
About Aramco
Aramco is a global integrated energy and chemicals company. We are driven by our core belief that energy is opportunity. From producing approximately one in every eight barrels of the world's oil supply to developing new energy technologies, our global team is dedicated to creating impact in all that we do. We focus on making our resources more dependable, more sustainable and more useful. This helps promote stability and long-term growth around the world.
About The Akshaya Patra Foundation
The Akshaya Patra Foundation is a not-for-profit organization that strives to address classroom hunger and malnutrition in India. As the implementing partner of the
Government of India's flagship school feeding programme, through its relentless commitment to creating a secure and educated future, the Akshaya Patra has grown from serving just 1,500 children in 5 schools in 2000 to over 1.8 million children in 19,039 government and government-aided schools from its 61 kitchens across 14 States and 2 Union Territories. Through this scheme, Akshaya Patra aims to fight hunger and, at the same time, bring children to school.
Since 2000, Akshaya Patra has worked towards reaching out to children with wholesome food every single school day. The Foundation is continuously leveraging technology to cater to millions of children.
As part of its Covid-19 relief efforts, in 19 states and 4 UTs, the foundation has served over 23 Crore meals since March 2020 in the form of freshly cooked food and food relief kits with essential groceries. Akshaya Patra has also organized free vaccination drives for the underprivileged, and during the second wave, amid the shortage of oxygen, the NGO also distributed oxygen concentrators to those from marginalised communities seeking Covid-19