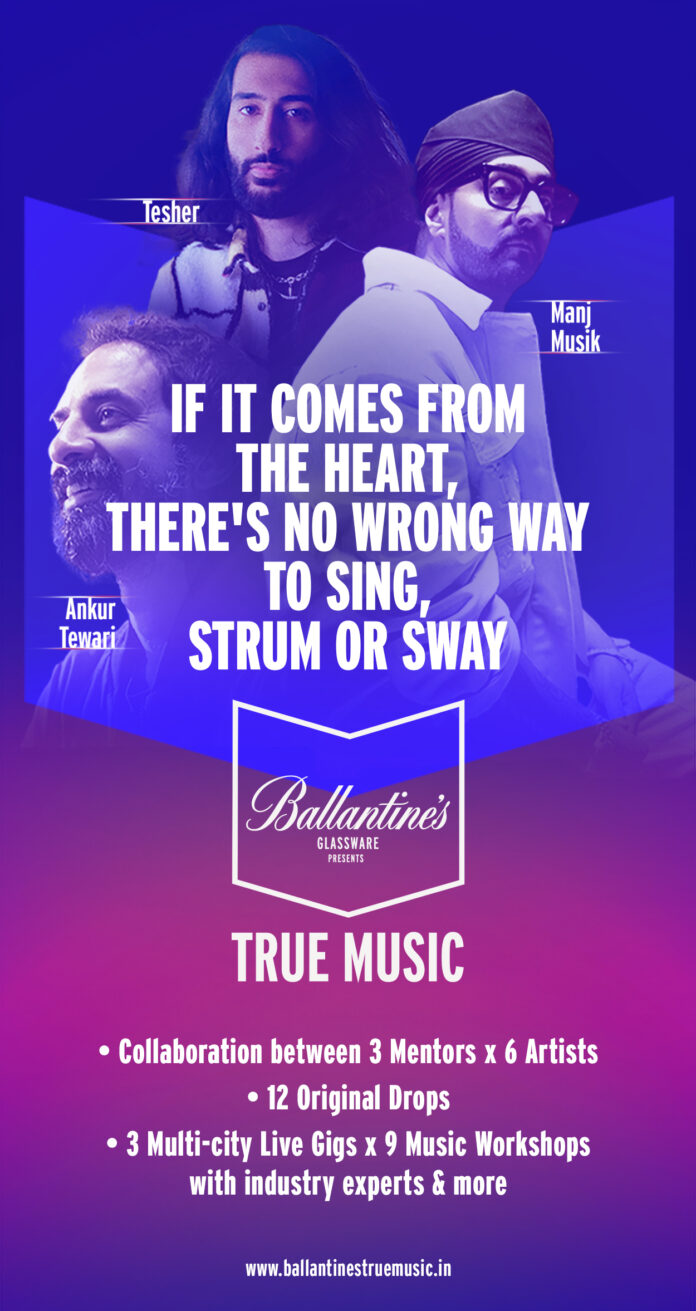 In its first leg in India, the platform collaborates with musicians Tesher, Manj Musik and Ankur Tewari to mentor emerging artists
National, May 8, 2023: Celebrating the power of self-expression and music, Ballantine's Glassware True Music comes to India. It is a global platform that goes beyond genre or fame, it represents music communities and the people that make them thrive. In India, Ballantine's Glassware True Music is set to recognize young artists across trending music genres, empower them to find their voice in the music industry through mentorship and workshops, and give them a platform to unleash their true potential. It has collaborated with Big Bang Music, a new age music label dedicated to finding superstars in the non-film music space, bridging the gap between pop culture and independent music.
ALSO READ: Motion Education releases the fastest answer key for NEET 2023
In its first leg in the country, Ballantine's Glassware True Music brings a collaboration between three mentors and six talented emerging artists. Together, they'll curate 12 sensational tracks in three genres – Electro-Pop, Urban Punjabi and Singer-songwriter – and host three live gigs across Mumbai, Hyderabad and Gurgaon. Reflecting the platform beautifully, the mentors as well as the artists are trendsetters in their own right. A popular name in the world of Electro-Pop, music producer Tesher has confidently carved his own path with viral hits such as 'Jalebi Baby' and 'Young Shahrukh'; now he is set to mentor artists Shia and Ronit Vinta while they make groovy new tunes. Representing the Urban Punjabi genre, Manj Musikis iconic for how he's taken folk Punjabi music to the global audience with hits like 'Shera di Kaum' and 'Whistle Baja'; he's ready to share his creative wisdom with artists Raashi Sood and Kunwarr. The 'Dil Beparvah' fame singer-songwriter Ankur Tewari is known for his passion for creating original music; he is excited to guide emerging artists Anoushka Maskey and Akshath Acharya to find their voice in the industry.
Speaking about the launch of the music platform in India, Kartik Mohindra, CMO, Pernod Ricard India, said, "Ballantine's Glassware strongly believes in the power of being true to yourself and following your dreams. Bringing this philosophy alive, we are very excited to present our global music platform, Ballantine's Glassware True Music, to India. With this property, we give emerging artists a stage and the opportunity to champion their self-expression through mentorships, workshops and multi-city live gigs. Our vision is to make the platform a cultural symbol that inspires people to pursue their passion and stay true to themselves."

Gaurav Wadhwa, Co-Founder & CEO, Big Bang Music added, "Big Bang Music is here to enable independent artists to deliver their creative vision, with an aim to make subcultures in music, the future soundscape of India. As part of this collaboration with Ballantine's Glassware True Music, we are reimagining how artists and brands in India can collaborate. The multi-genre, multi-format, collaborative nature of the platform opens endless opportunities for aspiring young talent, allowing them to find their feet in the music industry and build superfans. We look forward to seeing how Ballantine's Glassware True Music makes waves along the way."
The brand 'Ballantine's Glassware' explores music as a key pillar to engage with its consumers. Ballantine's Glassware True Music is a platform that fittingly enters the landscape at a time when the music scene in India is witnessing a shift – with the rise of bold new sub-genres, cross-cultural collaborations, the popularity of online streaming platforms and newfound appreciation for live gigs post pandemic. Adding to this organic wave of discovery, the platform aims to inspire consumers with stories of passion and perseverance.
While the newly mentored artists will take over the stage, Ballantine's Glassware True Music will also host a mix of panel discussions, masterclasses and workshops for the extended music community across nine Indian cities. As part of these workshops, the audience will have the chance to actively participate, engage with industry experts and get hands-on experience that will guide them on their musical journey.
This year educate yourself and develop your career with EasyShiksha