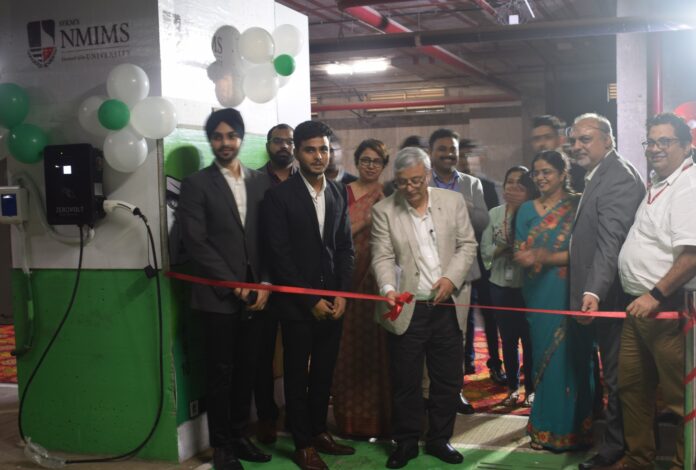 Navi Mumbai, July 2022: Electric vehicles are the future of the automobile industry. However, with all its promises of building a sustainable world, the cost and hassles of finding a charging station are factors that are an obstacle to EV adoption, both globally and in the Indian market. Keeping these challenges in mind, the two young and bright students of SVKM's NMIMS Navi Mumbai – School of Law decided to build an affordable and accessible EV charging ecosystem.
Priyesh Joshi and Harsh Virk, had an ambitious concept for 'Zerovolt Electric.' It is a high-power electric vehicle charging station network for long-distance travel across India.
The company is constructing an interconnected ecosystem to fuel smart electric vehicle charging. It is involved in critical tasks such as EV charger design and development, hardware analytics software, charger management software, payments, on-site assistance, and maintenance.
ALSO READ : Jasudben ML School conducted a STEAM Exhibition in honour of famous astrophysicist Dr. Jayant Narlikar
It is also in talks with automobile industry behemoths about collaborating and facilitating the installation of charging stations at strategic locations.
While international companies enter the EV industry with premium technological solutions, Zerovolt provides better offerings and exceptional service at a lower cost.
The company claims to proactively compete with foreign-based manufacturers by providing essential features such as – AI-drive charging analytics, remote command system, charging analytics, charger health monitoring, active load balancing, over-the-air (OTA) updates for EV chargers, and complaint management system. To improve the user experience, the 'Zerovolt Mobile Application' allows users to access, locate, and charge their EV vehicle in a single swipe.

Dr. Ramesh Bhat, Vice Chancellor, NMIMS University, said, "We feel very proud that our students have launched an EV charging station and charging management system, which will bring environmental and financial benefits. More and more car buyers are discovering the advantages of owning electric vehicles. We should encourage our students to utilise their talent and continue offering smart tech solutions to boost the EV sector."
Dr. Parthasarathi N. Mukherjee, Director, SVKM's NMIMS, Navi Mumbai campus, added, "NMIMS is proud of its students for coming up with an unique solution to build an efficient and affordable solution to cater to the EV charging industry in India and enable electric vehicle travel across the country. Kudos to each one of them. The features that make their brand different are an easy payment system, custom report to drive insight, remote command system, AI, charger health monitoring, active load balancing, and complaint management system. The smart mobile application will allow the user to access, locate and start charging their vehicle in no time."
When discussing the charge management system and mobile application, Priyesh Joshi, student, NMIMS Navi Mumbai Campus, stated, "The one-stop EV charging solution is unique to the market because no other charging station can manage multiple access points with a single application."
Harsh Virk, NMIMS Navi Mumbai Campus student, added, "We provide an efficient and economical charger management solution to educational institutes, business space, and housing cooperative society." The charging stations have the electrical and physical capacity to charge hundreds of cars daily. The company's key partners support it in providing effective and dependable solutions to its consumers. Zerovolt's important collaborators are E-DRV, the Netherlands OCPP Framework, and Urban Infraa (Builder)."
NMIMS Navi Mumbai offers a world-class, interdisciplinary curriculum, renowned faculty with industry experience and rigorous teaching pedagogy. It provides programs in management, commerce, engineering & technology management, law, science, hospitality management, and Economics. The institute features cutting-edge, contemporary facilities on a campus with a global perspective and infrastructure.
Established in 1981, NMIMS is today recognized as a globally reputed university with strong industry linkages. It offers multiple disciplines across eight campuses that consist of 17 specialized schools, more than 17,000 full-time students, and 800+ full-time faculty members, ten faculty members with Fulbright Scholarship and Humboldt International Scholarship for post-doctoral researchers. The Shri Vile Parle Kelavani Mandal (SVKM) laid the foundation stone of this esteemed university with the aim to cater to the rising demand for management institutes in the country. It is known for its consistent academic quality and research-focused approach to holistic education. SVKM's NMIMS has been granted Category-I University status by Graded Autonomy Regulation 2018 by MHRD/UGC, and NMIMS Mumbai Campus is NAAC accredited with A+ (CGPA of 3.59.)
visit EasyShiksha for skill development