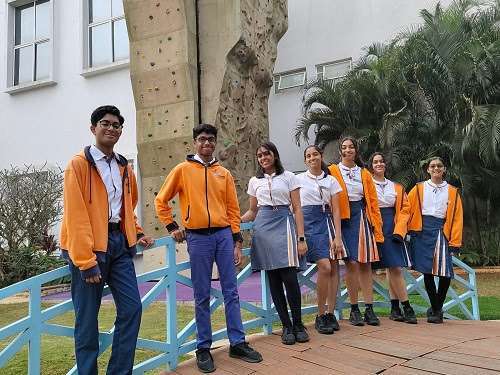 Bengaluru, Karnataka, India
With more than 100 offers in hand, the Grade 12 students at Oakridge International School, Bengaluru are all set to reach new heights at their university destinations. Like every year, IBDP students are placed in top QS-ranked Universities in USA, UK, Canada, Netherlands, Switzerland, Ireland, New Zealand, Australia, and India among many other countries. The school has a dedicated career counselling team constantly working towards making the students' dream universities a reality.
ALSO READ: Inspiring Innovations Take Center Stage at Swarrnim Startup & Innovation University's National Technology Day Project Exhibition
Incredible offers with Scholarships up to $100000
Johns Hopkins University, University of California-Davis, North Carolina State University, University of Toronto, Cardiff University and Penn State University are some of the firm choices students made from the multiple offers they received. Deeksha from Class of 2023 was awarded the Chancellor's Scholarship of $16000 per year for 4 years from University of Massachusetts, Amherst. Saanika, who decided to choose University of Washington from her handful of offers was awarded the Deans Scholarship of $30000 from University of California, Santa Cruz and $7500 Scholarship from University of Toronto. Anmol who is joining Johns Hopkins University also received a scholarship of CAD $100000 from University of Toronto. Ashoka University, National Institute of Fashion Technology and Indian Institute of Art and Design are some of the higher education choices from India for Oakridgers students.
Hear from the Class of 2023
"I'm excited about my placements. I got into the best global universities. I was especially glad as Newcastle University and University of Bath are among the best universities in the world for architecture, and I have also received a Vice-Chancellor's International Scholarship from Newcastle University which makes me happier," – Annya Mohanty.
"I feel incredibly grateful to have been accepted into so many top universities. The teachers and environment at Oakridge have allowed me to flourish. I got offers from 13 universities including UNC Chapel Hill, Boston University, Durham University, University of Warwick, University of Illinois Urbana Champaign among others," – Kavya Krishnan.

Test Prep, University Fairs & Visits
Several university fairs and informative sessions are organised by the career counselling team throughout the year. SAT, PSAT, PSAT 8/9 training with presentations, talks and tests are regularly conducted. A university fair with 21 universities was organised in collaboration with CIALFO, the global career exploration partner of Oakridgers at school campus in the month of September 2022. Universities from India, USA, UK, Ireland and New Zealand visited Oakridge during the months of August and September. There were also hospitality and culinary institutes visit the campus. IB curriculum at Oakridgers have a wide range of subject interests across fields which is appealing to the Universities worldwide.
A Head Start with Bridge Programme
The IBDP Bridge Programme is a specialised 2-week training session for Grade 11 students before commencing an academic year. It is designed to provide a smooth transition for students from CBSE/IGCSE/ICSE to the International Baccalaureate Diploma Programme (IBDP). The IB trained educators at Oakridgers take introductory workshops for success in the IBDP core elements of CAS, TOK, and EEs along with course selection support. Career guidance also starts from the day 1 of academic session at Oakridge.
This year educate yourself and develop your career with EasyShiksha