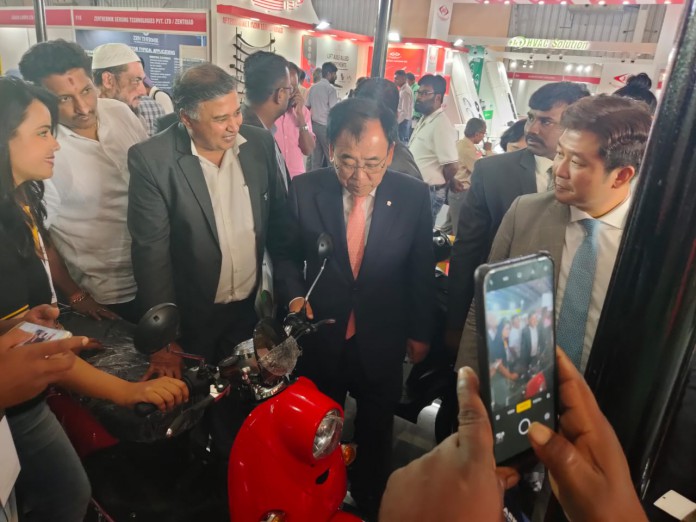 Bengaluru/ New Delhi: The pollution level in India is getting worse every day and the fuel used in the vehicles does more damage to our environment. Hence, clean energy vehicles are the need of the hour. A three-day-long mega show of electronic vehicles was recently organized in Bengaluru where latest e-vehicles, hybrid vehicles, clean energy technology and advancements in alternative transport were showcased. Benling India's Booth at Auto Technika 2019 captivated the attention of exhibitors, customers and visitors by showcasing products.
Benling India, a subsidiary of Dongguan Benling Vehicle Technology Co.- a globally operating organization from China, is betting big on India's electric vehicle push including component supplies by leveraging its expertise in EV technology. Benling India has currently 2 dealerships in Bangalore and 5 outside Bengaluru including Mysore, Udupi, Hasan, Mangalore and Belgaum. These dealerships will strengthen its network across Karnataka. The company has also set up experience centres, which will give a touch and feel of the bike.
Benling India is looking to sell a minimum of 100 vehicles every month mostly to rental fleets and individual customers. Based on the feedback received from customers, the company plans to take its product to masses in the coming months.
Paritosh Dey, Co-Founder and CEO, Benling India Energy and Technology Pvt Ltd said, "The electric vehicles industry is on its growth trajectory and we are very confident of the market sentiment. Being a direct subsidiary of Dongguan Benling, we have got an advantage over many other domestic electric two-wheeler firms as we have our own patent technology and more than 15 years of experience in into EV across the globe. "