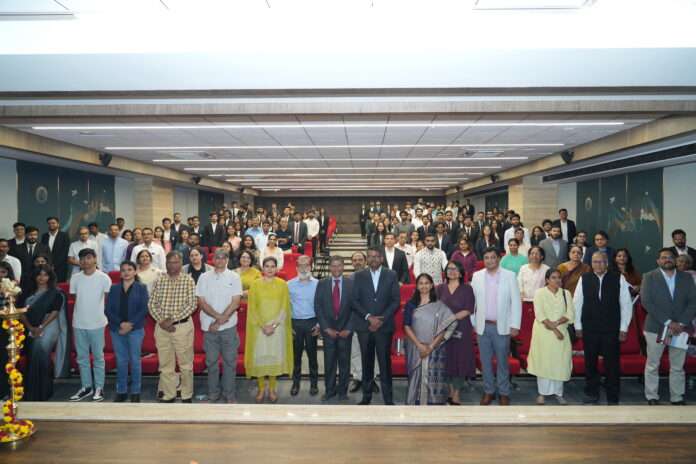 Lawyers Round Table hosted for the first time at an educational institution
Supreme Court Advocate Mr. J.Sai Deepak addressed NMIMS law students
Provide understanding to law students about their area of practice
Bengaluru, 22nd May, 2023: NMIMS School of Law, Bengaluru, hosted a Lawyers Round Table (LRT) featuring renowned advocate of the Supreme Court of India, Mr. J.Sai Deepak. The event highlighted – "The Changing Landscape of Commercial Litigation", aimed at providing insights to the law students, particularly those who are graduating and seeking guidance on choosing their practice area. LRT is a monthly knowledge-sharing event that provides a platform for legal and other professionals to discuss current topics of relevance.
ALSO READ: Register for NMIMS UG Programs via NMIMS-CET, NPAT, & NLAT Exams by May, 24th May 2023!"
Mr. J.Sai Deepak has practised as an independent counsel before the High Court of Delhi and the Supreme Court of India. He is also awarded with the Young Alumni Achiever's Award by alma mater IIT Kharagpur. The event marked the first time that LRT was hosted in an educational institution, highlighting the commitment and capability of NMIMS Bengaluru's management, students, faculty, and staff. Mr. Mysore Prasanna, the ex General Counsel of The Aditya Birla Group, served as the event's convener. He is the founder of the LRT initiative and has been promoting the forum for the past nine years.
"I consider myself lucky to have been granted the opportunity to actively contribute to shaping pivotal legal rulings within the domains of my specialisation. My focus on civil commercial litigation, including IP litigation and arbitrations, has allowed me to work on matters related to the Companies Act, the IBC, Competition Law and Constitutional Law. Through my appearances before the Constitution Benches of the Supreme Court and other high-profile cases, I have been able to make a significant contribution to the legal landscape of the country," saidAdvocate J.Sai Deepak.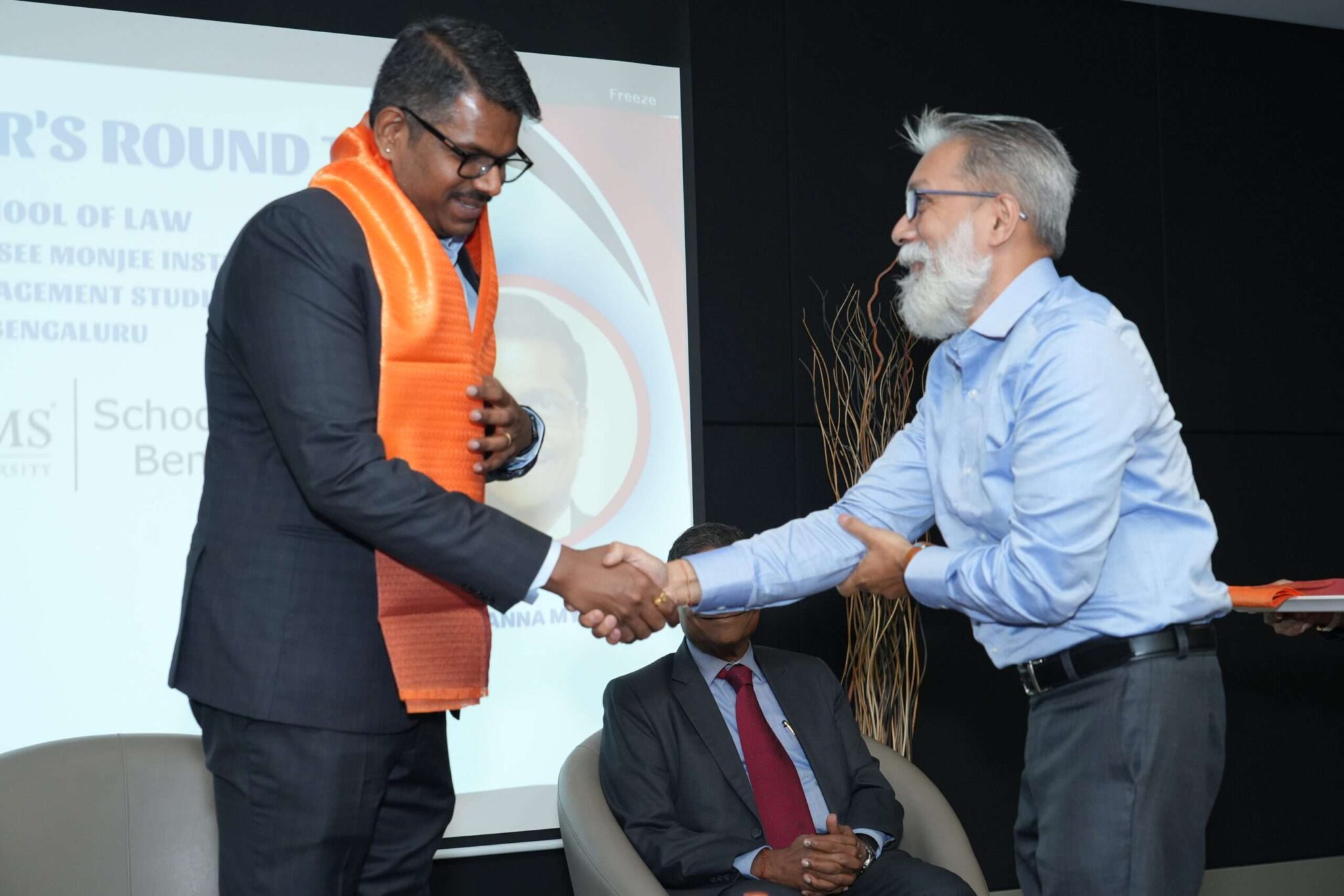 "We are extremely grateful to Mr. J.Sai Deepak for being a part of the 108th edition of the Lawyers Round Table at NMIMS Bengaluru. Your presence has added immense value to the event, and we are grateful for the knowledge and insights you have shared with our students. We look forward to many more collaborations in the future." Dr. Narayani Ramachandran, Director, NMIMS Bengaluru expressing her gratitude towards Advocate J.Sai Deepak for sparing his time to address the students.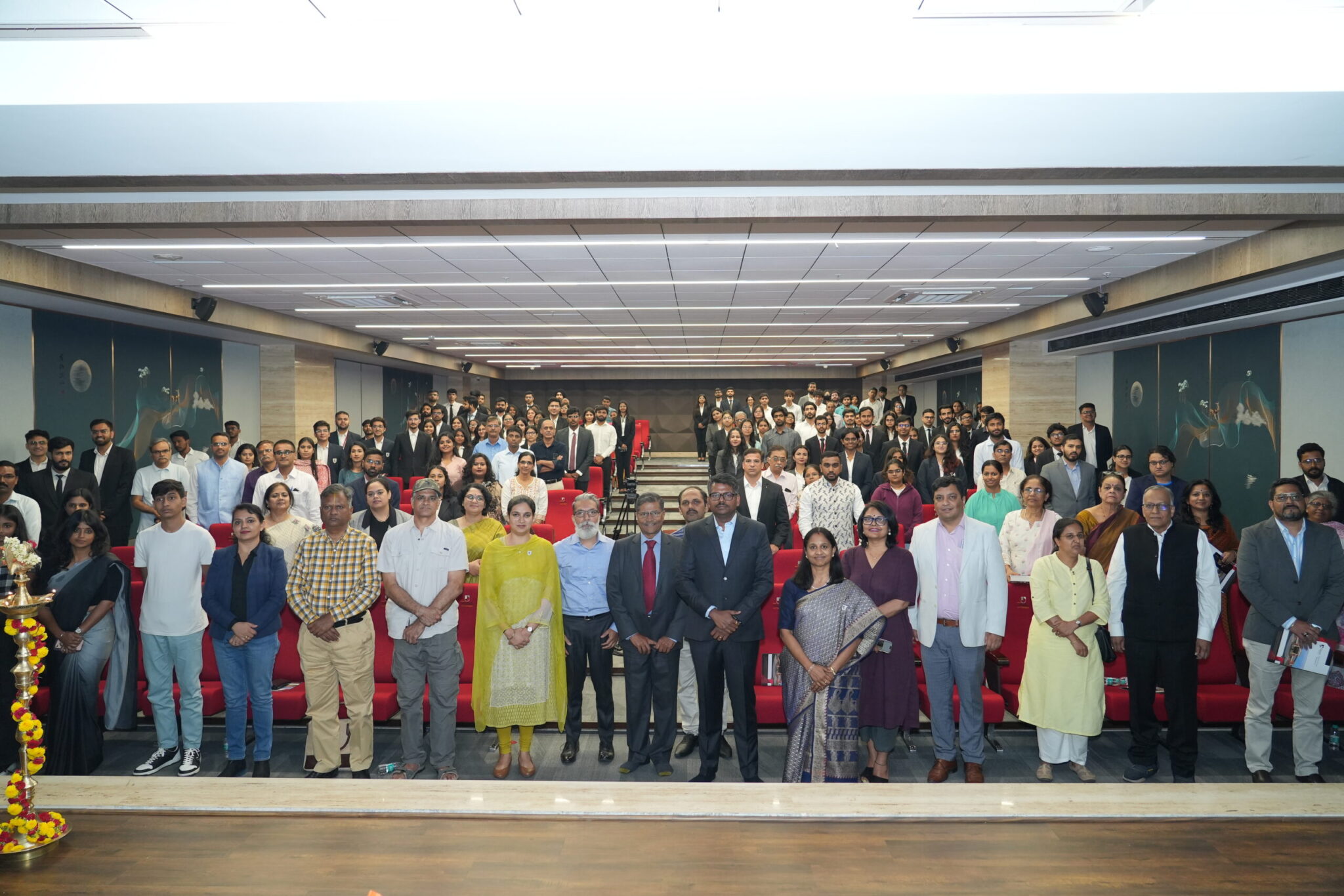 "This impactful interaction will serve as a catalyst, igniting a passion for excellence in our students' legal careers and empowering them to create a significant and positive impact on society. They will certainly cherish this opportunity to learn and interact with one of the most distinguished legal professionals in the country. We look forward to welcoming corporates, law firms and independent practitioners to consider students from our 1st batch of law graduates, who will pass out in Mid-2024, for their talent requirements. Our gratitude is towards Advocate J. Sai Deepak for agreeing to honour us with his presence here today and advising our audience about the importance of value addition and the upcoming realities of the profession. Our gratitude is also due to Mr. Prasanna, whose vision for the LRT and SOL Bengaluru make this event a reality. Also, the entire NMIMS management, we are very thankful for your constant support in making these visions for such endeavours a reality." saidDr. Tanmeet Sahiwal, Chairperson, School of Law, NMIMS Bengaluru.

The 108th Lawyer's Round Table served as an invaluable learning opportunity for students enabling them to make informed decisions about their future career path, with guidance from the best in the legal profession. NMIMS School of Law, Bengaluru, is committed to providing comprehensive and practical education to its students. In doing so, it is essential to recognize the importance of practical exposure and interactive sessions that can prepare future law practitioners and policymakers.
About School Of Law Bengaluru
NMIMS School of Law is a premiere institute of legal education inculcating a wide range of skills aimed at professional legal competence. NMIMS School of Law at Bengaluru commenced its operations in 2019 and shall have its first batch graduate in 2024. The students at NMIMS School of Law Bengaluru exemplify the qualities and nuances found in world-class universities globally, mentored by experienced faculty ensuring a comprehensive and high-quality learning experience. With a vision to become a global hub of scholarly excellence in law and justice, the School of Law is committed to nurturing exceptional and forward-thinking legal professionals who possess a strong sense of social responsibility. Through a holistic approach to legal education, our institution strives to develop graduates who not only excel academically but also demonstrate innovative thinking and a commitment to serving society.
This year educate yourself and develop your career with EasyShiksha