Teacher-led interactive classes offer personal guidance, help develop workplace communication skills and confidence.
New Delhi; August 30, 2017: British Council today announced the launch of myEnglish – a unique and innovative English improvement course – combining the flexibility of online study with the power of interactive live online classes. myEnglish is a six-week course developed for individuals who wish to improve their current level of written and spoken English. The flexible online course comprises multiple modules that will be delivered by British Council teachers with internationally-recognised English language and online teaching qualifications and experience. myEnglish has been designed to improve fluency, accuracy and confidence in English through interactive, sociable and fun lessons with clear objectives.

Important Announcement – EasyShiksha has now started Online Internship Program "Ab India Sikhega Ghar Se"

myEnglish uses teaching methodology based on the latest research in language learning to help students improve their English and progress through different learning levels. he programme offers a total of nine courses, available at three language levels for participants at different level of language proficiency. Each course is conducted over a period of six weeks, with a total duration of 50 hours of study per course. myEnglish uses proven and tested learning methodology that ensures effective learning and both fluent and accurate use of the language by the participants. The course focusses on developing speaking and communication skills by using authentic, everyday English and real life topics. It also highlights and develops career-enhancing skills such as presentations, group discussions and time management.
The students are given access to a dedicated course website for online activities, tasks and participate in forum discussions. myEnglish classes are delivered over Zoom – a low bandwidth consuming video-conferencing platform – easily accessible from desktop, laptop, smartphone or tablet. The interactive format fulfils the need for real time feedback from the teacher while practicing pronunciation and understanding concepts, critical for learning a language.
Top Software Engineering Courses
Speaking at the launch, Alan Gemmell, OBE Director, British Council India said, "British Council has been on the cutting edge of English language teaching, teaching millions of learners around the world and in India. Through myEnglish we have recreated the unique British Council classroom experience, offering customers flexibility, convenience and access to attend this course from anywhere in India. We are excited to launch this course and see its impact on the life of our students, both at the workplace and in their social life."
The applicants are first required to take a short online level check followed by a consultation with one of the teachers, to identify the right course before registration. This online blended course will be available to adult learners across India from September 23rd at a fee of INR 8,800 inclusive of taxes. For more information, one can visit – https://www.britishcouncil.in/myEnglish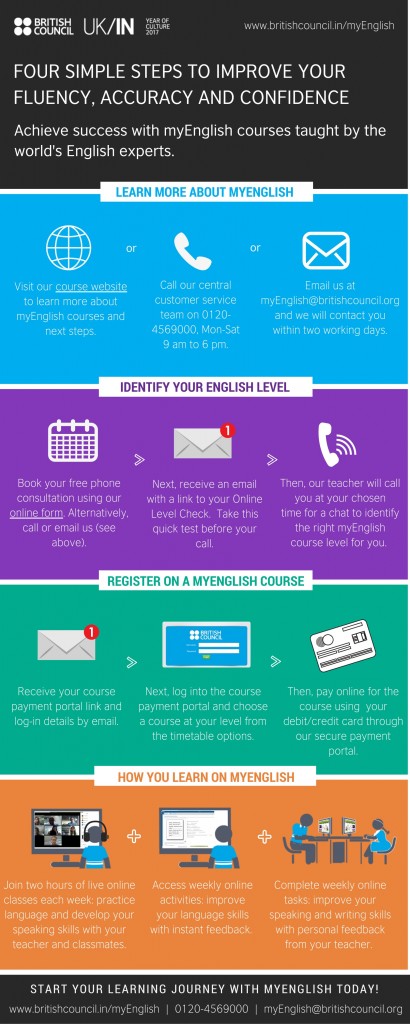 Achieve success with myEnglish courses
LEARN WITH THE WORLD'S ENGLISH EXPERTS
myEnglish is an interactive online course, delivered by a British Council teacher, that helps improve your fluency, accuracy and confidence in English. In this six-week course, you will learn through a combination of live online classes and online activities.
With myEnglish, experience the British Council classroom, online, from anywhere.
How will i benefit?
Learn with your British Council teacher and classmates in a supportive, interactive and fun environment that will help you unlock your potential.
Improve pronunciation, speaking, grammar and vocabulary through live interaction, online activities and videos.
Develop workplace skills such as interpersonal communication, time management, presentations, interviews, and digital skills.
Receive individual feedback and guidance from your teacher to focus on your own development.
Receive a British Council certificate on successful completion, recognised by employers across the world.
HOW does the course work?
Join two hours of live online classes each week to practice language and develop your speaking skills with your teacher and classmates.
Access weekly online activities to improve your language skills with instant feedback.
Complete weekly online communication tasks and improve your speaking and writing skills with personal feedback from your teacher.
Study time and levels
Approximately 50 hours over 6 weeks (per course)
3 courses per level: Pre-Intermediate, Intermediate and Upper-Intermediate
myEnglish online courses are available to adult learners only (18 years or older).
HOW DO I BOOK?
We first identify your English level through a phone consultation and then place you on the right myEnglish course.
Start your learning journey by self-booking your phone consultation appointment on "britishcouncil.in/myEnglish" or Call our central customer service team on 0120-4569000 / 0120-6684353, Mon-Sat 09.00 to 18.00.
myEnglish course fee: INR 8,800 (incl. tax).
What our students say about us
Siddhant Ghatge, Content writer
This course has helped me learn intricacies of the English language which I've been overlooking all this while and has helped me develop robust language skills and expanded my understanding of the English language. If you are looking to get your basics right, myEnglish course will certainly help you do that. The lessons and the resources offered are comprehensive and will be useful to you all your life.
Meenal Chidgupkar, Doctor
myEnglish is a wonderful platform to upgrade our English skills in a systematic way. With my busy OBGYN practice it was difficult to attend any full time course, and this course suited me so well enforcing in my mind that learning English is always fun and everlasting.
Ritesh Garodia, Chartered Accountant
This online course designed by the British Council is really good. It not only helps to improve the language, but it also makes learning language enjoyable.
Ramchandra Kulkarni, Research Fellow
Starting the course at the intermediate level, I went on to complete one at upper Intermediate level as well. Apart from language learning, it develops the skills of interaction, presentation and study with ethics.
Course Format
Feature
Benefits
Weekly online self-access listening, reading and language tasks with our 'online coursebook' (Learn English Pathways)

access as per your convenience
improve speaking, writing, listening and reading skills
improve your pronunciation, grammar and vocabulary
practice language through real-life situations
written by the world's English language experts – quality resource to guarantee learning

listen to a variety of accents from around the world
review your grammar and language knowledge with explanations and practice exercises
immediate feedback
'practice makes perfect' – complete the exercises as many times as you like
downloadable progress report to keep track of your learning

Weekly online self-access speaking and writing tasks through forums

personalise the language you learn to talk about yourself, your life, your work, your interests and your needs
get detailed feedback on your writing/speaking from your teacher to help you improve
understand and practice soft skills including group discussion, presentation skills, study skills and time management
clear any doubts with your teacher on our help forum
improve your fluency, accuracy and confidence by interacting (with the same group of students throughout your course)

Live online class – live videoconferencing class every week (2 hours)
develop your speaking skills in a supportive environment

 

practice pronunciation, grammar and vocabulary for real-life communication

get feedback from your teacher and learn from your peers

socialise with your teacher and classmates

practice workplace skills including group discussion, presentation skills, interview skills, study skills, interpersonal communication and time management.

improve your fluency, accuracy and confidence by interacting (with the same group of students throughout your course)

no need to travel to learn

can be accessed from smart phone through the free Zoom app, so access from anywhere

celebrate your progress
Other Features
Feature
Benefits
Video resources to accompany live online class

review and practice key language and pronunciation points covered in class
access at your convenience

British Council certificate

respected by employers globally
just 60% grade required to pass

6 weeks per course / 50 hours-worth of classes and self-access study

complete a course in just six weeks – a short time commitment to make
choose when to take all three courses if you want to complete a level
engage as deeply as you want with your learning, from just 5 hours a week up to 8+.

British Council teacher

quality learning: all teachers certified and trained to teach English as a foreign language with an internationally-recognised qualification, certified and trained to teach online courses with a British Council qualification
able to meet your needs: experienced in all areas of teaching to adults, from business to exam preparation
available to help with any questions or give personal feedback through online forums or by email
experts in guiding students to self-study and language improvement resources

Dedicated Student Advisor
support for any course difficulties by phone or email during office hours
Available at three levels

study in a group with similar language skills and needs to you
get the language help you need to improve your knowledge

Class size 20

study with a small group

of peers for

individualised attention

Latest learning tools and technology
up-to-date methodology that focuses on the learner

 

prepare yourself for future ways of working through familiarising yourself with online communication, time management and independent study

Downloadable study material: Including language reference guide, week-wise study plan and technical tips

plan your learning each week and make the most of your time
record what you have learned for future reference
easily-accessible language and study reference for the course and beyond

Individual written reports from teacher mid-course and end-course

keep track of your progress
know your strengths, action points and areas for improvement
leave the course with an action plan for future study
For more information, please contact:
Pooja Parsuraman | Pooja.Parsuraman@in.britishcouncil.org |
 About British Council:
The British Council is the UK's international organisation for cultural relations and educational opportunities. We create friendly knowledge and understanding between the people of the UK and other countries. We do this by making a positive contribution to the UK and the countries we work with – changing lives by creating opportunities, building connections and engendering trust.
We work with over 100 countries across the world in the fields of arts and culture, English language, education and civil society. Each year we reach over 20 million people face-to-face and more than 500 million people online, via broadcasts and publications. Founded in 1934, we are a UK charity governed by Royal Charter and a UK public body.
Empower your team. Lead the industry
Get a subscription to a library of online courses and digital learning tools for your organization with EasyShiksha
Request Now
Learn English with the British Council and you'll be learning with the world's English experts. We've been teaching English for more than 75 years and have helped more than 100 million people in 100 different countries improve their English skills and build their confidence.
ALSO READ: Verbind-collaborates-with-instaoffice-for-developing
Get Course: Android-Apps-Development