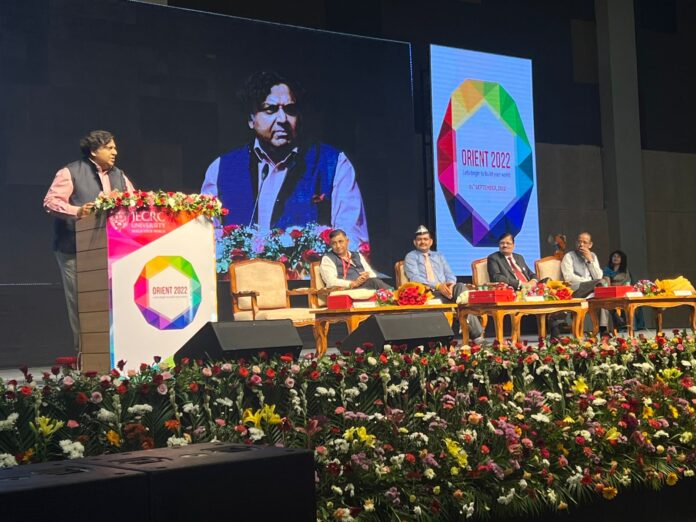 Jaipur
The Orientation Ceremony of the new batch 2022-23 of JECRC University was organized in JECC. Over 3500 new students and their parents were present at the ceremony as well as the eminent personalities of the country Ashwin Sanghi (famous Indian writer), Anil Swarup (former Coal Secretary, Government of India), and Yogendra Singh Yadav (Param Vir Chakra Awardee) were the prominent guests of the orientation ceremony.
Ashwin Sanghi, the chief guest of the Orientation Ceremony, said that money is not God, but it is not less than God as well. To be a successful person one does not only need money but he/she should have knowledge too. He also said that many significant personalities of this world have failed many times before succeeding, which is why failure is necessary for one's growth.
Subedar Major Yogendra Singh Yadav inspired all the students and their parents with his stories of bravery and said that patience is the key to success. To be a successful person, a student must dedicate himself to his teachers to grow, because the more hardships they go through, the more mentally prepared they will be for their bright future.
Anil Swaroop, the third chief guest of the day said that we all make mistakes and it is natural. And he also said that JECRC is an organization that will help you to contribute to the nation and it will also support you in taking your next step.
ALSO READ : SAYA Homes unlocks NCR's real estate market; records sales of Rs. 150 crores in 6 months
In 2022, more than 3500 admissions have been done in JECRC and it has been included in the list of Best Academic Institutions across the country. This year there have been 15 to 20% more admissions in premium institutions across the country and while in JECRC this time the enrollment of girl students has also increased by 39% which is a matter of pride.
Dheemant Agrawal, Director, Student Affairs, JECRC University said that the demand for engineering courses are traditionally the most in-demand but in this session professional courses has also appeared to be in demand and JECRC students are given choice-based patterns and internships modified according to the curriculum that has been linked to the students in such a way that they can provide both practical and theoretical education to the students and the result of this is visible in good placements as well as the moral development of the students.
Top Mobile Apps Development Courses
More Courses With Certification
Vice Chancellor of JECRC Prof. Victor Gambhir said that JECRC University has partnered with global industry leaders such as Google, Microsoft, Salesforce, Upgrade, IBM, Adobe, TCS, Tech Mahindra, EC Council, Xebia, Semitrix, UiPath, DXC Technology, Cisca, Siemens among others. In association with these multinational companies, new courses have been started for the session 2022 -2023. All these courses have been smartly designed by these multinational companies keeping in mind the future, through these courses, students will get a chance to study world-class.
Visit EasyShiksha for new updates.