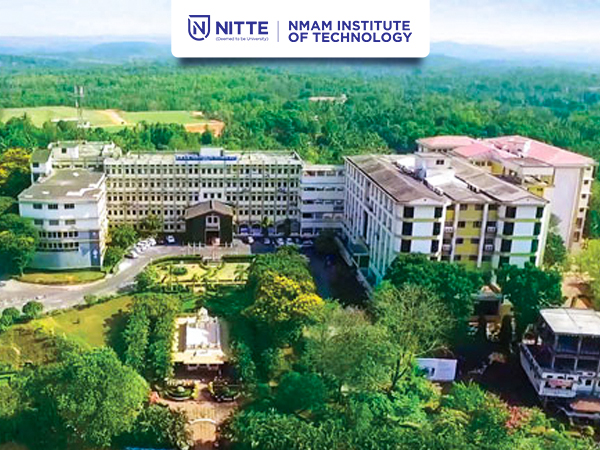 Mangalore, 26th December 2022: Abhyuday, The Department of Counselling, Welfare, Training & Placement at NMAM Institute of Technology, Nitte consists of a Department Head, full-time Counsellor, Office Superintendent, Placement Executive, Faculty coordinators, committed departmental staff and student volunteers who work towards student well-being.
The campus recruitment for the 2022 batch at NMAMIT, has been a tremendous success with over 200+ companies making 1200+ job offers to students while the students are still in their 7th semester with the highest package being Rs. 53 lakhs. The highest number of offers have been made by DXC Technology, Mindtree, Capgemini, Accenture, Infosys, Cognizant and TCS.
The first company to visit campus to recruit two students was Kirloskar Snydergenral in 1994., The numbers have today skyrocketed with reputed companies visiting the campus and making job offers to students.
Abhyuday has a vision of seeing the students at NMAMITi as happy, healthy, articulate, enthusiastic individuals who are socially & ecologically conscious, ethically upright, team players, technically competent, eminently employable and universal citizens.
The Department conducts programs that help the students enhance their knowledge and equip themselves with industry-relevant skills & technology. Soft skills training is arranged to help the students ace the selection process and give them a superior edge in the competitive job markets. Non-placed students are assisted with placements for a year after their graduation through 'Off-Campus' initiatives and referrals.
Abhyuday does everything possible to help students get placed in their dream job by using and creating internal resources and engaging students in volunteering activities throughout their stay on campus. Alumni generously and readily share their knowledge, skills and expertise, whenever sought. Orientation programs for fresh entrants, training programs in leadership, public speaking, effective communication and mock interviews are conducted regularly, thereby preparing students for placements.
Abhyuday seeks to ensure the holistic growth of every student and undertakes various activities to spot talent, encourage leadership, enhance self-esteem, assisting specific needs of students directly or by utilising peers, senior students, alumni, industry mentors, faculty, friends of NMAMIT, designing student programs and engaging in delivering relevant training modules from the time they enter the portals of NMAMIT.
Therapeutic help for students, remedial programs for non-placed, non-IT students by faculty and placed students, Employability Readiness Program, facilitating industrial training/ internship for students, pooled campus drives to assist the neighbouring colleges, preparation for higher studies & the Armed Force, initiation/support of student development activities & clubs, placement registration and updates through internal android/web platforms, orientation for students to help them belong, boost morale, seek help and work on deficient areas, preparation for placements – Crack the Campus (Aptitude, Technical Round, HR Interview, Group Discussions); Address by industry experts and alumni, community service through Peer Learning for academically poor students are some of the regular activities carried out by the department.
Also Read: Singh Naad of Rajasthani Yuva Samiti at Singh Dwar of Rajasthan
NMAMIT's collaboration with Japanese organizations started in 2013, with MoUs with the University of Miyazaki and Ritsumeikan University which facilitated the exchange of students/faculty, and internship, including higher studies in Japanese Universities. The activities also include Sakura-Science programs.  The industry-related activities started in 2019, with leading Japanese companies offering pre-placement internships to final-year students. As of now, 50+ students have been placed successfully in various Japanese companies like AIBOD, Nidec Read Corporation, Yokogawa Electric, Sasken Technologies, Kobayashi Create, Forent Inc., Mamiya IT Solutions, Japan Research Institute, Miraic, ANDPAD Inc., PLAN-B Inc., Bravesoft, GA Technologies, SANTEC Corporation. From 2019, the Japanese language is being taught to interested students by experts who have lived & worked in Japan. This has enabled international placements significantly, in reputed organizations. Abhyuday envisages a harmonious and collaborative world for all its associates. 
Visit EasyShiksha for skill development courses