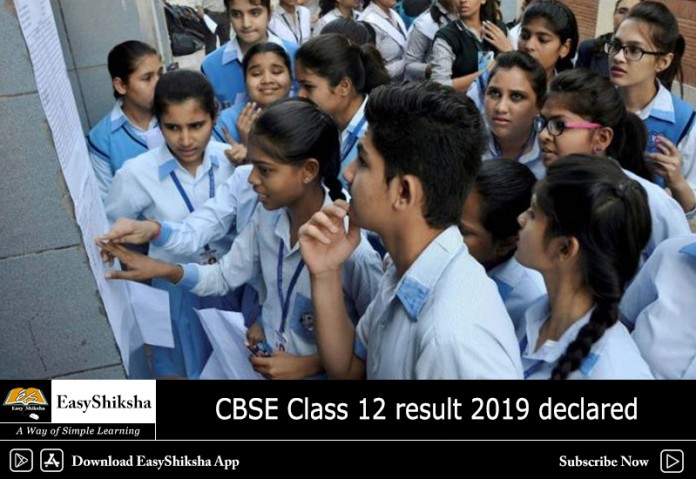 The Central Board of Secondary Education has declared the CBSE class 12 results today.The CBSE class 12 board examinations carried on February 15, 2019 and ended on April 4, 2019.The results, which is usually declared in the second-third week of May has been declared today on cbseresults.nic.in and cbse.nic.in. 12.87 lakh students attempted the examination, 83.4% have cleared the exam.
Hansika Shukla and Karishma Arora, from DPS Meerut road Ghaziabad and SD Public School Muzaffarnagar, respectively, topped the examination, scoring 499 out of 500 each. The second rank was also taken hold by three girls, who scored 498 out of 500. 18 students have scored 497 marks out of 500 and 11 of these students are girls 7 of these students are boys.
Trivandrum stands first in the top-performing region where pass percentage of students is 98.2 percent. Chennai region got the second position where the pass percentage of students is 92.93 percent while Delhi got the third position where the pass percentage of students is 91.87 percent.
Website link from where CBSE class 12 results can be check:
The student can check their results from any link provided.
• cbseresults.nic.in
• cbse.nic.in
• cbse.examresults.net
List of Toppers 2019 (Top Positions, All Over full subject)
Candidate's Name, Total Marks
HANSIKA SHUKLA 499
KARISHMA ARORA 499
GAURANGI CHAWLA 498
AISHWARYA 498
BHAVYA 498
AYUSHI UPADHYAY 497
MEHAK TALWAR 497
PARTH SAINI 497
VEERAJ JINDAL 497
ANANYA GOEL 497
RUBANI CHEEMA 497
AISHNA JAIN 497
AISHNA JAIN 497
VANSHIKA BHAGAT 497
ARPIT MAHESHWARI 497
DISHANK JINDAL 497
DIVYA AGGARWAL 497
PIYUSH KUMAR JHA 497
TISHA GUPTA 497
G KARTHIK BALAJI 497
GARIMA SHARMA 497
IBADAT SINGH BAKSHI 497
PRAGYA KHARKWAL 497
SHREYA PANDE 497