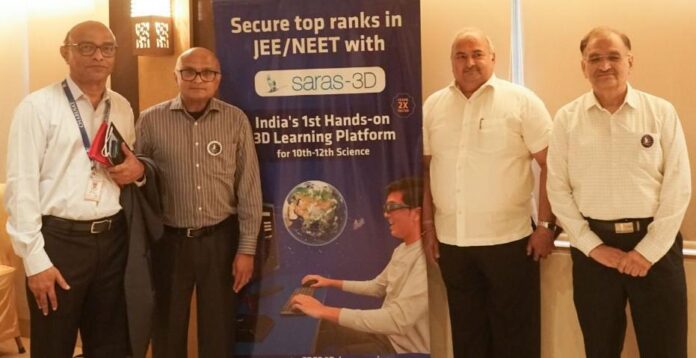 ● The training workshop was conducted today with respective Trustees, Principals, and 100+ teachers, ushering in a new age of STEM education.
● Each school will receive a comprehensive stereoscopic 3D technology-based learning solution worth INR 50 Lakhs.
● This includes software and hardware designed specifically for 9th to 12th std. students.
   Mumbai, 23rd July 2022: Saras-3D, Inc., a US-based EdTech start-up comprising of technology innovators and educators that are harnessing the power of stereoscopic 3D technology, focused on ushering in a new age of STEM education in India along with CHARUSAT University, today announced the first 10 schools that have been selected from across Gujarat for their school sponsorship program. These schools were shortlisted after a rigorous selection process and are from different cities like Ahmedabad, Gandhinagar, Anand, Surat, Rajkot, and Vadodara. CHARUSAT has exclusively sponsored these 10 schools under this program. Each selected school is in the process of receiving a Stereoscopic 3D Classroom Experience and a Stereoscopic 3D Lab Experience worth INR 50 Lakhs. Included in the Stereoscopic 3D Experience is sophisticated content software that consists of yearly subscriptions for 4 years for 9th to 12th grade Physics, Chemistry, Biology, and Mathematics for both the modules. The package also includes overall training for the teachers of the selected schools. Nominations were invited from schools across all districts of Gujarat to join hands in the journey to enhance STEM learning experiences. The selected schools are English medium schools, imparting Science (Physics, Chemistry, and Biology) and Mathematics education in grades 9th to 12th with a student population of around 200 and following the NCERT/CBSE curriculum. A high-level committee of eminent academicians oversaw the entire selection process and shortlisted 10 elite schools. The committee was led by Dr. Pankaj Joshi, Distinguished Professor of Physics at Ahmedabad University, Dr. Devang Joshi, Registrar Charusat University, and Mr. Kashyap Mankad, ex Group Director at ISRO and Consulting Technical Director at 3D EdTech, the Indian subsidiary of Saras-3D Inc. The shortlisted schools are as follows: Adani Vidya Mandir – Ahmedabad, Divine Child International School – Gandhinagar, Aavishkar School – Gandhinagar, Ved International School – Gandhinagar, Sankalp International School – Ahmedabad, EuroSchool – Surat, Shree Swaminarayan Academy – Surat, Sarvodaya Secondary School – Rajkot, The Westwood School – Rajkot, and D. Z. Patel Secondary and Higher Secondary School, Anand. Commenting on this partnership, Mr. Vijay Albuquerque, CEO of Saras Inc. (Saras-3D), said, "We are delighted that Charusat, a visionary university, is partnering with us in sponsoring this initiative. This strategic alliance will provide the framework that will support a partnership with schools and teachers, and accelerate the broadscale creation of a rigorous culture of STEM education and innovation. Our mission is to democratize education and instill STEM expertise and a culture of innovation in students in Gujarat and in time across India. We will empower young minds to learn and retain knowledge through exploration in 3D with interactive learning. By developing STEM understanding and expertise in inquisitive young minds, the path towards future innovation will be accelerated by students who are fully prepared to take on the challenges required for breakthrough success. Saras-3D and CHARUSAT joined forces to achieve this common goal.

READ MORE- https://news.easyshiksha.com/unisys-india-advances-its-effort-towards-narrowing-hiring-disparity-between-men-and-women/

" Dr. Devang Joshi, Registrar, Charusat University, added, "As a leading university, CHARUSAT empowers today's curious and ambitious minds. Our ongoing endeavor is to serve society through knowledge sharing and social contribution. We are delighted that Saras-3D has joined hands with us for this. We undertook a rigorous selection process and aimed to reach out to the most deserving students and schools, thus enabling social upliftment through education. We wanted them to take advantage of this opportunity as the resources at Saras-3D will facilitate a methodology to reinforce the 3D video learning process and make our students global-ready. Under this tie-up, we are supporting schools to build a culture of STEM education while promoting learning by doing methodology." Dr. Pankaj Joshi, Distinguished Professor of Physics at Ahmedabad University, commented, "Gujarat is making its presence felt in the education sector, and this initiative will put Gujarat in the global hub of education. Charotar University of Science and Technology's sponsorship program is a golden chance for schools to transform education through Saras-3D's stereoscopic 3D classroom technologies. This sponsorship program will play a key part in building a nationwide STEM education ecosystem. I believe India has the talent and resources to produce the best STEM innovators of tomorrow. Our collective aim is to contribute towards the sustainable development of the nation by achieving excellence in technical education and research."
 About Saras-3D: Saras-3D, Inc is a dynamic start-up comprising technology innovators and educators harnessing the power of stereoscopic 3D technology and interactive visualization to elevate and transform the learning experience for K12 students. The company has launched its patent-pending Genius 3D Learning solution, aimed at creating the right foundation for learning and acquiring knowledge for K12 students. This will help foster future STEM innovators and problem solvers and empower them to compete and succeed globally. Genius 3D Learning takes a hands-on experiential approach to Science and Mathematics concepts that fosters deeper understanding, 2X faster learning, and higher retention, consequently better test scores. Headquartered in Pennsylvania, U.S., the company operates in India through its wholly-owned subsidiary 3D EdTech Pvt Ltd.For more information, . About Charotar University of Science and Technology (CHARUSAT)CHARUSAT offers various programs, viz., UG, PG, Doctoral, Post-Doctoral, Diploma, Value-added, and Executive Development Programs under the tutelage of 9 Institutes, 6 Faculties, and various Centers / Cells. Employee strength of 600, student strength of more than 8000, and a Capital Outlay of INR 150 Crores are the scalar dimensions of CHARUSAT. The programs are offered in the allied disciplines of Technology & Engineering, Pharmacy, Computer Applications, Management Studies, Applied Sciences, Nursing, Physiotherapy, and other Paramedical Sciences. We follow our founding High Moral Values: Honesty, Integrity, Transparency, Fairness, Equity, and Accountability.For more information.

Visit https://easyshiksha.com/online_courses/ for more updates.