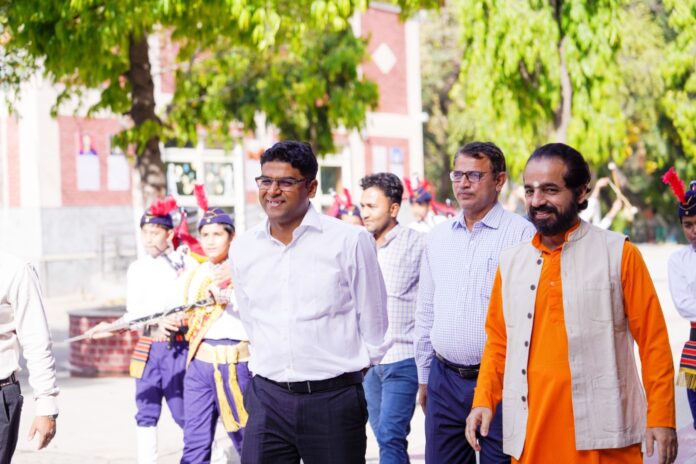 New Delhi, 21 April 2023 – All schools in Delhi, both public and private, are participating in a unique 9-9-9 challenge organized by the C20 Working Group on Integrated Holistic Health – Mind, Body, Environment, in association with Delhi Government's Directorate of Education (GNCTD).
The 9-9-9 Challenge, which stands for "9 SURYA NAMASKARS, 9 MINS OF MEDITATION, 9 DAYS," began on April 18, 2023 and will run for 9 consecutive days, barring two days (Sunday and the festival of Eid al-Fitr). It aims to encourage thousands of school children in the national capital to make Yoga and meditation a part of their daily lives.
ALSO READ: Rapido prioritizes Passengers' Road Safety with Seatbelts in Bengaluru Auto-rickshaws in a nationwide campaign
The G20 (Group of 20) is a forum comprising 19 countries and the European Union. It works to address major issues related to the global economy. C20 provides a platform for Civil Society Organizations (CSO) around the world to voice people's aspirations to the world leaders in G20. World-renowned spiritual leader and humanitarian Mata Amritanandamayi (Amma) is the Chair of C20. The C20 working group on Integrated Holistic Health aims to widen the discussions on different facets of the United Nations Sustainable Development Goal 3: Good Health and Well-Being. AYUDH India, an international youth movement guided by Amma and present across six continents, has partnered with the C20 Working Group to conduct this challenge across the country.
Said Dr. Priya Nair, Clinical Associate Professor, Paripoorna – Centre for Comprehensive Women's Healthcare, Gastroenterology and Hepatology, Amrita Hospital who is also the Co-Lead of the working group Integrated Holistic Health – Mind, Body and Environment "We are delighted to organize this unique Yoga challenge in association with the Delhi Government's Directorate of Education (GNCTD) for students in the national capital. The 9-9-9 challenge was initiated in February this year and more than 15,000 students have already participated in it from all over the country. We hope that this initiative will inspire more and more children in the world to embrace a healthy lifestyle."
She added: "The 9-9-9 challenge is to practice 9 rounds of Surya Namaskar and 9 minutes of Meditation for World Peace daily for 9 days and then reflect on the impact it had on one's life. The challenge highlights how yoga and meditation can have a major impact on mental health and physical well-being. Participants of the challenge have reported experiencing positive changes in their life outlooks, energy levels and overall sense of well-being. This, in turn, contributed to an atmosphere of peace within their schools and families. The goal is to reach 1 million people around the world by International Day of Yoga on June 21st."
During a virtual address, Shri Himanshu Gupta (IAS), Director of Education, Government of National Capital Territory of Delhi, said, "Since its inception in February 2023, dozens of schools and thousands of students across the country have already participated in the 9-9-9 challenge organized by the C20 Group of Integrated Holistic Health, highlighting the significant impact that yoga and meditation can have on mental health. The core principle is centered around creating outer peace through inner peace. The stated goal of the C20 is to reach over one million participants by the International Day of Yoga on June 21, 2023. I wish them all success in this noble endeavor, and I am very happy at the enthusiastic response of students to the challenge."

The activities to be conducted by the students have been carefully chosen. The health benefits of Surya Namaskar are well known. It improves blood circulation, strengthens heart function, stimulates a rhythmic breathing process which increases the oxygen content of the blood, expands the lungs, and is beneficial for digestive health. Its consistent practice sharpens one's ability to focus and calms down the nervous system, helping manage anxiety, depression, and insomnia.
Meditation helps in improving concentration, focus and attention span, help improves the brain structure, reduces chronic stress, and counters the effects of anxiety, fear, worry and tension. The World Peace Meditation, which is part of the 9-9-9 challenge, has additions benefits. It helps individuals develop compassion and empathy for the fellow beings and balance the Prana-Shakti (Vital energy) in the body.
This year Educate yourself and develop your career with EasyShiksha.