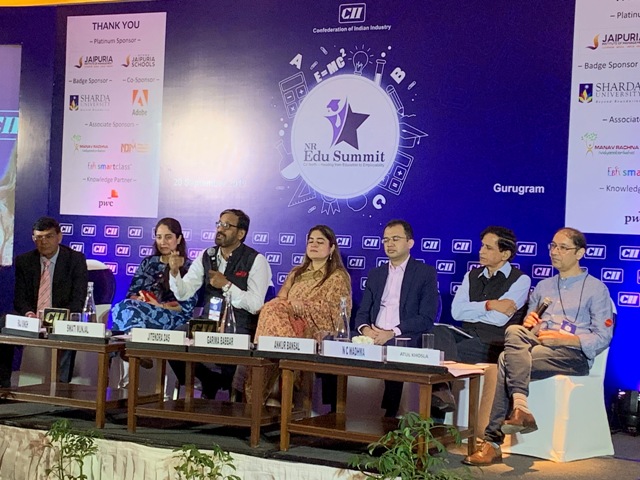 Reforms, futuristic and transformative pedagogy to address un-employability, say experts
To deliberate on major issues plaguing the employability of students, a day-long conclave was organized by the Confederation of Indian Industry (CII) North with the theme – 'Heading from Education to Employability', in Gurgaon on Sep 20th 2019. The conclave witnessed the sharpest minds from education, industry and policy makers coming together and speaking on burning topic. Eminent panelists spoke about skilling and improving quality of workforce passing out of institutes; critical roles that the industry, government and institutions need to play to ensure higher employability of the workforce.
The conclave was kick-started by Mr Shreevats Jaipuria, Chairman, CII Regional Committee on Education & Vice Chairman, Jaipuria Group of Institutions set the tone of the Conclave in his welcome speech by taking up the need for an embedded program which enables a paradigm shift from rote learning to experiential learning and capability building of the students' community.
Also present among others in the inaugural session, Mr Sahil Gupta, Executive Director – Tax & Regulatory Services, PwC India; Mr Sameer Gupta, Chairman, CII Northern Region and Chairman & Managing Director, Jakson Engineers Ltd; Dr Y K Gupta, Co-Chairman, CII Regional Committee on Education, & Vice Chairman, Sharda Group of Institutions (SGI); Mr Anurag Tripathi, Secretary, Central Board of School Education (CBSE); Dr M P Poonia, Vice Chairman, All India Council for Technical Education (AICTE) and Guest of Honour Dr Dhan Singh Rawat, State Minister of Higher Education (Independent Charge), Government of Uttarakhand who shared his valuable inputs on how the state has been taking strategic steps and successfully implementing them to tackle the employability issue which has been one of the key focus of the state government. Hon. Minister highlighted the up gradation of the Vocational courses and aligning the courses with industry focused skills like a vocational training in Artificial Intelligence or Machine Learning among others. "With such courses being introduced, even the parents do not feel shy anymore talking about vocational skills their children are undergoing", he said.



Top Software Engineering Courses



Appreciating the initiatives and the latent impact of the measures Dr Jitendra K. Das, Director, FORE School of Management, New Delhi, further emphasized upon on the vocational training Hon. Minister referred to and said that the need of cutting-edge formal vocational courses and professional certifications are imperative to address the employability gap specially for those who may choose to go for a job in the middle of the 10+2+3 education system.
Dr. Das, who was moderating the session 'How do We Bridge the Gap from Education to Employability', initiated the discussion with the eminent panelist from academia who deliberated on areas like – role of education institutions: curriculum, on the job training, flexibility; role of industry and skilling the workforce of tomorrow.
Present in the panel were:
Dr N C Wadhwa, Vice Chancellor, Manav Rachna International Institute of Research and Studies, addressed the challenges faced by students in India when compared to developed nations across the globe.
Ms Swati Munjal, Director – Strategic Initiatives & Student Engagement, BML Munjal University, shared the story behind setting up of Munjal University which was an outcome of the gap analysis which reflected the lack of proper skill sets required at the Hero group of companies from the young engineers who were recruited and as a result had to undergo a yearlong on the job training. Focus at the University ever since, has been on 'experiential learning', she said.
Mr Ankur Bansal, Vice Chairman, New Delhi Institute of Management, stressed upon adopting an industry oriented pedagogy with transformative & innovative approach. Academia and industry both need to be more participative at their ends. Talking about internship programs he said "SIPs should not be a short term affair, instead it should be more of a testing ground for the students".  
Ms Garima Babbar, Head – Strategic Alliances Education and Skill Development, Adobe Systems India Pvt Ltd, spoke about 'Digital Disha' – an initiative by Adobe to integrate creativity and digital acumen in classrooms and curriculum to equip students for jobs in the digital era.
Dr Raj Singh, Vice Chancellor, Ansal University, said that it is often seen that students go wrong while selecting a career and there should be ample learning opportunities offered which enables them to take corrective action in their career path.
Prof Atul Khosla, Pro-Vice Chancellor, Shoolini University, raised a pertinent question on should the exactly be the outcome of learning in an engineering college for making students employable. Are they supposed to be 'blue collared robot type engineers' or develop the talent pool with qualities such as – 1) problem solving attitude / creative in nature; 2) a team member who can work with people; 3 decent communication skill; 4) having value system in place.
Dr Das, wrapped up the session highlighting the need of a reformed policy framework to address this systemic problem of un-employability. 'While the responsibilities lie with the governing bodies, academia should implement whatever initiatives thinkable under the present frame work' he said.
Top Networking Online Courses
More Courses With Certification
Empower your team. Lead the industry
Get a subscription to a library of online courses and digital learning tools for your organization with EasyShiksha
Request Now
ALSO READ: JD-institute-of-fashion-technology-students-showcase-their-creations
Get Course:  Digital-Electronics-Tutorial