Vatika Group's Coriander Leaf hosts Kashmiri food fest from April 22 til

l 15 May 20

16
Close to 30 new additions created by their master "Waza" for the Kashmiri Food Festival.
Introduced special Lunch thaal "Koshur Thaal"
Vatika Group's Coriander Leaf restaurant is currently hosting first of its kind Kashmiri Food Festival Dastarkhwan-e-Kashmir at both its MG Road and Sohna Road outlets. The food fest will continue till 15th May 2016. Around 30 new delicious additions have been made to the menu by their master Kashmiri Chef – waza. A special Koshur thaal at a nominal cost of Rs. 475/ has also been introduced. It is available in both veg and non-veg.

Important Announcement – EasyShiksha has now started Online Internship Program "Ab India Sikhega Ghar Se"

Rakesh Kaul, Master Chef, Coriander Leaf said, "There's an old saying coming from the Valley which when translated in English goes as-So long as you have food in your mouth, you have solved all questions for the time being! During the earlier days, Wazwan used to symbolize a feast of the kings. It consisted of some of the most unique, detailed and complex delicacies of meat and a number of other preparations. It used to comprise of thirty-six courses, with approximately 15-30 consisting of meat preparations. I as a chef at Coriander Leaf feel happy and proud to dole out a few selected recipes close to my heart from the Valley and to serve them with love and affection to my esteemed guests. Bon Apetit!!"
The food festival has received an overwhelming response due to which it has been extended till 15th May, which was earlier till 8th May.The restaurant has special buffet with different regional cuisines from Kashmir where the foodies will be able to pamper their taste buds and enjoy a diverse range of dishes.
 Puran Miya, General Manager- Coriander Leaf said, "Kashmiri Cuisine is based on two distinct cooking styles:  Kashmiri Pundit style, influenced by distinct flavours of freshly grounded red Kashmiri chillies, Fennel, Asafoetida, ginger powder, and Kashmiri Muslim technique, finding roots in Persian cuisine and symbolized by  subtle amalgam of Shallots, Cockscomb and saffron.
Top Software Engineering Courses
 What makes Kashmiri Cuisine stand out is that all spices are generally stirred in as emulsion into the stock/gravy rather than frying them. This allows the spices to permeate into the dishes infusing original aroma and flavour.
 Another peculiar difference to be noted is that while Kashmiri Muslim cuisine is partial to onions, garlic and tomatoes, the authentic Pundit cuisine is absolutely devoid of them, be it non-vegetarian or vegetarian cuisine.
 Though the Cuisine, in both the segments, is quite elaborate with myriad of permutations and combinations, a few that standout are (selections from Muslim Style) Goshtaba, Rista, Mutton Kanti, Marschwangan Korma, Dhaniwal Korma, Haarisa, Lahabi Kebab, Ruwangan Chaman … (selections from Pundit Style) Tabak Maaz, Tchuk Charvan, Rogan Josh, Yakhin, Kaliya, Masctch, Haak, Tchuk Wangan…and much more.
We, at Coriander Leaf, are doing our bit to bring these culinary master-pieces in their original garb and showcase the flavoursome delights to connoisseurs of true culinary art."
About Coriander Leaf- restaurant by Vatika Group
Enter the world of authentic Indian and Pakistani cuisine at Coriander leaf Gurgaon. Set amidst the serene and luxurious environs this contemporary designed restaurant offers impeccably crafted dishes from a select menu ranging from the popular to the unusual for discerning diners, who understand the value of a meal cooked to authentic perfection. This award winning fine dining restaurant in Gurgaon offers Indian, Mughlai, Kashmiri, North Indian, Pakistani Cuisine. Enjoy the best North Indian food with authentic flavours from our chefs kitchen ; Some of the signature dishes are Galouti Kebab, Kakori Kebab, Tandoori Dishes, Haleem, Sikandari Raan, Nihari, Biryani and many more. This romantic restaurant also boasts of one of the finest bars in the city priding on its signature cocktails.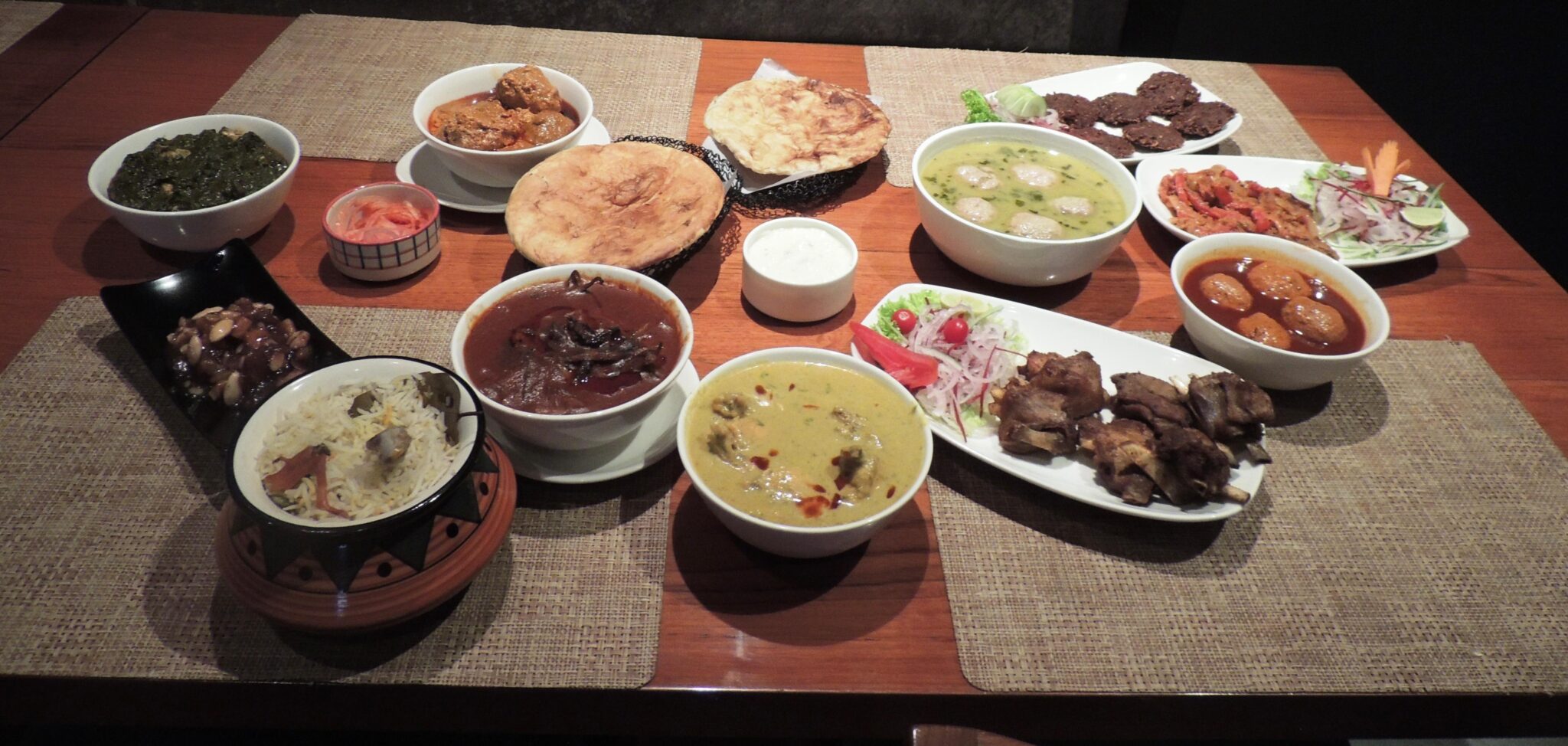 कश्मीरी पकवानों का लज़ीज़ स्वाद पहुंचा गुडगाँव
वाटिका ग्रुप ने आयोजित किया कश्मीरी फ़ूड फेस्टिवल
कोरियेंडर लीफ़ रेस्टोरेंट में आयोजित हुआ दस्तरख्वान-ए-कश्मीर
गुडगाँव, 7 मई 2016, वाटिका ग्रुप ने सोहना रोड और एमजी रोड स्थित अपने 'कोरियेंडर लीफ़' रेस्टोरेंट कश्मीरी फ़ूड फेस्टिवल –" दस्तरख्वान-ए-कश्मीर : स्वर्ग का व्यंजन" का आयोजन किया है | यह फ़ूड फेस्टिवल 22 अप्रैल से लेकर 15 मई तक चलेगा | इस फेस्टिवल में कश्मीर के व्यंजनों की खुशबू और ज़ायके का लुफ्त उठाया जा सकता है | 'कोरियेंडर लीफ़' गुडगाँव ने इस मौके पर लंच के लिए 'कोशूर थाल' का परिचय कराया | इस फ़ूड फेस्ट का उद्देश्य कश्मीर के व्यंजनों के स्वाद देश के अन्य हिस्सों तक पहुचाना है |
मास्टर शेफ़ राकेश कौल (कोरियेंडर लीफ़ गुडगाँव) के शब्दों में – वादी के बड़े बुजुर्ग कहा करते है कि "जब तक आपके मुहं में खाना है उस वक़्त तक आप सभी समस्याओं से परे हैं |"
"मै कोरियेंडर लीफ़ के खानसामें के रूप में बहुत ख़ुशी और गर्व महसूस कर रहा हूँ की घाटी की कुछ ख़ास रेसेपी जो मेरे दिल के बहुत क़रीब हैं और जिसे प्यार और स्नेह से अपने सम्मानित मेहमानों की सेवा में प्रस्तुत करता हूँ |"
पूरन मियां (प्रवक्ता ,कोरियेंडर लीफ़ गुडगाँव) ने बताया कि कश्मीरी व्यंजन दो अलग-अलग खाना पकाने की शैली पर आधारित है , कश्मीरी पंडित शैली , कश्मीरी मुश्लिम शैली | पहले के दिनों में , वाज़वान राजाओं की एक दावत का प्रतीक हुआ करता था। यह मांस का सबसे अद्वितीय, विस्तृत और जटिल व्यंजनों में से एक है | वाज़वान 36 कोर्स मील होता है। इसके छत्तीस कोर्सेज में पंद्रह से तीस पीस मीट के होते हैं । "वाज़वान" यहां का परंपरागत खाना तो है ही, साथ ही यह एक कला से कम नहीं। कश्मीर की ये अपनी पहचान भी है।
कश्मीर के समृद्ध कुजीन का इतिहास 15वीं शताब्दी से शुरू होता है, जब घाटी में समरकंद के खानसामों के पैर पड़े थे। उन्हीं खानसामों के वंशज बाद में कश्मीर के मास्टर शेफ 'वाज' कहलाए। इसीलिए कश्मीरी शादियों में छत्तीस व्यंजनों का जो भोजन होता है, उसे वाजवान कहते हैं। यूं वहां के समूचे पारंपरिक भोजन को ही वाजवान कहा जाता है और उसमें ज्यादातर मांसाहारी व्यंजन होते हैं। कश्मीरी कुजीन की एक खासियत ये भी है कि उसकी तरी में दही का इस्तेमाल बहुतायत में होता है, जिसके कारण वह काफी गाढ़ी होती है। मीट के व्यंजनों में खुशबू के लिए हींग का भी इस्तेमाल किया जाता है। भोजन को स्वादिष्ट और खुशबूदार बनाने के लिए इलायची, दालचीनी, लौंग और केसर का इस्तेमाल किया जाता है।  सौंफ और सूखे अदरक का भी प्रयोग  होता है, कुछ व्यंजनों में तीखापन लाने के लिए मिर्च का इस्तेमाल न करके सूखे अदरक को ही प्रयोग में लाया जाता है।
कश्मीर केसर की जमीं है, इसलिए पुलाव और मिठाइयों में रंग और महक इसी केसर से लाई जाती है। तरी में अखरोट, बादाम और किशमिश का भी प्रयोग होता है।
एक और अंतर ध्यान दिया जाना चाहिए कि जहाँ कश्मीरी मुस्लिम के व्यंजनों में प्याज, लहसुन और टमाटर का प्रयोग आंशिक होता है वहीँ पंडितों के व्यंजनों में, यह गैर शाकाहारी या शाकाहारी के अनुसार प्रयोग में लाया जाता है । ज्यादातर कश्मीरी, जिनमें ब्राह्मण (कश्मीरी पंडित) भी शामिल हैं, मांसाहारी होते हैं। यूं वहां के लोग मीट खाते हैं, पर आश्चर्यजनक रूप से कई परंपरागत कश्मीरी प्याज और लहसुन का भी सेवन करने से गुरेज करते हैं।
मुश्लिम शैली के कुछ ख़ास व्यंजन जैसे वाज़वान, यखनी , गुश्ताबा , मर्चवागन कोरमा, लहाबी कबाब , धनियावाला कोरमा इत्यादि |
पंडित शैली के कुछ ख़ास व्यंजन जैसे , रोगन जोश, तबक माज़ , दम आलू , राजमा गोग्जी ,मोदुर पुलाव इत्यादि |
कोरियेंडर लीफ़ गुडगाँव, इन बिशेष व्यंजनों को उनके मूल रूप और स्वाद में सच्चे पाक कला के पारखियों तक प्रसन्नता के साथ लाया है | सोहना रोड स्थित रेस्टोरेंट में कश्मीर की पाक कला का जायका ले सकते हैं |
Empower your team. Lead the industry
Get a subscription to a library of online courses and digital learning tools for your organization with EasyShiksha
Request Now
ALSO READ: British councils shakespeare themed summer school has arrived
Get Course: Basic of E-Commerce