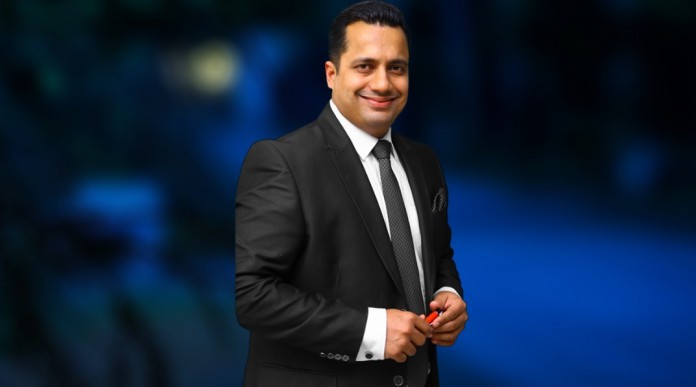 New Delhi: Corona threat is booming in our country, at one side government is taking all steps and measures and at same time many personalities are helping in this cause, now Dr. Vivek Bindra, Founder & CEO of "Bada Business Pvt Ltd, an Ed-tech start-up" and renowned Motivational speaker and Business Coach who also runs World's Number 1 Entrepreneurship based YouTube Channel with more than 11 Million Subscribers has come forward and donated INR 1 Crores to provide food for poor and needy people of Delhi during this coronavirus pandemic.
The money has been donated to ISKCON, who has collaborated with Delhi government to provide food through Delhi govt. schools which are acting as a Centre for poor and needy people hurt or suffered during this deadly pandemic disease outbreak. A lot of people in Delhi are daily wage earners, so it becomes tough for them to earn and then eat. This collaboration will help these daily wage earners to eat during this coronavirus pandemic.
Speaking on this outbreak of deadly disease Dr Vivek Bindra said "In my memory this is one of the toughest challenge that World is facing, especially in India where density of population is so high. Coronavirus pandemic is very tough for India. My country people are my priority and I appeal to all that we need to act fast and support each other as much as we can".
Mr. Piyush Goyal, ISKCON Delhi said "ISKCON is always first to offer help for our country citizens and we are thankful to great personalities like Dr Vivek Bindra who always cares and concerns about humanity and nation. This money would be used for giving food to poor and needy people of Delhi affected during this dangerous coronavirus pandemic. Apart from Dr Bindra, industrialist like Gautam Adani – Adani Group, Shyam Jindal – Jindal Group etc. also donated large sum of monies.
About Bada Business | Coronavirus Pandemic
Bada Business Pvt Ltd is an Initiative by Dr. Vivek Bindra (A Motivational Speaker and a Renowned Business Coach) to provide Extensive Knowledge of the Different Business Strategies and Frameworks, which will Help Indian SME's to enhance their business, Do Big Business or Become Bada Business. Dr. Vivek Bindra also runs World's No 1 Entrepreneurship YouTube Channel that has inspired and helped thousands of SMEs in bringing exponential growth to their businesses.
The organization was founded with a vision to empower Indian Entrepreneurs & SME Businessman to convert their start-up into huge business while bridging the education infrastructure gap and making business & management education affordable, accessible and available.
We have the largest audience of businessmen, entrepreneurs and the single most decision makers in the world. Bada Business allows the users to learn via its flagship program Everything About Entrepreneurship which acts as a one stop solution and help to solve all business related issues & problems which an entrepreneur faces.
You can visit HawksCode and EasyShiksha for more information about technology and education.