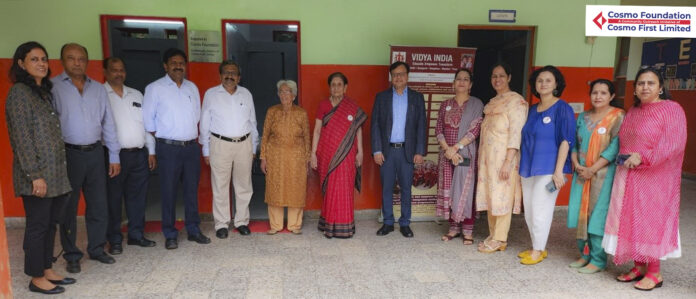 India, 08, 2022: Cosmo Foundation, the community outreach program of Cosmo First Limited recently took a unique initiative by donating RO water purifiers & Coolers to Vidya Bal Vihar School, Delhi along with renovating the rest rooms for Students and teachers in the school premises. The project which will directly benefit 250 primary school students which was inaugurated by Mr. Neeraj Jain, Group CFO, Cosmo First Limited.
The initiative is part of Cosmo Foundation's commitment to create access to clean toilets with hand wash facilities for underprivileged children. Till now, the organization has constructed 185 toilets, urinals with hand wash facilities in 27 rural government schools benefitting 6953 students and teachers.
Ms. Yamini Jaipuria, Managing Trustee, Cosmo Foundation said, "Access to clean drinking water and proper sanitation are two of the major issues in our society today. We at Cosmo Foundation are committed to give back to the community and the less privileged section of the society. Through these initiatives, we also want to reiterate the importance of overall health and wellness, especially amongst the students as they are our foundation of healthy tomorrow"
Nestled in the midst of a heritage site in a verdant environment in Panchsheel Park, New Delhi the school dedicatedly caters to the socio-economically marginalized sections of society. The school had its humble origins at the IIT Delhi campus in 1984. It was based at the IIT campus for 18 years before shifting to its current location.
Ms. Indu Mahajan, Project Head and Board Member of Vidya Bal Vihar the School said, "Cosmo Foundation has always strived to bring a healthy change in the society and is committed to drive initiatives intended to encourage quality health and sanitation for the less privileged children of the society. We are happy to partner with Cosmo Foundation for this noble cause. Such efforts will go a long way for both the students and teachers alike."
Cosmo Foundation is committed for the humanitarian services to the disadvantaged section of the society. The organization is serving and empowering rural students with education and empowering communities with health hygiene awareness and support. Large number of philanthropic initiatives was taken by the organization including food, clothing, medical equipment, etc.  
Also Read: University of Limerick invites applications for MSc in Artificial Intelligence and Machine Learning through Fateh Education
About Cosmo Foundation:
Cosmo Foundation was established in 2008 as the community outreach initiative of the Cosmo First Limited, the largest manufacturers of BOPP worldwide and an emerging player in Speciality chemicals and the pet care sector. The Foundation works closely with less developed communities around its manufacturing units at the Karjan in the Vadodara District and Gangapur in the Aurangabad District on several development programs aimed at English and computer literacy, life skills development, hygiene initiatives and environmental awareness.
The Foundation's programmes are currently under way at 25 government schools in Karjan in the Vadodara District, Gujarat, 5 government schools in Gangapur in the Aurangabad District, Maharashtra. Till date 20,000 students from 83 villages have benefitted through the supplementary educational programs supported by Cosmo Foundation
About Cosmo First
Established in 1981, Cosmo First Limited is a four-decade-old global business conglomerate with entities– Cosmo Films, Cosmo Speciality Chemicals, Zigly and Cosmo Foundation. Cosmo Films is one of the most preferred global brands offering value-added BOPP films for packaging, labels, lamination, and industrial applications. With innovation, development, and research embedded in its core values, Cosmo First has ventured into successful businesses like Cosmo Speciality Chemicals (master batches, coatings, textile chemicals, and adhesives) and Zigly, a D2C Omni channel pet care business under its entity. The company has been at the forefront of developing customer-centric solutions to deliver the finest product and service experience, backed by innovation, people, and processes.
Cosmo First has a strong focus on sustainability and invests in promoting innovative practices towards ensuring a safer planet for future generations.
Visit EasyShiksha for skill development