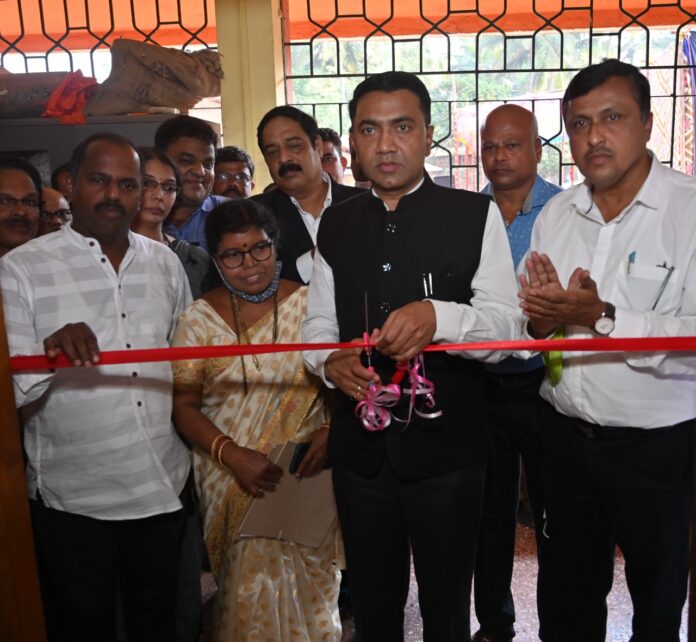 Building scientific temper and offering easy methodology to solve science theories is the mission of STEM Learning.
Goa Chief Minister Dr. Pramod Sawant inaugurated a Mini Science Centre (MSC) installed at a Govt. School Navelim – Bicholim on December 28, 2021. Developed in partnership with STEM Learning, the Mini Science Centres now house innovative models, experiments and instruments to enhance the aptitude and skills of students in learning science and mathematics in effective and interesting ways.

Science, skills must be developed at an early age
While addressing the inauguration ceremony, Chief Minister Dr. Pramod Sawant said that children need to develop an interest in science and technology at an early age.
"With the development of many new concepts in the field of science, there is a need to give children an opportunity to use various techniques," said Sawant.
Having a positive approach towards innovative learning practices, Hon'ble Chief Minister appreciated STEM Learning's work for providing best-in-class teaching aids to government schools all over the state of Goa.
Important Announcement – EasyShiksha has now started Online Internship Program "Ab India Sikhega Ghar Se"
During his speech, he also quoted, 'STEM is important because it pervades every part of our lives. Science is all around us, Technology is continuously expanding into every aspect of our lives, Engineering is not only used to design simple roads and bridges but also tackles the challenges of the changing global weather while introducing environmental-friendly changes to households, Mathematics is in every occupation; every activity we do in our lives."
"Mini Science Centre allows students to excel in the field of STEM, preparing the young generation to be an asset for the country's economic growth. The exhibits installed in this school are so easy to use and child-friendly which will definitely help teachers reduce their teaching time and enhance their skills through capacity building and also help students have a hands-on experience and learn science and mathematics concepts with a better understanding.', the chief minister added.
The company has 80 interactive Math and Science working models and has so far reached out to 10,00,000 students.
STEM Learning aspires to provide innovative solutions
With a mission 'To make the world a brighter place', STEM Learning aspires to provide innovative solutions, which change the lives of people for the better. Science education in India is facing several challenges today. The basic problem that has persisted since independence is our inability to provide schools with labs and equipment to be used while teaching science. The Mini Science Centres are a powerful and innovative tool to revolutionize science education and make it increasingly accessible.
In continuation with its efforts to promote science education in India, the Mini Science Centres established by STEM Learning aim to enhance awareness among teachers and students about the value of learning, with a special focus on science and mathematics. The initiative also encompasses a unique teachers' training program and facility maintenance for two years. 

STEM Learning Mini Science Centres in 26 Schools of Goa
"STEM Learning had its presence in Goa by installing Mini Science Centres in 26 schools with the help of various corporate clients thereby benefitting over 87 teachers and 5883 students over 5 years.", said Ashutosh Pandit, CEO, STEM Learning.
"Over around 10 years in the field of educational revolution, STEM Learning installed its Mini Science Centres in 1900 schools across 23 states benefitting over 7000 teachers and a million students.", he said.
"This year, 3 Mini Science Centres were installed in schools of Canacona, Navelim and Surla. STEM Learning has a plan ready to install more MSCs across several Govt. Schools in the state.", Ashutosh Pandit added.
CSR in India, CSR and Education in India, CSR and STEM Education, Ashutosh Pandit
ALSO READ: 4 best online learning apps for K-12 students
Want to improve your skill visit: EasyShiksha