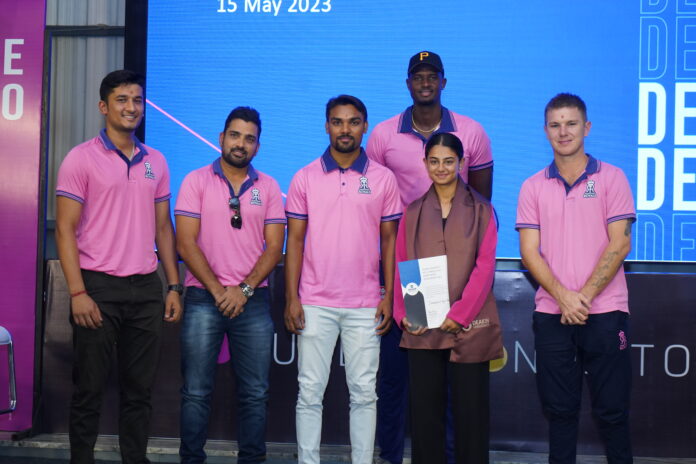 Deakin University, Australia, a premier international university ranked among the world's Top 100 universities is the Official Overseas Education Partner of Rajasthan Royals, the reigning favourite IPL team. As a key initiative of their partnership and sustained commitment towards improving accessibility and opportunities for global education, Deakin University and Rajasthan Royals have come together to offer a joint scholarship for Indian students, valued at over INR 6 million.
ALSO READ: The Power of Community: 'Friends of Ekya' Creates a Supportive Learning Environment
At a recent event held at Neerja Modi School, Jaipur on 15 May 2023 the winner was announced in the presence of star players of the Rajasthan Royals team Adam Zampa, Jason Holder, Sandeep Sharma, Kunal Rathore and Dishant Yagnik; Ravneet Pawha, Vice President (Global Alliances) and CEO Deakin University (South Asia); senior management and staff of Neerja Modi School; members of the Deakin University South Asia team and students from various schools of Jaipur. This year, the winner of this prestigious scholarship is none other than Ms Simran Preet Kaur Pannu, a bright student of the prestigious Delhi Public School (DPS), Jaipur.
Simran Preet is offered a 100% tuition fee waiver for the full duration of her studies onshore at a Deakin university campus in Victoria, Australia. She will also get inducted into the Vice-Chancellor's Professional Excellence Program (VCPEP), which will allow her to represent herself and the University in prestigious forums alongside senior officials from the government, corporations, and academia.
Simran Preet is an all-rounder in the true sense of the word and combines classical dancing with sports and the rigours of securing a NCC Cadet Certificate A with fine-tuned leadership as the Sports Captain of DPS, Jaipur. Achieving all of this while maintaining meritorious academic grades makes young Simran Preet a multi-tasker and a go-getter. She has applied for a Dual-degree at Deakin University, Bachelor of Business/ Bachelor of Arts through which she wants to gain theoretical and practical proficiency for a comprehensive span of career prospects in business. Along with this she wants to combine a study of psychology to raise mental health awareness and work for betterment of living beings.
Acknowledging the significance of the scholarship she won and her plans at Deakin University, Simran Preet says, "I had put faith in my faculty and counsellors and applied for this scholarship. I wasn't expecting to win but I was hopeful and now I am really grateful to Deakin University for this scholarship. Through this scholarship I can be self-reliant and will not obligate my family members with the expenditures. I am committed to bringing a positive and impactful transformation to the world with my set of knowledge, experience, and this prestigious scholarship by your esteemed university."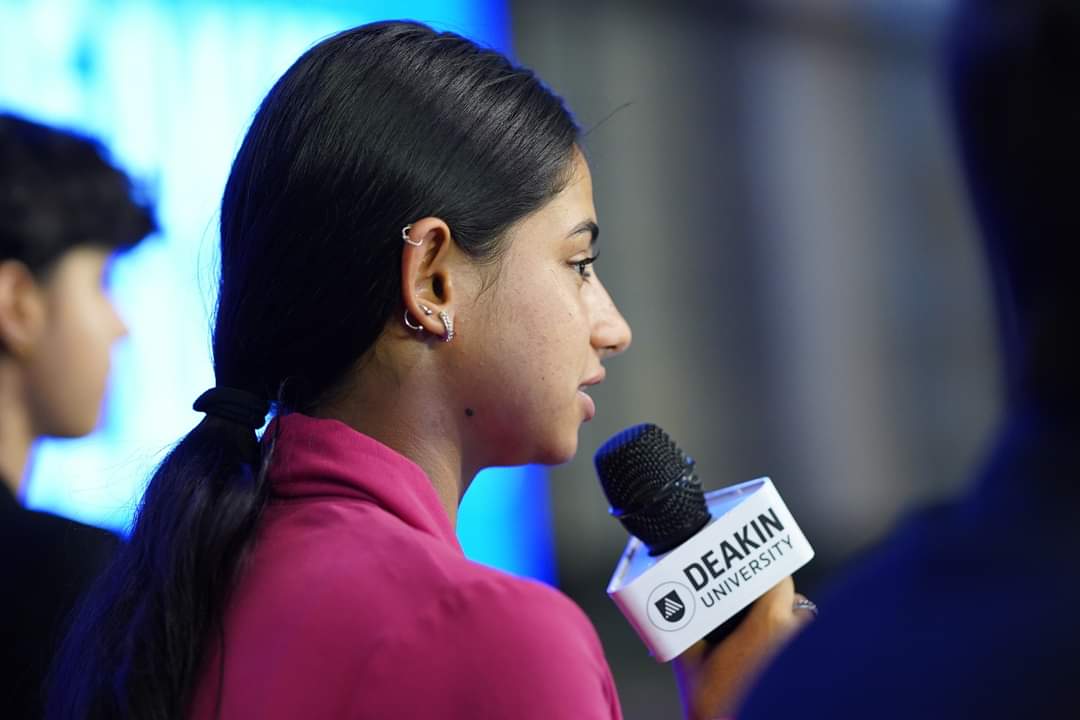 The partnership between Deakin University and Rajasthan Royals instituted originally in 2014, is truly symbolic of the deepening ties between Australia and India. This joint scholarship re-affirms the commitment and dedication of both partners towards creating opportunities and new age pathways for increasing accessibility of Indian students for quality global education.
Speaking at the occasion Ravneet Pawha, Vice President (Global Alliances) CEO Deakin University (South Asia) said, "It is a true joy to witness young, talented students of India speak of a higher calling and enthusiastic in their pursuits for a greater purpose in today's world. That we can in anyway facilitate them in their journey for achieving their aims is a truly rewarding experience. I wish Simran Preet the very best for a fulfilling life and career."
Deakin University's South Asia operations commenced in 1994 and it became the first foreign university to set up operations in India. With almost three decades of immersive partnerships across key institutions of academia, industry and government in India, Deakin is uniquely placed to become a knowledge partner to India.

The scholarship awarded to Simran Preet Kaur Pannu is a part of the Deakin University Vice-Chancellor's Meritorious Scholarship Program for Indian students that is a testament to the commitment Deakin upholds as a reliable facilitator of quality international education, research and employability skills and opportunities for deserving Indian students.
The Deakin Vice-Chancellor's Meritorious 100% Scholarship program was first introduced in 2014 and has steadily made sure deserving scholars have been awarded a 100% scholarship for their studies onshore in Australia. It is a part of 'Changing Lives' initiative which seeks to reward deserving students through support for studies at Deakin University in Australia. The larger aim is to equip students with the knowledge, skills and experience which would make an impact to the local community.
The scholars have studied at either the undergraduate or postgraduate levels across emerging study areas such as sports, engineering, psychology, business etc.
This year educate yourself and develop your career with EasyShiksha