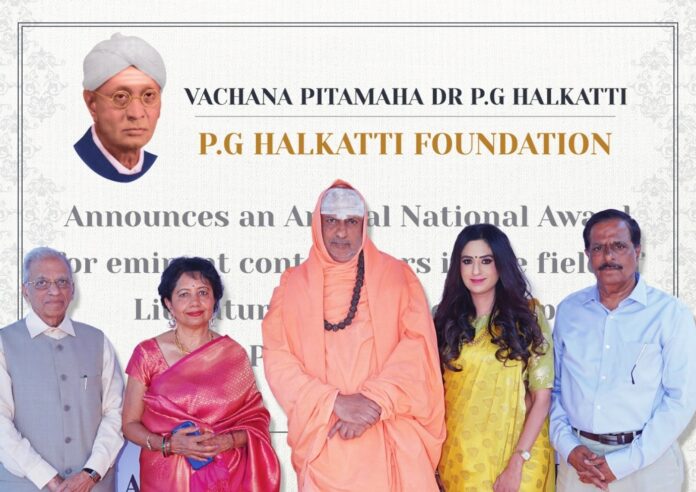 Bangalore, April 17, 2023: The Dr P.G. Halkatti Foundation has announced a new annual national award for distinguished contributors in the field of literature, academics and philanthropy to commemorate Vachana Pitamaha Dr P.G. Halkatti's birth anniversary which falls on July 2.
ALSO READ: 8000+ students grooved on the beats of Arjun Kanungo at JECRC Renaissance 2023
The announcement was made in the presence of His Holiness Jagadguru Sri. Shivratri Deshikendra Mahaswamiji, Honourable Justice Shivraj Patil and Nadoja Dr. Manu Baligar in Bengaluru. The national awards will include a trophy, citation & INR 1 Lakh.
The decision to institute the national award was made by the trustees of the foundation Smt. Sheela Hara Halkatti, grand daughter-in-law of Dr. P.G. Halkatti and Smt. Pavithra Halkatti who is a businesswoman, lawyer, social entrepreneur & philanthropist and the great grand-daughter of Dr. P.G. Halkatti. She is also the maternal granddaughter of Shri. M. Rajsekara Murthy, a senior politician and a renowned social reformer.
Born in the year 1880, Vachana Pitamaha DR P. G. Halkatti was a lawyer, politician, and a towering literary figure and social reformer who dedicated his life for spreading the ideals of Shiva Sharanas. He started various institutions involved in the cause of education such as 'Veerashaiva Shikshana Fund', 'Veerashaiva Vidyavardhaka Sangha', 'Siddeshvara Middle School' and many more.

He also established the first co-operative bank the 'Siddeshvara Bank'. He gave up his legal practice and dedicated his entire life for the cause of Vachana literature and established BLDEA (Bijapur Lingayat Education Association) on October 23, 1910. Today, BLDEA is a leading education organization in the North Karnataka region with a legacy of more than 100 years and 75 education institutions under its banner.
These comprise many eminent professional institutes, colleges of humanities and social sciences, public schools & research institutions. He continuously published the magazine, 'Shivaubhava' for a period of 35 years, which was a great service to the society at large. Apart from these major contributions, he was also a renowned politician who served as MLA in the state of Bombay back then.
The awardees will be selected by Nadoja Dr. Manu Baligar along with the members of the P.G. Halkatti Foundation. Dr. Baligar is currently the Gouravaadhyaksharu of KSRTC Kannada Kriya Samiti & State Co-Convener of INTACH (Indian National Trust for Art and Cultural Heritage) Karnataka. Earlier, he was theCommissioner of Kannada & Culture Department, Government of Karnataka. He has an honorary doctorate for literature from Karnataka University Dharwad and was conferred with prestigious "Nadoja" Award by Hampi Kannada University.
This year Educate yourself and develop your career with EasyShiksha.