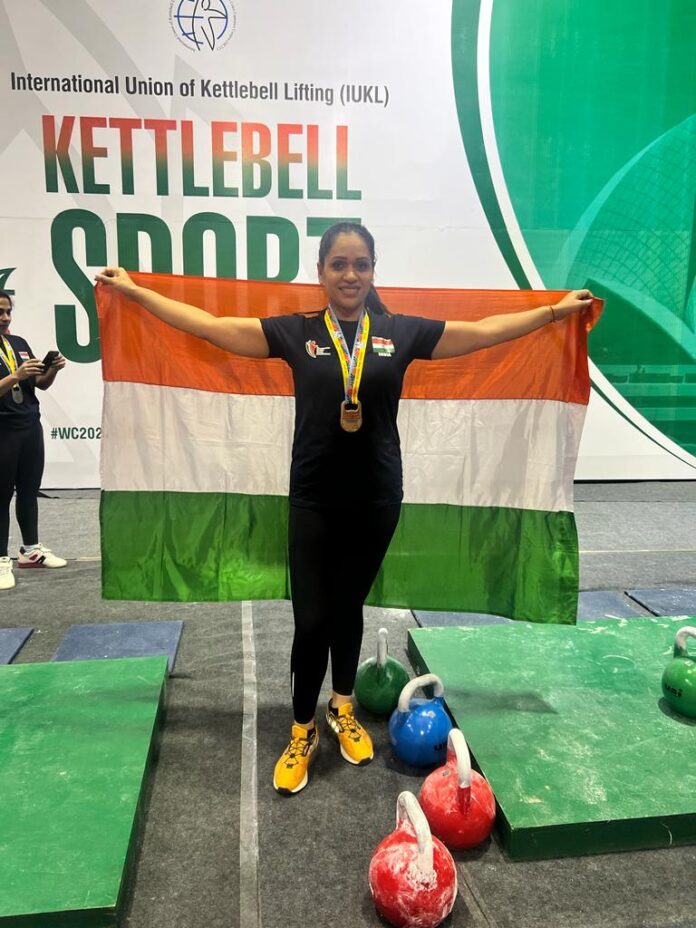 Delhi, October 31, 2022: Dr. Payal Kanodia, Trustee, M3M Foundation, once again made the country proud by winning two gold medals at the IUKL (International Union of Kettlebell Lifting) Championships held at Talkatora Stadium, New Delhi from 27th July to 31st October. The event saw 250 + athletes contesting from 15 countries,  including 45 Indian athletes in one of the biggest Kettlebell tournaments hosted by India for the first time. 
Dr. Payal Kanodia bagged two golds–one for the snatch event in which she lifted a 16-kg kettlebell and the other for the Biathlon event under the 68 kg weight category. Despite being injured during the rigorous training sessions, she remained focused on her goal.
Dr. Payal Kanodia hails from Tauru, Haryana and is the trustee of M3M Foundation, a philanthropic organisation that supports the environment, education, and health, and wellbeing of the masses.
"It was wonderful to witness the support for kettlebell here in India and  happy to see the way this sport is getting recognised here and thanks to KSIA for the hospitality." Said Igor Soldov, IUKL President.
Upon winning two gold medals for the country on an international platform, Dr. Payal Kanodia stated: "I am thrilled with the victory! It was an exciting experience to participate in the IUKL tournament held in India for the first time. After winning the silver medal at IUKL Budapest 2021, I set my sights on winning gold, and this victory is the realisation of my dreams."
Also Read: With grit and determination, Small town juice vendor breaks glass ceiling, cracks RPSC PTI exam

"I dedicate these gold medals to my nation and my children, who always motivate me to give my best," she added. 
Her Coach Anshu Taravath said, "She has put forth the BEST performance on the platform today. Was injured during her rigorous training yet didn't give up. She is strong athlete to watch out."
M3M Foundation is also helping young sports persons through its programme Lakshya and Dr. Payal is leading from the front.
Visit EasyShiksha for skill development courses on the latest Technology.