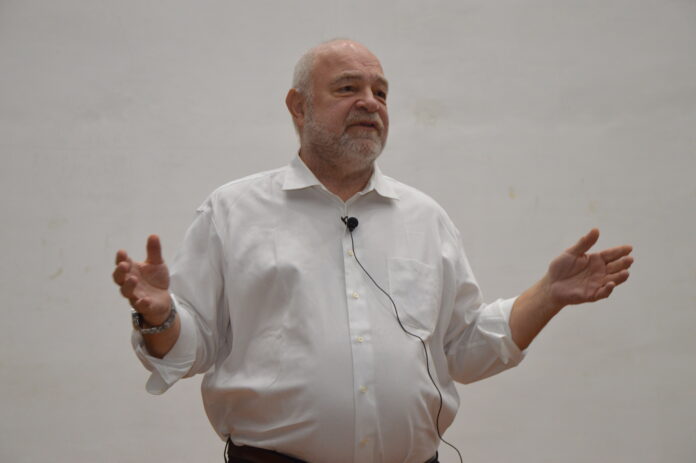 Prof. Steve Jarding placed his faith in India's youth to make the nation fourth global superpower after China, US, and European Union
Speaking at length about global warming, Prof. Jarding suggested making businesses and industry as partners towards the solution 
Hyderabad, September 20, 2022: Placing great emphasis on the youth as the beacons of change for burning 21st-century issues such as global warming, international political consultant and educator Prof. Steve Jarding recently addressed students at the GITAM (Deemed to be University) in Hyderabad. Jarding has served as faculty of Harvard University and is on the advisory board of the Kautilya School of Public Policy, established by the GITAM (Deemed to be University).
Speaking about India as one of the only four global superpowers who can influence humanity's large-scale problems in 2022, Prof. Jarding said, "I argue that there are four players seated at a small table in 2022 that are going to determine the fate of humanity for the next 30 years. These would be China, United States of America, and European Union. The last seat at the table of a nation's determining the fate of humanity will be taken by India. As someone who is teaching next-generation leadership in India, I feel good that India is at the table, but the responsibility is daunting."
Through his 40-year career, Prof. Jarding has advised heads of state and business leaders on communications, political campaigns, and message strategy in over 40 countries around the world. He continues to work, lecture and provide communication training and campaign management training to hundreds of candidates, campaigns, and individuals in the US and around the world including to clients in Asia, Africa, South America, Europe, and India. He has been a visiting faculty at Kautilya School of Public Policy.
Addressing the students, he said, "The problems that we have in the world in 2022 have never been replicated. Problems that we have — that your generation is inheriting — need a different paradigm for governance and for participation. My message today to you is that the world is bigger than university degrees, it's bigger than just you. Looking at the problems of the 21st century, we need all of humanity to rise to the occasion. We can't have certain segments rise to the top and others do not play their role."
Adding, he said, "Whatever your profession, you have to step up and demand better of your leaders of your government, indeed of yourselves." Citing Mahatma Gandhi's famous lines, 'Be the change you wish to see in the world', Prof. Jarding appealed to students to be willing to challenge and change themselves.
Through this hour-long address, the educator touched upon the threat posed by automation to human jobs. "Ten years from now, automation in the United States alone, would claim one out of two jobs. What are we going to do with all the workers? In India, 69% of the jobs are threatened by automation. It doesn't mean we can't deal with it. It means we have to deal with it. If you look at income inequality, social scientists will tell you the signs of societal collapse often begin with how we're distributing well. In India today 10% of the people here have 60% of the wealth, in America. 0.1% of the people have 90% of the wealth. Societies don't function well when we do that."
Prof. Jarding mentioned the brazen bulldozing of Amazon rainforests — responsible for a quarter of the world's oxygen — as well as the increasing number of global warming-induced refugees, touted to reach into billions in a 20 years. He also spoke about rising ocean levels submerging valuable land and infrastructure in countries on the coastlines, such as Indonesia and Bangladesh, as well as animal and insect species disappearing because of global warming.
Proposing a possible solution to engage all industry stakeholders into collective action, Prof Jarding said, "People criticize businesses saying they're part of the problem. Business has to play a role because business has so much power to influence governmental leaders. I believe that business is part of the solution, just like law is. We must monetize global warming. Let's make global warming something on which we can make some money."
Touching upon the knowledge curve and its progression over millennia and centuries, he said, "Today, in 2022 knowledge doubles every 12 months. The wheels of science are rolling. Science now projects that in approximately three years, human knowledge will double every 12 hours. Do you not believe that the solution to global warming and human disease is in that human knowledge."
"I say I have faith because when I come to places like Kautilya School of Public Policy, I look into the eyes of young, fearless, best-educated, international and socially-conscious generation in human history," said Prof. Jarding, giving a clarion call of action to India's youth.
"I look at the world and look at young people as gifts to humanity who have the capacity to better the world to change the world, to rise to the occasion. It is a daunting responsibility, but I would put my faith in you. This is the generation that can deal with it. The clock's ticking. I apologize to say my generation did not see it coming. Like we should have. You will not have the luxury of missing it. It is incumbent on you to stand. and say, I will take my rightful place. The next great leader in India, very likely is sitting in this room," he said.
Concluding his address, Prof. Jarding stressed on starting to invest in people. "At the most fundamental levels, we got to make sure young people have healthcare and nourishment. We have to give them schools. We have to, as a society, understand that school is not an expense. Education is not an expense. It's an investment and we're not doing a very good job. We have to prioritize education and move more people into it."
Also Read: 5 Tips to Grow Your Construction Business
About GITAM (Gandhi Institute of Technology and Management)
GITAM was founded in 1980 by an inspired group of eminent intellectuals and industrialists of Andhra Pradesh led by Dr M. V. V. S. Murthi, former Member of Parliament and popular philanthropist. Located in Visakhapatnam, Andhra Pradesh, it also has campuses in Hyderabad and Bengaluru. Collectively, the three campuses have 19 institutions under their wing. Over the years, GITAM has taken part in many social activities and has also produced many renowned personalities.
Visit EasyShiksha for skill development courses