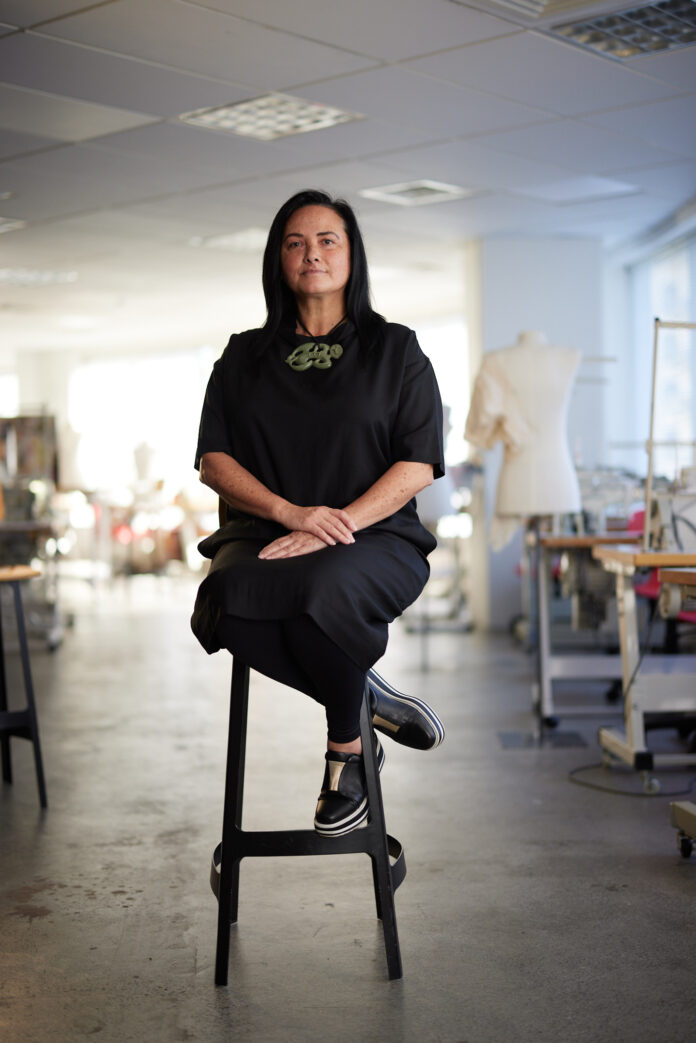 Graduation gown reimagined by international students to tell their
New Zealand story
National, 01 June 2022: Education New Zealand Manapou ki te Ao at the NAFSA Conference in Denver, Colorado revealed for the first time a new global marketing campaign emphasising New Zealand's unique attributes for international students as the country opens for business on 31 July after two years of closed borders.

Central to the campaign are the stories of eight international students from, China, Colombia, Germany, India, Japan, Thailand, USA, and Vietnam. The students share their experience of study and life in New Zealand, and the benefits that result from the weaving together of different cultures in a uniquely New Zealand way.
Education New Zealand invited the eight students to work alongside world-famous Māori fashion designer Kiri Nathan to collaborate on designing a new type of education garment that embodies the cultural values that make a New Zealand education unique: manaakitanga (care of people), kaitiakitanga (care of place), and the pōtiki spirit of youthful energy and finding a better way. The narratives in the campaign are focussed on the students' experiences and goals, and explore themes such as work and career readiness, sustainability, and innovation through collaboration. It is a campaign authentically rooted in Te Ao Māori values.

"The traditional academic gown worn by students when they graduate is a symbol of achievement, capturing a snapshot in time," says Ms. Nathan. "Our 'kākahu' (garment) symbolises not only this attainment, but most importantly the cultural journey these students have undertaken and will continue throughout their lives. Their experience in New Zealand has changed them, weaving and sharing the values of Te Ao Māori into the unique cultures of their own homeland. The final kākahu designs are a unique collaborative effort, globally-minded and inspiring – just like the students."
Kiri Nathan is best known for her extensive experience of the modern fashion world infused with her Te Ao Māori roots. She has developed pieces for international figures including Barack Obama, Beyoncé, and the Duchess of Sussex. As a Māori mentor running the Kāhui Collective, she has seen a significant number of NZ Māori fashion designers feature at the NZ Fashion Week, Guangzhou Fashion Week, Hong Kong Fashion Week, and the Fiji fashion week. She also led a delegation to China to meet high level fashion networks and create pathways to market

More than qualifications

At the core of the campaign is the concept that education with New Zealand is far more than the attainment of academic qualifications.

"What we offer global students is an opportunity to experience something new, different, and ongoing," says Education New Zealand Chief Executive, Grant McPherson. "It is a new perspective that redefines success in global education beyond degrees and academic achievement and builds greater understanding of the value of continuous learning throughout life."

"When you study with New Zealand, you're invited to bring your whole self. You will benefit from New Zealand's cultural values as well as our high-quality education that embodies innovation, practical learning, and preparing you for the future."
"But we also know New Zealand benefits too. We want students to bring their stories, their culture, and their perspectives so that we can learn from each other and build a future that is connected, strong and adaptable."
READ:  DPS RN Extension draws a close to a week-long Summer Camp- Fun-o-Sports Fiesta
Across the eight kākahu three sustainable textile options have been used in their manufacture – upcycled commercial linen, sustainable wool from New Zealand mills, and deadstock from fabric wholesalers.
The campaign was launched as part of Education New Zealand's participation at the NASFA 2022, the world's largest international education conference and Expo in Denver, Colorado. The campaign will roll out across New Zealand's key partner countries from June 2, 2022 and runs for 12 weeks initially.
The eight students:
Hanbo Wang (Kevin), from China, studying Viticulture and Wine Science at the Eastern Institute of Technology in
Octavius Jones, from the United States of America, a PhD student in the Te Kawa a Māui department at Victoria University of Wellington. Octavius is researching digital storytelling with Māori women on marine conservation projects.
Visit EasyShiksha for skill development
Tiara Das, from India, studying Health Science – Psychology and Neuroscience at the
University of Otago in Dunedin.
Bryann Avendaño, from Colombia, studying Natural Resources Engineering and Management at the University of Canterbury in Christchurch.
Hanna Watanabe, from Japan, is a Year 12 High School student at Rangiora New Life School, in Rangiora, Canterbury.
Khanh Phuong LE, from Vietnam, studying law at Waikato University, Hamilton.
Atis Suksingha, from Thailand, studying Commerce, majoring in International Business and Marketing at University of Otago.
Malina Grube, from Germany, studying Sociology at University of Auckland, Auckland.
Important Announcement – EasyShiksha has now started Online Internship Program "Ab India Sikhega Ghar Se"
About Education New Zealand Manapou ki te Ao (ENZ)
Education New Zealand (ENZ) promotes a New Zealand education as one that teaches students to be critical thinkers, problem solvers and lifelong learners, which will help them succeed in their future careers and create a positive impact on the world. In 2019, New Zealand's education system was ranked first among English-speaking countries and third in the world for delivering a future-focused education (out of 50 economies) by the Economist Intelligence Unit.
With approximately 100 staff in 18 locations around the world, ENZ works closely with New Zealand's diverse education sector including schools, English language providers, Private Training Establishments, Institutes of Technology and Polytechnics, universities; and internationally with NZ Inc agencies, Government agencies and education providers to identify opportunities and build a resilient, sustainable sector.