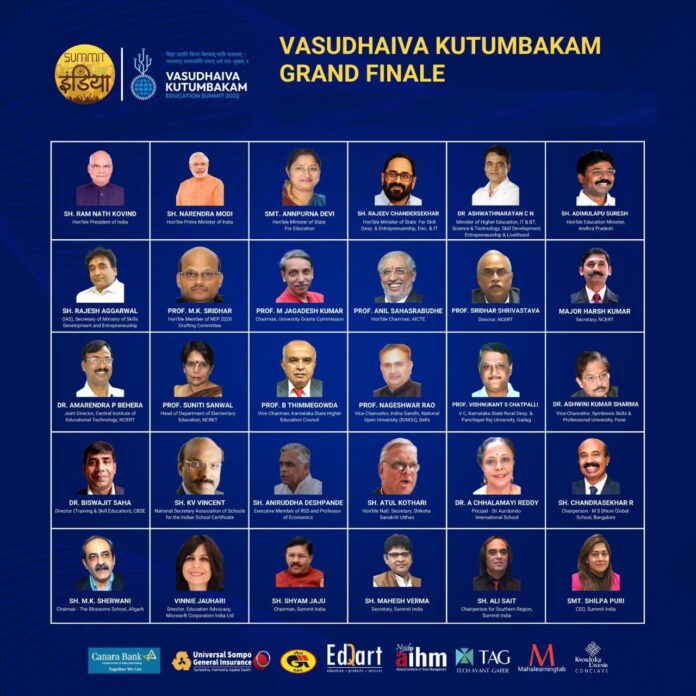 ● The Summit spanning over 12 weeks, 14 panel discussions, 125 speakers and close to half a million audience members, had its grand finale on April 09, 2022
● The summit featured an all-inclusive list of speakers to offer a holistic and in-depth perspective of hybrid learning in India
Bangalore, April 14, 2022 – Vasudhaiva Kutumbakam Education Summit 2022, organized by Summit India in association with Tech Avant-Garde (TAG), hosted its grand finale on April 9th, 2022. The session marked the end of the three-month long summit. Over a course of 14 weeks, illustrious speakers from the country participated in panel discussions and shared insights on NEP2020, hybrid learning and digital transformation of education.
The closing episode of the Summit started with the message from The Hon'ble President of India, Shri Ram Nath Kovind, followed by a recorded speech by Hon'ble Prime Minister of India, Shri Narendra Modi. The event also had recorded messages from other dignitaries like Smt. Annapurna Devi, Hon'ble Minister of state for education, Shri. Rajeev Chandrasekhar, Hon'ble Minister of state for skill development & Entrepreneurship. Elec& IT, Dr. Ashwathnarayan C. N, Minister of higher education, IT and BT, Science and Technology, Skill Development, Entrepreneurship and Livelihood, Shri. Adimulapu Suresh, Hon'ble Education Minister, Andhra Pradesh, Shri. Rajesh Aggarwal, (IAS) Secretary of Minister Of skills development and Entrepreneurship.
Important Announcement – EasyShiksha has now started Online Internship Program "Ab India Sikhega Ghar Se"
Key speaker at the event included Prof. M.K Sridhar, Hon'ble member of NEP 2020 Drafting Committee, Prof. M Jagdesh Kumar, Chairman, University Grants Commission, Prof. Anil Sahasrabudhe, Hon'ble Chairman AICTE, Prof. Shridhar Shrivastava, Director, NCERT, Major. Harsha Kumar, Secretary, NCERT, Shri. Shyam Jaju, Chairman, Summit India, Dr. Amarendra P Behera, Joint Director, Central Institute of Education Technology, NCERT, Prof. Suniti Sanwal, Head of Department Of Elementary Education, NCERT, Prof. B Thimme Gowda, Vice Chairman, Karnataka state Higher Education Council, Prof. Nageshwar Rao, Vice Chancellor, Indira Gandhi, National Open University (IGNOU), Delhi, Prof. Vishukant S Chatpalli, V C, Karnataka State Rural Development & Panchayat Raj university Gadag, Dr. Ashwini Kumar Sharama, Vice Chancellor, Symbiosis Skills & Professional University, Pune, Dr. Biswajit Sharma, Director (Training and skill education ), CBSE, Shri. K.V. Vincent, National Secretary Association of Schools for the India school Certificate, Shri. Aniruddha Deshphande, Executive Member of RSS and Professor of Economics, Shri. Atul Kothri, Hon'ble National secretary, Shiksha Sanskriti utthan, Dr. A Chhalamayi Reddy, Principal Sri Aurobindo International school, Shri. Chandrashekar R, Chairperson – MS Dhoni, Bengaluru, Shri. M.K. Sherwani, chairman, The Blossom School, Aligarh, Shri. Vinnie Jauhari, Director, Education Advocacy, – Microsoft soft corporation India Ltd.
The event was moderated by Shri. Ali Sait, CEO, Tech Avant Garde. Shri. Mahesh Verma, secretary, Summit India gave the inaugural speech, Shri Shyam Jaju Chairman Summit India gave the keynote address and Smt. Shilpa Puri, CEO, Summit India gave the welcome address.
The final event saw speaks Speaking at the event, Smt.Shilpa Puri, CEO of Summit India commented, "Our education is at a crossroads currently, we are uncertain how to reopen and go back to older teaching methodology. Some may choose physical classes while others may choose online or hybrid. We conducted this event as a guide for decision makers as the education sector is going through 180-degree change. Quoting our honorable Prime Minister, Shri Narendra Modi ji -NEP2020 will give a new direction to 21st century India. We are going to experience a series of shifts. Shift from knowledge acquisition to knowledge management, consumerism to ecological sustainability, gender isolation to gender appreciation. The only way to manage these shifts is to embrace NEP2020 as we move from physical classes to hybrid learning. We had invited stellar speakers to enlighten the audience. We are happy that all stakeholders have benefited from this summit."
The three-month summit featured a range of speakers across the board and they offered varied and in depth insights into the evolving Indian education systems. Several honorable members from the education ministry discussed future plans and the importance of NEP2020. Educationists and school administrators discussed the challenges of the last two years and how hybrid learning is the future of a post pandemic world. Several technocrats and industry leaders also spoke about the key role they will play in digitally transforming India's education system. These varied perspectives offered the audience a 360 view of the education landscape and what lies ahead.
The event featured talks by several eminent personalities including Dr Ashwath Narayan C.N., Minister of Higher Education, IT and BT, Science and Technology, Skill Development, Entrepreneurship and Livelihood. Addressing the event, he said, "Education has existed for centuries since time immemorial, either in formal or informal ways. This century will focus on knowledge based economy. Now to be the best of the best, working knowledge and skill development makes a huge difference. Comprehensive learning is very important today. We have been working towards enhancing the quality of education.  NEP2020 has come at the right time. Earlier there was little flexibility, everything was prescribed. We are changing that now, our education will be on par with developed countries. Through the right and quality education we can empower our students to compete with the rest of the world. Whether our students become employers or employees in the future, the right education will make a difference."

Commenting on the success of the summit, Sh. Ali Sait, Chairperson for Southern Region, Summit India said, "This summit was conducted over 3 months with 14 episodes, 125 speakers and close to 100000 audience members. We touched upon key topics like NEP2020, digital transformation and hybrid learning. A galaxy of prominent speakers shared their messages at our summit. We also had prominent educationists, thought leaders, principals and teachers sharing their insights. We are thankful to the speakers, audience and organizers for making this event a huge success in these difficult times where reimagining education is inevitable. We hope the insights from this event will help us become future ready."
About Tech Avant-Garde:
Tech Avant-Garde (TAG) is India's largest Solution Provider in the education segment, supporting all genres of institutes, ranging from K-12 schools to Universities. TAG is a part of the Accelerator program of Microsoft and has been certified as a Global Trainer for Microsoft in Education. TAG won the award for the Best Worldwide Training Partner of Microsoft Asia region. TAG, as a co-sell partner and ISV of Microsoft, has implemented the Digital Transformation and Holistic Learning program to help educational institutions to navigate from physical classrooms to digital classrooms. Some of the products and solutions of Tech Avant-Garde include Lycee-Cyber Academe, an ERP Campus Management solution, Efeeonline, an Online Multimode Fee payment solution for educational institutions which is connected to the Bharat Bill Payment System developed by NPCI. TAG also works in learning knowledge enhancement of educators through Knowledge L'avenir, the largest social learning platform for teachers, and Knowledge Key Foundation, to bring state-of-the-art technology and tools to aid institutions and teachers to enhance their digital teaching and learning skills.
Leading EdTech Platform for skill development & For your Internship is EasyShiksha