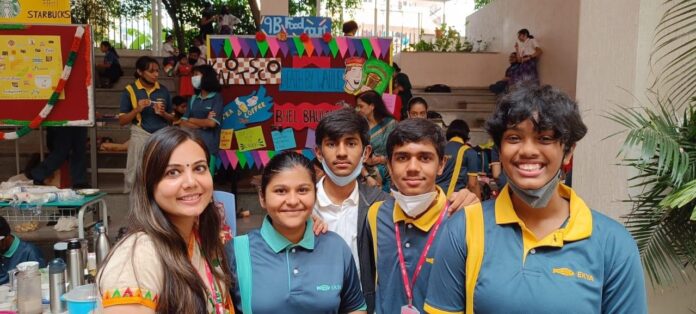 Bangalore, August 23, 2022: As a part of the 'Service Learning Program' introduced by Ekya Schools where students can be involved in various community-based activities beyond their academics, Ekya School ITPL kick-started 'Roshni – A Ray of Hope', a fundraising event. The Service Learning Program at Ekya School ITPL aims to sponsor 75 cataract surgeries for the underprivileged in collaboration with Sankara Eye Hospital. Under this initiative, a total of 2,50,000 INR was raised through the efforts of fundraising events organised by the students and contributions from the parents' community. More than 700 students came forward to support the cause and helped raise the amount.
Commenced with an idea to focus on the importance of social responsibilities in handling community and tackling environmental issues, the SLP aims to bring student and teacher communities together, build a stronger bond between them and work towards noble causes.
Commenting on the Service Learning Program, Dr. Tristha Ramamurthy, Founder & Managing Director, Ekya Schools, and Provost, CMR University said, "Ekya Schools have always been in the forefront to empower young minds to make a difference in the world. We have introduced SLP across our campuses to help develop students' potential in acquiring value-based knowledge as well as the moral of contributing to the community. The idea of SLP is to give back to the community and provide positive social value. We are happy to see so many students, teachers and parents coming forward to make a difference."
Ms. Jyothi Menon, Head of School, Ekya School ITPL said, "Roshni- A Ray of Hope – Our Service Learning Program Phase 1 of Ekya ITPL was a grand success. We had a great crowd, and our parent community participated heartedly and generously. Students and teachers set up food stalls, made creative posters, gave catchy names to stalls and used unique marketing ways which made the fundraising event a successful one. The fund raised will be donated for cataract surgeries. We were overjoyed to cross our target. Our target was 75 cataract surgeries, and we can now sponsor 100 cataract surgeries. This will be an ongoing process and we will continue conducting various fundraising activities to support cataract surgeries and vision restoration for the underprivileged."
ALSO READ : SIAM hosts the 8 th Edition of Automotive Logistics Conclave with Focus onTransition Towards a Sustainable Future
Mr. Parameswara Reddy, Outreach Administrator, Sankara Eye Hospital, Bangalore (under the aegis of Sri Kanchi Kamakoti Medical Trust) commented, "There is a huge unmet eye care need in the country and through our various outreach programs, we ensure that healthcare reaches the doorstep of anyone in need. The funds raised by the school students will be utilised to restore the vision of needy and poor people belonging to underprivileged sections of the society, thereby bridging the urban-rural gap and bringing quality eye care closer to people who need it."
About Ekya Schools:
Ekya Schools offers world-class education using modern pedagogic learning methods to ensure well-rounded students. Established in 2010, it has four schools and nearly 2800 students. Drawing on the legacy of CMR Group of Institutions, Ekya Schools are imparting innovative, application-rich education by using their in-house developed curriculum. Ekya's vision is to provide real-world learning experiences facilitated by passionate educators, to prepare students for bigger challenges in life. Ekya empowers young minds, driving them to make a difference in the world. A host of features makes the schools' curriculum unique and exemplary. It is on par with the global curriculum – learning is fun-filled, contemporary, and meaningful: insightful, real-world methods of understanding and application. For senior students (14-16yrs) Cambridge IGCSE model is followed as it is recognized by leading employers and universities worldwide. 
At the heart of Ekya are the Habits of the 'Mind and Heart'
The Ekya Learners embody these characteristics that allow them to be globally competitive.
Visit EasyShiksha for skill development courses.