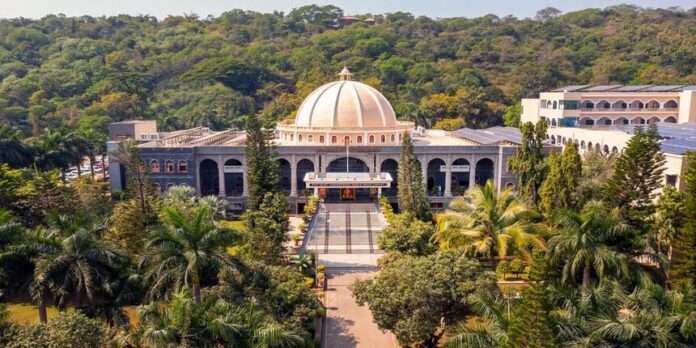 Shaping future corporate leaders with world-class leadership styles, communication, conflict resolution, strategic planning, and team building.
June 5, 2023, India:
The Ramcharan School of Leadership at MIT-WPU is a dynamic addition to the realm of business education. One of the flagship programmes offered by the School, Integrated Business Management, presents a comprehensive five-year curriculum that spans undergraduate to postgraduate levels. Emphasizing social responsibility, managerial expertise, and entrepreneurial acumen, this programme empowers students to tackle the most pressing global business issues. The ten-semester journey includes internships, national and international immersion programs, and student exchange initiatives. Upon completion, graduates can pursue diverse career paths in sales, marketing, finance, human resources, operations, supply chain management, business analytics, information systems management, and specialize in domains such as healthcare, hospitality, sports, and corporate social responsibility. Students also have the option to exit after four years with a BBA (Hons) degree.
ALSO READ: HSBC India unveils new campaign "My Account Starts Today" featuring ace cricketer Virat Kohli
The IBM programme stands out with its case-based learning approach, globally benchmarked curriculum, expert academicians, and renowned pedagogical techniques. Students can pursue certifications like Harvard Manage Mentor and Cambridge Soft Skill Certification, further strengthening their skill sets. With esteemed international faculty delivering 10% of the lectures and interactions with management gurus and corporate leaders, the students gain invaluable insights into the business world. The innovative curriculum incorporates subjects such as Data Science & Analytics, Conscious Capitalism, Metaverse, and Blockchain. The programme offers experiential learning opportunities through corporate visits, internships, and industry projects, as well as ability enhancement courses, professional skill-building training, design thinking workshops, and holistic development programs like yoga and peace studies. Focused on developing business administration competencies, teamwork, and leadership skills, the programme sets students on an accelerated path to career growth.
To be eligible for the IBM programme at MIT-WPU, students should have a minimum aggregate of 70% in 10+2/class 12th from a UGC-approved university or equivalent (at least 55% marks for backward-class candidates from Maharashtra). The selection process includes the MIT-WPU CET Entrance Exam 2023 and Personal Interaction (PI) score. As a part of MIT-WPU's commitment to student success, the Ramcharan School of Leadership offers up to 100% scholarships worth Rs. 40 crore, as well as 100% assistance in placement and internships.

Embark on a transformative journey guided by our world-class faculty, unparalleled industry interface, and cutting-edge curriculum. The application deadline is 9th June 2023, and interested students can apply at admissions.mitwpu.edu.in.
About MIT-WPU
With a rich legacy of 40 years in fostering world-class academic excellence and over 1,00,000+ alumni across the globe, MIT-WPU is one of the premier institutions of higher learning in India that offers over 150 programmes at undergraduate, postgraduate, diploma and PhD levels. It is also known for its prolific placements and career support provided to the students. Spread over 65 acres, MIT-WPU is equipped with state-of-the-art infrastructure and facilities. Over 8,000 students enrol every year for different courses, across the 11+ Schools & 30+ departments of MIT-WPU.
This year educate yourself and develop your career with EasyShiksha