Mumbai, July 28th 2022: Whistling Woods International (WWI) has been a torch bearer in making a credible mark in the film, communication and creative arts industry. Taking this tradition ahead, the institute's School of Event Management hosted the 3rd edition of the Event Education Festival, which witnessed the presence of some of the brilliant minds from the event management and experiential marketing domain.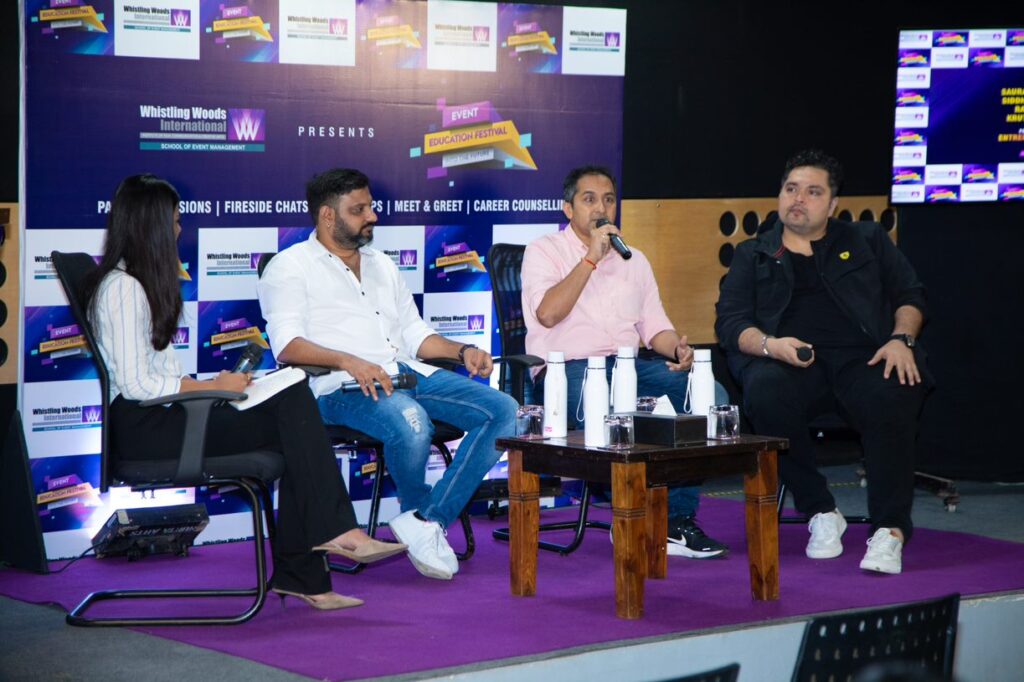 The festival premised around the theme, 'Into the Future', unveiling the advancing prospects in the event management discipline. It was aimed to provide the aspirants access to various industry leaders to engage in thought-provoking discussions regarding the future of the domain and the career opportunities, thereof. The action-packed day included activities spreading across panel discussions, fireside chats, workshops, and open opportunities to interact with industry thought leaders and career counselling.
ALSO READ : Omega Seiki Mobility and Log9 unveil their new flagship product Rage+ Rapid EV Pro, instacharged by a new 7.7kwh battery
The day-long festival witnessed participation from aspiring learners and were addressed by 30+ industry stalwarts including Brian Tellis – Consultant, Aditya Birla Group who highlighted 10 unique life lessons to excel in the domain in his keynote address and urged the students to, "live in the moment".
Mohomed Morani, Managing Director, Cineyug Entertainment India, who was hosted for a fireside chat session at the event said, "I'm very happy to be here for the Event Education Festival at Whistling Woods International. There is a huge future in the field of entertainment. The WWI School of Event Management is taking entertainment along with event management forward and spreading the knowledge, which is something very amazing. WWI is a great initiative and I'm glad to be on its advisory board."

In addition, other industry experts who graced the event were Meghaa Gosh – Marketing & Strategic Communications Specialist, Vikas Menon – Founder, The Production Crew, Warren Dsouza- Founder & Owner, Sound.com and Gear House,  Vaibhav Kapoor – Founder & Director, Third Wave, Hariom Seth – Founder & Director TaggLabs,  Sangam Surve – CEO, ThinkWhyNot Group, Vinod Janardhan – Founder & Director, Team Rustic, Vikash Sharma –  AVP – Brand, Corporate Communications & CSR, SBI Life Insurance, Rahul Karwa – Consultant, Tabassum Modi – Founder & Director, Victor Tango, Hema Hariramani – Founder & Director, ISKRA Events, Rahul Soni – Managing Director, Hexagon Events, Akshay Basrur – Club Secretary, NorthEast United FC, Toshan Patil – Co-founder & Director, Meraki Sports&  Entertainment, Ashutosh Goel – Owner, One World Sports, Saurabh Khurana – Chief Experiences Officer, Laqshya Live Experiences, Siddharth Mehta – Founder & Director, The Event Studio, Ravi Mehta – Founder & Director Robust Events, Tanaz Basrur – CEO, Trinity Entertainment, Gaurav Batra – AVP & COO, MEW, Harshal Kothari – Founder & Director, Rising Events, Shreya Mistry – Founder & Director, 60Seconds.
As the event concluded on a high note, Deepak Choudhary – Chief Mentor, WWI School of Event Management and Founder & Director, XPRNC Dubai & EVENTFAQS, added, "This event was conducted for aspirants to get an overview of the various disciplines under the domain of event management, and for them to understand their ideal fit." Thanking all, he added, "Kudos to the students and staff for successfully organising the 3rd edition of the Event Education Festival."
visit EasyShiksha for skill development