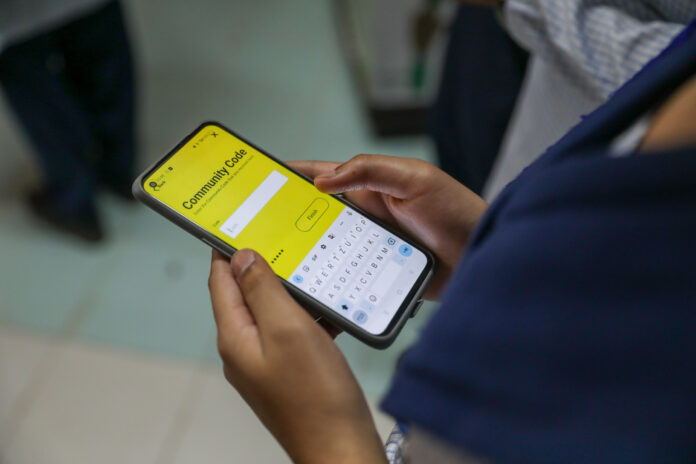 EY Foundation launches the EY STEM app across 200 Vigyan Jyoti Program schools to reach 10,000 girls across India
A free–to-use gamified mobile app for girls aged 13-18 years, creating a virtual global community of girls in STEM (Science, Technology, Engineering, and Mathematics)
The initiative seeks to ensure that women have equal chances to enter, remain and thrive in the technology industry
New Delhi, 19 July 2022: EY Foundation has signed an MoU for a vacation period with Navodaya Vidyalaya Samiti to launch the EY STEM app in 200 Vigyan Jyoti Program schools across India. The EY STEM app aims to help young girls in the 13-18 years age group engage in the STEM (Science, Technology, Engineering, and Mathematics) curriculum and pursue high-growth careers in technology. The app aims to reach 10,000 girl students under the Vigyan Jyoti program.
The partnership between Vigyan Jyoti Program schools under the Navodaya Vidyalaya Samiti and EY Foundation has been facilitated by the Office of the Principal Scientific Adviser.
Santosh Pathak – Head, EY Foundation, said, "Education is a key pillar of our Foundation initiatives for the last two decades. With the EY STEM app, we endeavor to stimulate young minds to learn and pursue high-growth STEM careers and attain their potential to become future leaders. With this partnership with Navodaya Vidyalaya Samiti, we hope to make the EY STEM app more widely accessible and motivate many girls to embrace STEM learning in their higher studies in the coming years."
"As the Prime Minister noted in a meeting on National Education Policy 2020, multiple initiatives have been set up to achieve the policy's objectives of 'access, equity, inclusivity and quality. For successful implementation of various initiatives with these objectives underlying them, partnerships between the government, and industry will be crucial to intensify the impact. The partnership between the Ministry of Education's Navodaya Vidyalaya Samiti and the EY Foundation is timely and exemplary in this direction. I extend congratulations on behalf of my office on the launch of the EY STEM app to all partners involved," remarked Prof. Ajay Sood, Principal Scientific Adviser to the Government of India.
The Vigyan Jyoti Program (VJP), launched by the Department of Science & Technology (DST), Government of India in the year 2019, is the DST's flagship initiative to encourage young meritorious girls, particularly from Class IX to Class XII, to pursue a career in STEM fields which are underrepresented by women. The DST's implementing partner for the VJP is the Navodaya Vidyalaya Samiti, an autonomous body of the Ministry of Education, Government of India.
EY STEM app was launched under the Global Women in Technology (WIT) leaders in 2019 in India (Delhi NCR) and the US (Atlanta and Seattle) to help accelerate gender parity in the technology space. The pilot involved more than 50 schools and non-profits, with 91,000 activity steps completed. In India, the app was piloted with 6000+ girls across 45 private and government schools. Nearly 1 million minutes of 'real-life actions' were taken by girls to support the UN Sustainable Development Goals. EY aims to inspire 100,000 girls globally in 2022 to pursue a career in STEM with the EY STEM app.
The free-to-use app connects girls with a wide range of learning activities, from exploring new technologies, such as AI and blockchain, to learn how design thinking can help solve some of the world's toughest challenges. Supported by inspirational stories of pioneering women, the app aims to not only nurture confidence and competence in STEM, but also to develop capabilities such as critical thinking and problem-solving, creativity and systems thinking, and social skills and teamwork.
The initiative aligns with EY's goals to support the next generation of young people by 2030 through its EY Ripples corporate responsibility program, which aims to positively affect a billion lives.
EY Foundation
Established in December 2004, the EY Foundation (EYF) is the CSR arm of EY India. It is committed to making lasting transformations in the community including focusing on working for and working with the less fortunate segment to uplift them.
The EY Foundation mainly focuses on Education, Empowering rural women through entrepreneurs, and Environment. The Foundation is also committed to providing aid and relief during times of natural calamities and pandemics like COVID-19. The Foundation has its footprints across India reaching out to the most marginalized communities and target groups.
ALSO READ: Amazon Academy announces free trial for Live learning courses for JEE and NEET aspirants
About Vigyan Jyoti Program
The Vigyan Jyoti Program is one of the most ambitious initiatives of the DST with the ultimate objective of increasing gender parity in STEM and balancing out the existing underrepresentation of women in STEM fields. To achieve this goal, the VJP mandates/implements valuable interventions at school level through mentoring and training of the young meritorious girls in STEM. These include student-parent counselling, visits to labs and knowledge partners, role model interactions with young innovators, science camps, academic support classes, access to resource materials, and tinkering activities. The VJP is supported through the DST's grant-in-aid procedures under project mode and is successfully running in its third year. The DST also has several other women-centric initiatives under the umbrella scheme "Women in Science and Engineering-KIRAN (WISE-KIRAN)" to provide different kinds of opportunities to women in Science & Technology domain. The programs under WISE-KIRAN scheme promote STEM career amongst women and address various challenges being faced by them.
About DST:
Department of Science & Technology (DST) was established in May 1971, with the objective of promoting new areas of Science & Technology and to play the role of a nodal department for organizing, coordinating, and promoting S&T activities in the country. The Department of Science & Technology plays a pivotal role in promotion of Science & Technology in the country.
DST is proactively working to bring gender parity in S&T domain through its holistic scheme Women in Science & Engineering-KIRAN (WISE-KIRAN). The WISE-KIRAN scheme has several programmes including Vigyan Jyoti to promote girls & women in STEM fields.
Role of Jawahar Navodaya Vidyalayas in Vigyan Jyoti
For the implementation of Vigyan Jyoti Program across the country, Jawahar Navodaya Vidyalayas (JNVs) have been chosen by the DST which acts as Knowledge Centres to cater to girls from small cities and rural areas for more diversity in STEM. Countrywide location of JNVs provides a greater exposure to girl students of JNVs including the neighbouring schools (Kendriya Vidyalayas, government schools, Army Public Schools) towards encouraging them to pursue STEM.
About Office of the Principal Scientific Adviser
The Office of the Principal Scientific Adviser was established in November 1999 by the Government of India. The PSA's office aims to provide pragmatic and objective advice to the Prime Minister and cabinet on matters related to science, technology, and innovation with a focus on application of science and technology in critical infrastructure, economic and social sectors in partnership with Government departments, institutions, and industry.
Visit EasyShiksha for skill development.