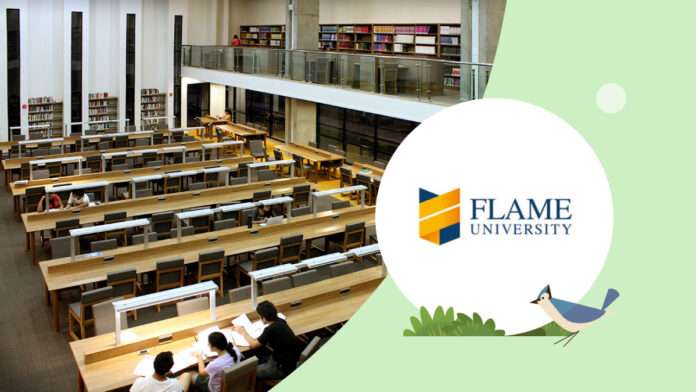 Pune, India – July 26th, 2023: FLAME University's student-led initiative, Support A Cause Team (S.A.C.T.), has achieved a remarkable feat in their recent crowdfunding campaign, raising over INR 5 lakhs to support the lives of 19 orphans in Beed, Maharashtra.
Understanding the transformative impact of education on society, FLAME University students collaborated with FuelADream, a leading crowdfunding platform, to rally support for the AAI Foundation—an organization dedicated to uplifting the lives of children.
Prof. Vahideh Razmi, Director of Student Affairs and Faculty Mentor of S.A.C.T. expressed her pride in the students' endeavors, stating, "Working with S.A.C.T. was an enriching experience for the students of FLAME. It instilled a sense of ownership in the crowd-funders and illuminated their path towards becoming strong leaders. Our efforts to promote the initiative and reach the right audience have further strengthened our sense of responsibility towards society. Together, we have made a positive impact, one step at a time. It truly was a remarkable team effort."
Important Announcement – EasyShiksha has now started Online Internship Program "Ab India Sikhega Ghar Se"
Naman Saxena, a recent graduate of FLAME University and Founder of S.A.C.T., acknowledged the collective spirit behind the campaign's success, saying, "The credit for our crowdfunding triumph goes to every stakeholder who contributed in some way. I must commend my S.A.C.T. team members for their passion and dedication to creating a better world. Helping countless people through crowdfunding campaigns has been incredibly fulfilling. I firmly believe that investing in children's education can truly make the world a better place, in ways we cannot even fathom!"
With a track record of raising over INR 45 lakhs and impacting numerous lives, S.A.C.T. stands as a beacon of change at FLAME University. Driven by the vision of equality, the team empowers each member to lead initiatives that positively impact lives beyond the university's boundaries.
In previous campaigns, S.A.C.T. funded 633 water wheels, relieving rural women from the physical burden of carrying water. As a result, young girls, who were previously tasked with water collection, have gained the opportunity to pursue education, breaking the cycle of social limitations.
ALSO READ: Sunstone 's student lands his dream job at S&P Global
As FLAME University continues to foster a culture of empathy, S.A.C.T. exemplifies the power of student-led initiatives to drive meaningful change in society.
About FLAME University
FLAME University is a pioneering institution for liberal education in India, known for delivering the country's premier interdisciplinary education experience. With a strong commitment to social contribution and a vision to be one of India's most respected and reputed centres of learning, FLAME University strives to push the boundaries of education and create a phenomenon of societal upgradation, especially in the fields of liberal education and leadership. The university boasts a distinguished faculty of over 140 esteemed members, providing students with an unparalleled educational experience. With a student-to-faculty ratio of 11:1, FLAME University offers a unique level of personalised attention at the higher education level in India. The campus, spread across 60 acres of green expanse, features aesthetically designed infrastructure and currently consists of five schools: FLAME School of Liberal Education, FLAME School of Business, FLAME School of Communication, FLAME School of Computing and Data Sciences, and FLAME School of Design, Art, and Performance. FLAME University was established as a state-private university under the FLAME University Act 2014 (Maharashtra Act No. II of 2015) by the Government of Maharashtra. It is recognised by the University Grants Commission (UGC) under Section 2(f), and the degrees awarded by the university are recognised under Section 22 of the UGC Act, 1956.
This year educate yourself and develop your career with EasyShiksha